The Waze navigation app has used the wisdom of crowds to help you avoid traffic jams. With an update released on the App Store Wednesday, Waze is now looking to do the same thing when it's time to find lower gas prices.
Waze 3.2 now includes real-time gas prices for stations in your vicinity and along your route. Just as Waze lets its 19 million-member community update traffic data, the app will also reflect user-supplied updates on gas prices. (Waze also gets daily price data on fuel from Oil Price Information Service.)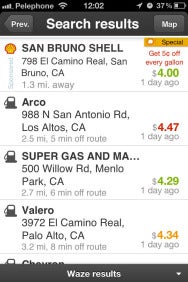 To find gas prices, you search for gas by tapping Navigate and then selecting the Categories button. Tapping on gas stations produces a list of results. From the report menu, you can also update gas prices if the actual pricing is different from what's listed in the app.
Adding gas price data fits in perfectly with the mission of Waze, says Di-Ann Eisnor, the company's vice president of platform and partnerships. The app launched with the goal of saving its users time by supplying them with the best routes to avoid traffic, construction, and other roadside delays. "We wanted to figure out a way to save you both time and money," Eisnor said.
To that end, the updated Waze app doesn't just provide gas price information. It also offers discounts to Waze users at participating gas stations. Via the app, Waze users can access a coupon for 5 to 10 cents off each gallon of gas at selected stations. They can redeem that coupon by taking their phone into the gas station—where the gas station owners likely hope that they'll also pick up some sodas, candy bars, and other items for the road, in addition to the discounted gas.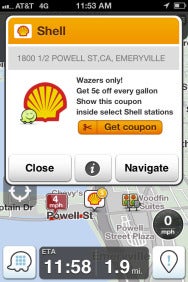 Waze estimates that 3 percent of gas stations in the country will be offering discounts to users of its app in the next few weeks. In announcing the 3.2 update, Waze mentioned partnerships with the likes of Kum & Go, Hess, Mid-Atlantic Convenience Stores serving BP and Exxon stations, and Vintners Distributors, which serves Shell stations. The Waze app will indicate participating gas stations with a yellow banner in the search results or with a yellow dollar sign on gas station icons in the app's map view.
Waze's new gas price feature comes at a time when more apps are arriving on the scene to help iOS users track down cheaper fuel. Just last week, YP released its free Gas Guru app for the iPhone. That app uses Oil Price Information Service Listings to show updated fuel prices in your vicinity; Gas Guru also includes recommendations and directions to nearby coffee shops, restaurants, ATMs, and auto repair places. Since it introduced a gas price feature to its YP Local Search app last fall, the developer says it's seen triple-digit growth in searches for not only gas prices but overall auto-related categories.
"There is a great opportunity for app developers to address the unique set of needs of drivers and car owners, delivering locally and contextually relevant recommendations that also drive local commerce," said Rohan Chandran, YP's head of mobile products.
Gas price data leads the changes in Waze 3.2, but it's not the only addition in Wednesday's update. The category search feature not only lists gas stations, but also banks, parking lots, convenience stores, and other places you may need to stop during your travels. An added waypoints feature lets you insert stops along your route; Waze will now show the estimated time of arrival to both your next stop and final destination. Android users get voice control features for reporting traffic incidents—a capability iOS users have enjoyed since February. And an inbox lets users save updates from the Waze community.
Waze is about to get some stiff competition in the crowd-sourced traffic data business. At last week's Worldwide Developers Conference, Apple announced changes to its Maps app in this fall's coming iOS 6 update, including traffic reports based on anonymous crowd-sourced data from iOS users.
The iOS 6 news didn't surprise Waze's Eisnor, who noted that Apple had revealed plans to build a crowd-sourced traffic database more than a year ago when the company detailed how it uses iPhone location data. "Our difference isn't just crowd-sourcing, it's how we work with the crowd and our community," Eisnor said.