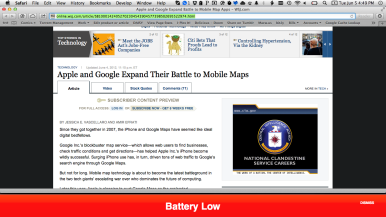 There's nothing worse than seeing that dialog box pop up, warning you that your MacBook's battery is about to take a trip down the river Styx. While OS X does a decent job of telling you to plug in your computer before the black screen descends, it doesn't allow a lot of flexibility in how it provides you with alerts. That's where Low Battery Saver ( Mac App Store link) comes in.
The app's purpose in life is solitary: It warns you when your battery hits a certain amount of time remaining, and then shuts down your computer. Choose Preferences from the menu bar icon (which is the only way to access the app) and you can configure at what point the program's Safe Sleep feature will turn off the screen, hard drive, and network. That, hopefully, will prevent your MacBook from going into hibernation, after which the computer usually takes a long time to wake up again. It should also give you plenty of time to finish up what you were doing and save your work.
You'll probably want a heads-up before the app puts your Mac to sleep, so Low Battery Saver can also give you a warning a configurable amount of time beforehand, as well as a separate alert that shows up when the battery life drops below a particular number of minutes remaining. You can also set the app to launch automatically on startup—probably a good idea, since you don't want to have to remember to launch it when it's already too late.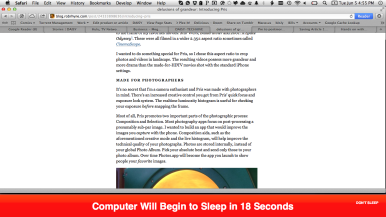 Of course, battery life is not an exact science. As the app points out, those with older batteries should probably set the thresholds higher, since they often don't correctly report how many minutes are left.
Low Battery Saver's warnings are hard to miss—the app splashes a giant orange banner across the bottom of your screen. You can dismiss those notifications when they pop up, though obviously ignoring them is at your own peril.
Though its tasks are limited, Low Battery Saver performs them adroitly enough. As an app, it's no-frills, but that's probably what you're looking for in this kind of utility: Something that sits there quietly, but does its job with no complaints. And in that, Low Battery Saver delivers.