We've seen a couple of reports recently relating to the Retina MacBook Pro's display. We wanted to see for ourselves if those reports were accurate, so we fired up one of the new MacBook Pros that we have in the lab and did some quick testing.
It's tiny
The first report that we wanted to test: A forum thread in MacRumors explained how you can use third-party utilities to force the Retina MacBook Pro's screen to display at its native 2880 by 1800 resolution. That resolution isn't available through the Displays pane in System Preferences.
The MacRumors forum poster wrote about SwitchResX, a €14 shareware program. But we decided to try a free app—written by a Macworld.com reader who goes by the user name of doh123—called Change Resolution in our testing. To cut to the chase: As you can see in the photos below, it worked.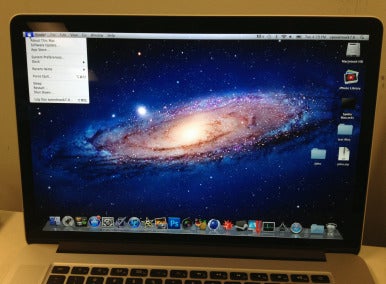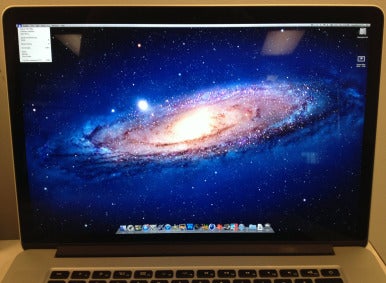 External displays
The second thing we wanted to test: The Retina MacBook Pro has two Thunderbolt ports, which means you can connect two displays—a pair of Thunderbolt displays, a pair of Cinema Displays, or one of each. The laptop also has an HDMI port, and OWC had reported that you could connect an HDMI display to that, in addition to the two displays that were connected via Thunderbolt.
Fortunately, we had both a Thunderbolt display and a Cinema Display in the lab, available for testing. And, thanks to our friends at PCWorld, we were able to borrow an HDTV that could connect to the HDMI port. We connected all three diplays, and ended up with the configuration you see below. Again, the claim turned out to be true.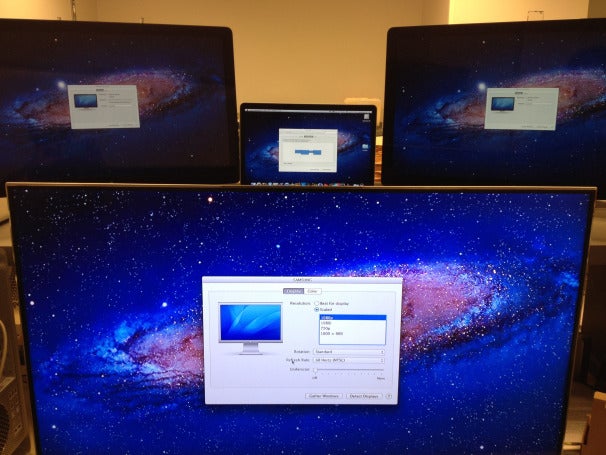 We haven't had a chance yet to see how video performance is affected by having all these displays connected, but we will take a look at that.
[Roman Loyola is a Macworld senior editor.]
15-inch MacBook Pro with Retina display/2.6GHz Core i7 (Mid 2012)