Drobo on Thursday announced a new form factor for its backup storage array, and for the first time you can carry this one around. It also announced the Drobo 5D array, with up to 20TB capacity and six times the performance of its predecessor.
Along with two new data backup devices, the company announced support on its products for the Thunderbolt and USB 3.0 external device interconnect specifications.
Drobo's first portable array, the Drobo Mini, holds up to four 2-in. to 5-in. drives and weighs only about 2.5 pounds. It can store up to 3TB of data. The Mini will retail for about $599 without drives and support both Thunderbolt and USB 3.0.

Drobo CEO Tom Buiocchi described the Drobo Mini as being about the same size as a "large club sandwich" – 7-in by 7-in. by 2.5-in. high—and it's being aimed at the professional consumer, or prosumer, market, such as working photographers.
Drobo recently announced support for solid-state drives (SSDs) in its B1200i array, a 12-bay array aimed at enterprises. Along with support for SSDs, the company said it added auto tiering software, which like its larger competitor's offerings, detects application with the highest I/O use and places that data on the SSDs, and data with lower performance requirements on hard drives.
"The SSDs are recognized as a higher order of service and used as a higher transactional tier. A write will go directly to SSDs and not hit the hard disk drives," Buiocchi said. "If you have hot data, which is profiled over time and seems to be frequently read, that will be promoted to SSDs. What makes it different from others is there's no management involved; it does it automatically."
Both the Drobo 5D and Drobo Mini will also include support for SSD I/O acceleration. Both storage arrays can accept either SATA- or SAS-based drives, and with an adapter, 2.5-in. or 3.5-in. drives.
Because it's considered portable, the Drobo Mini comes in a "ruggedized" enclosure that allows users to transport it with drives inside—a first for the company's products. The Drobo Mini also features a custom miniature power supply and an optional carrying case.
Jeff Cable, an official photographer for Team USA at the 2012 Summer Olympics in London, said having a portable backup device that can handle terabytes of data makes his job easier.
Cable rents a condo or stays in a hotel room when he's shooting at the Olympics. The temporary home becomes a processing center for the 90GB of images he shoots daily. Backing up those images up can take up to two hours on his current Drobo, and he's under contract to get those images to a client within a certain window of time. He's hoping the new portable Drobo with SSDs will abbreviate his time waiting for backup to finish.
"I back up because if I look at the Olympics and what I do, I'm capturing history," he said. "I have every digital image I've ever shot on my current Drobo. Sometimes I shoot 9,000 images a day."
While none of Cable's three MacBook Pros are Thunderbolt-equipped, he is looking to the future when he'll also be using the interconnect that has up to 10 times the bandwidth of today's USB 2.0 protocol.
His current Drobo has three 2TB drives and one SSD, which he uses as a cache for his OS and applications.
"I use the SSD now to get as much throughput as can, so using USB 2.0 to backup is just painful. If you're shooting 90GB a day, it's brutal trying to back it up," Cable said.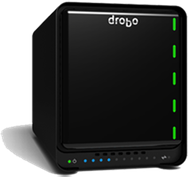 The new Drobo 5D is also being aimed at the prosumer market, including photographers, videographers, and graphic designers.
Like the Drobo Mini, the Drobo 5D is aimed at professional consumers who are power users of Adobe and Apple applications including After Effects, Aperture, Final Cut Pro, Lightroom, Photoshop and Premier Pro are a great fit for the new product, which is ideal for editing, storing catalogs and backing up files of all types, said Mario Blandini, Drobo's vice president of Technology Solutions.
With up to five 2TB hard drives, and an additional SSD bay, the Drobo 5D can support up to 16TB of capacity—all accessible through Thunderbolt or USB 3.0 interfaces. With 3TB drives coming to Drobo in the future, the Drobo 5D will eventually be able to store up to 20TB.
The Drobo 5D will retail starting at $799 without drives.
Both the Drobo 5D and Drobo Mini will be available in limited quantities in early July and generally available later the same month.
Note: When you purchase something after clicking links in our articles, we may earn a small commission. Read our affiliate link policy for more details.