At a Glance
Expert's Rating
Pros
Easy to use
Optional foot pedal, telescopic boom enhance usage
Excellent speech recognition accuracy
Cons
Need to face the mike to dictate
Must calibrate volume carefully
Our Verdict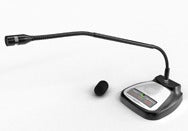 When I tested the SpeechWare TableMike for the microphones for speech recognition buying guide, I used the company's 3-in-1 model. SpeechWare has now released new versions of their microphones, including the USB 6-in-1 TableMike, which includes a number of features and options that are not in the 3-in-1 model, such as an optional foot/hand switch that turns the microphone on and off.
With wideband audio and noise cancellation, the 6-in-1 TableMike is designed specifically for speech recognition, and you can set it on your desk with the tip of the microphone more than a foot from your mouth and get excellent accuracy. The microphone comes with a 20-inch boom that bends at two points: just above the base, and just below the tip, making it easy to position the mike.
Working with the 6-in-1 TableMike is extremely simple. You place it on your desk and then put the boom in position in front of your mouth; this can be as far as 18 inches and still offer excellent recognition. The microphone base has two settings: one for speech recognition, and one for normal audio, such as talking on Skype or recording podcasts. Once you've adjusted the microphone's volume in Dragon Dictate or Dragon Express, you're ready to go.
On a Mac, the volume calibration needs a special approach. Because of the noise-canceling feature in this microphone, when you calibrate the device you must wait about 15 to 30 seconds for the software to set the microphone to full gain before reading the text that calibrates the volume. If you don't do this, accuracy will be much poorer.
When the microphone is in the appropriate position, and the volume is adjusted correctly, the 6-in-1 TableMike offers the best speech recognition quality of all the models I've tested. In addition, the level of comfort available with this type of microphone is exceptional. You don't have to wear anything on your head, and you have no wires tethering you to your computer. And since this microphone offers excellent recognition at a foot or more from your mouth, you can lean back in your chair, move the microphone base to the edge of your desk, and dictate in a relaxed position.
The optional foot pedal makes dictation more comfortable, as well. At times, I need to clear my throat, the phone rings, or I need to move things around on my desk that would otherwise register as sound with speech recognition software. Using the foot pedal (you can place it on the floor, or on your desk and press it with your hand), I can easily turn the microphone on and off, more easily than giving the voice commands "go to sleep" or "wake up" to activate or deactivate Dragon Dictate's microphone listening.
The 6-in-1 TableMike offers some useful additional features. It has a small speaker, which you could use for, say, Skype calls. It also has a headphone jack so you can connect headphones to listen to any sound from your Mac. And it has an additional USB port that you can use to connect any USB device to its base.
The only disadvantage to a desktop microphone like this is that there is a sweet spot for getting good recognition. You can turn your head a bit, and it will still work very well, but if you want to slide over to the side of your desk, or turn to the side to look at something, say, on a table next to your desk, then you either have to move the microphone or turn back to dictate. Since the TableMike has excellent recognition, you are less limited by this than with other desktop microphones, but it is less flexible than a headset, where the microphone is always in front of your mouth.
Macworld's buying advice
If you plan to dictate often and want a comfortable, flexible solution, and, especially, don't want to wear a headset, the SpeechWare USB 6-in-1 TableMike is the best choice out there. With excellent speech recognition, and great flexibility in positioning, this is the microphone that I'll be using the most for dictation in the future.
[Senior contributor Kirk McElhearn writes about more than just Macs on his blog Kirkville. Twitter: @mcelhearn Kirk is the author of Take Control of Scrivener 2.]