If you're like many Mac users, your Downloads folder looks like that closet you never go into: all sorts of things piled up, unorganized—some of which may have been there for years. In addition, you may have folders inside your Downloads folder, and you may have forgotten what's in them.
Downloads ( Mac App Store link)—the app—gives you a different way of accessing this folder. When you launch the app, you'll see all the items in your Downloads folder, whether they are at the top level, or buried deep inside folders. The app's window displays these items both in a list (at the top of the window) and as icons (at the bottom).
You can act on these files and folders in many ways. You can open them, reveal them in the Finder, move them, or zip them. You can Quick Look any item, compress it, print it or open its website. (The latter is useful if you forget the source of any of your downloads.) You can sort the files, and you can filter them, typing into a search field. Unfortunately, this field doesn't offer a live search, so you have to press enter after typing your search string.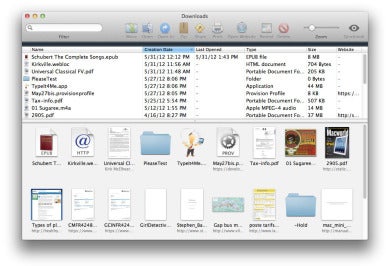 Downloads seems like a great app that isn't quite there yet. There are so many things that could be added to improve it—things that just seem like they should already be there. For starters, there are no contextual menus to act on files or folders. While there are buttons and keyboard shortcuts, some people do like using menus. A path bar at the bottom of the window—such as that in the Finder—would be helpful to see exactly where a given file is, since it may be in a folder within a folder inside your main Downloads folder. And, given the unique way this app lets you browse and act on files, I'd love to see the ability to choose any folder to browse, not just the Downloads folder. For example, many people store lots of files on their Desktops; using this application would make it easier to find things, and to sort them.
There's also one very useful Finder feature that would be welcome in this app. In the Finder, if you select multiple items, you can choose File -> New Folder with Selection, and a new folder will be created containing the selected items. In Downloads, this is possible, but you have to select the items, click on Move, and then, from the standard file dialog, choose New Folder and type a name. Making this quicker, as in the Finder, would be a plus.
Also, I experienced an odd bug with Downloads: I was seeing files that were not in the Downloads folder. The developer told me to run a Terminal command to delete Spotlight indexes, and this fixed the problem. He will be updating the software soon, but he said this is a rare occurrence.
Downloads is a great idea. If you download a lot of files—which most of us do—this program helps you see everything that's in your Downloads folder, and easily work with or organize these files.