At a Glance
Expert's Rating
Our Verdict
Believe it or not, it's been nearly four and a half years since Apple released the original MacBook Air. At the time, it was revolutionary in terms of its size and weight, but it also was slow, had little storage, had only a single USB port for expansion, and was very expensive—it started at $1799, and if you wanted solid-state storage, the price increased dramatically (by $999!). As Jason Snell wrote at the time, "laptop design has always been about compromise," and the original Air required some painful compromises.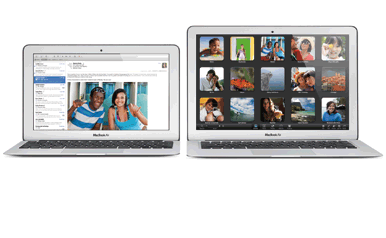 But that Air also gave us a glimpse at the future of Mac laptops: incredibly thin, blissfully light, and surprisingly sturdy, with reliable, fast, flash storage—attributes that have made their way into Apple's Pro laptop line with the new MacBook Pro with Retina display ( ). It's safe to say that before long, all of Apple's laptops will be direct descendants of the Air.
The Air itself has also evolved: The second iteration gained some speed, better video capabilities, and more storage. The third generation got faster and cheaper. In 2010, Apple gave the Air its biggest update by adding a second USB port, improving performance, standardizing on flash storage, lowering prices, and—in the biggest move of all—releasing a road-warrior-dream 11-inch model priced at just $999. The company turbocharged the Air last year by upgrading to Intel Core i5 and i7 processors and adding a Thunderbolt port.
In a few short years, the Air has gone from an expensive technology demonstration to a successful product firmly established as the heart of Apple's laptop line. This year's models improve the appeal of the Air by increasing performance, enhancing expansion capabilities, and lowering prices. In fact, the new models might just be making the MacBook Pro line a little nervous.
Familiar on the outside
Through the Air's now-six iterations, the laptop's external design has remained essentially the same. Both the 11-inch and 13-inch Airs are thin wedges of unibody aluminum—just under 0.7 inch thick in the back and just over 0.1 inch thick in the front—though obviously with different footprints: The 13-inch model is 12.8 inches wide and 8.9 inches deep, while the 11-inch Air is just 11.8 inches wide and 7.6 inches deep. The 13-inch Air weighs just under 3 pounds, with the 11-inch version weighing in at just under 2.4 pounds.
Flip open the screen, and you reveal a full-size, backlit keyboard—even on the 11-inch model—that uses the same low-profile, flat keys as Apple's current desktop keyboards. (The differences? The Air's F-key row uses half-height keys compared to the desktop keyboards, and its bottom row of keys is ever-so-slightly shorter.) There's also the large, Multi-Touch trackpad that's ideal for using gestures in OS—it remains the best trackpad I've used on any laptop—and an LED-backlit, widescreen, glossy display surrounded by an aluminum bezel.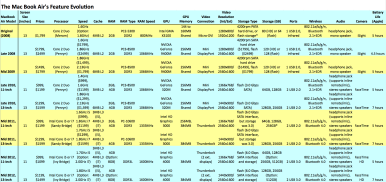 The screen is, as before, great. With a resolution of 1366 by 768 pixels on the 11-inch model and 1440 by 900 on the 13-inch, it's not a Retina display, by any means, but it's bright and clear with outstanding colors and viewing angles. As with previous Air models—and the new Retina MacBook Pro—the new Air's display suffers much less from glare than the standard MacBook Pro models, which have a large, reflective layer of glass over the entire screen and frame. (One minor difference I noticed when comparing the screen of the 2012 11-inch Air with that of the 2010 version is that the 2010 screen tilts back an additional 5 degrees. I didn't have a 2011 Air on hand to measure.)
The Air still includes tiny stereo speakers just in front of the hinge, positioned so their sound is reflected off the screen bezel and towards you. Apple hasn't advertised any speaker changes, but compared to my 2010 MacBook Air, audio produced by the 2012 Air's speakers is much clearer with much better detail—it sounds less like an old transistor radio. ( Look it up.)
Inside the case is a multi-cell, custom-fit—yes, and still non-user-replaceable—battery system that gives the Air line excellent battery life, despite its slim profile. The 11-inch Air has a claimed battery life of up to 5 hours, with the 13-inch Air boasting up to 7 hours. Apple's battery estimates are based on "wirelessly browsing 25 popular websites with display brightness set to 50 percent." We test using tasks designed to drain the battery more quickly, but our results show roughly four hours of battery life for the 11-inch Air (slightly better than the 2011 model's battery life), and around five hours of use for the 13-inch Air (about the same as its predecessor).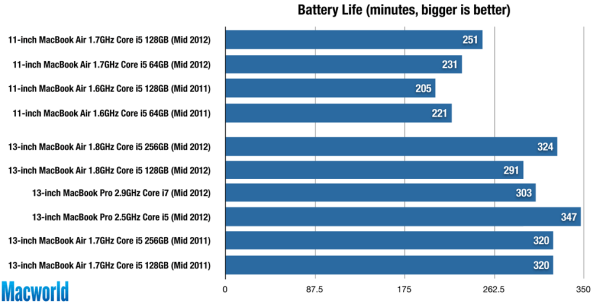 There is one change to the Air's enclosure, though: The built-in camera is now, in Apple's parlance, a 720p FaceTime HD camera. In other words, the camera can record video at 1280 by 720 resolution. In my testing, the new camera still produces grainy images and video with less-than-optimal color accuracy, but it's noticeably better than the camera on my 2010 MacBook Air.
The 2012 Air ships with OS X 10.7 (Lion)—including Lion Recovery—and iLife (iPhoto, iMovie, and GarageBand). Anyone who buys a 2012 Air is eligible for a free upgrade to OS X 10.8 (Mountain Lion).
Improvements at the edges
The big changes this year are on the sides and the inside. Like the 2011 Air, the new model sports a Thunderbolt port for both high-speed peripherals and connecting external displays. (Fans of FireWire, take note: Apple has also announced a Thunderbolt to FireWire 800 adapter, although we're still awaiting its debut.) But the Air's two USB ports, one on each side, are now USB 3 versions, making the Air line the first—along with the Retina MacBook Pro—to support the new USB standard. Each USB 3 port gets its own bus, is capable of up to 5 Gbps of throughput, and is backward-compatible with USB 2.0 peripherals. We're currently testing USB 3 performance and hope to have benchmark results soon, but USB 3 opens up the Air to a big market of inexpensive, decent-performance storage devices.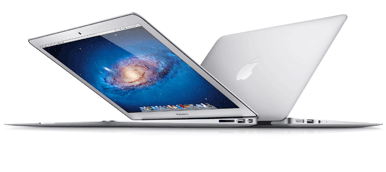 You'll also find, on the left-hand edge, Apple's MagSafe 2 power connector. The new connector is apparently electrically identical to the original MagSafe, but flatter and wider. This means the new Airs, along with the Retina MacBook Pro, ship with a new MagSafe 2 AC-power adapter. Apple sells the $10 MagSafe to MagSafe 2 Converter, a tiny adapter that lets you use older MagSafe power bricks with the new Airs and Retina MacBook Pro, but you can't use the new MagSafe 2 power bricks with your older MagSafe-equipped laptops.
Oddly, the design of the new MagSafe 2 plug forces the cable to protrude directly out—at a 90-degree angle—from the plug. The original MagSafe plug had a similar design, but after many people had problems with the cable fraying where it entered the plug, in 2010 Apple switched to a lower-profile, L-shaped plug that didn't fray as easily and was more difficult to accidentally knock loose. We'll see how this new (old) design holds up over time.
The right side of the 13-inch Air continues to host an SD card reader. On both sizes, the left side sports a tiny microphone along with a 1/8-inch (3.5mm) headphone jack that also supports headphones with an Apple-style inline remote/microphone module.
Still missing, of course—but missed less and less every day—is an optical drive. And the Air still omits an ethernet port, although those who need that capability—for faster networking or for security requirements—will appreciate the new $29 Thunderbolt to Gigabit Ethernet Adapter. Unfortunately, unless you've got an Apple Thunderbolt Display ( ), you can't use the adapter and an external display at the same time. (We're testing the performance of the Thunderbolt Ethernet adapter and will update this review with the results.)
The Air continues to support 802.11a/b/g/n wireless networking and Bluetooth 4.0.
Internal advances
Some of the new Air models' biggest changes are found on the inside. For starters, the 2012 Airs use Intel's third-generation Core processors (also known as Ivy Bridge) for better performance, making Apple one of the first vendors to adopt these chips in their non-workhorse lines. Specifically, the 11-inch Air uses a 1.7GHz dual-core Core i5 processor with 3MB of shared level–3 cache, while the 13-inch Air uses a 1.8GHz version; a 2.0GHz i7 processor with 4MB level–3 cache is available as a built-to-order option. Like the previous Core i5 and i7 processors (known as Sandy Bridge), Ivy Bridge CPUs include hyper-threading and Turbo Boost. Hyper-threading lets the CPU's two cores be utilized by the OS as four. When only one core is needed for a task, Turbo Boost lets the chip shut down one of the two cores and bump up the clock speed of the other. Turbo Boost can reach 2.6GHz on the 1.7GHz i5 and 2.8GHz on the 1.8GHz i5. Turbo Boost on the 2.0GHz i7 CPU can reach 3.2GHz.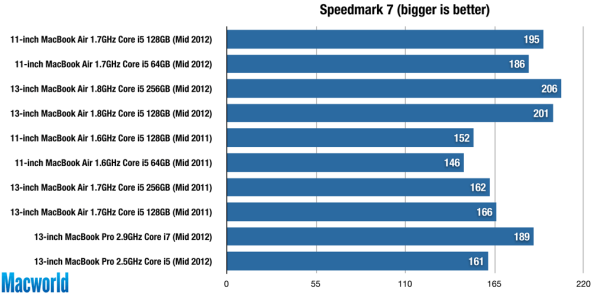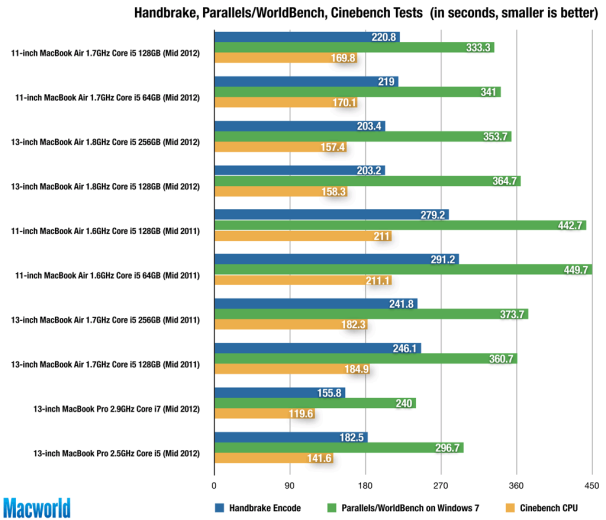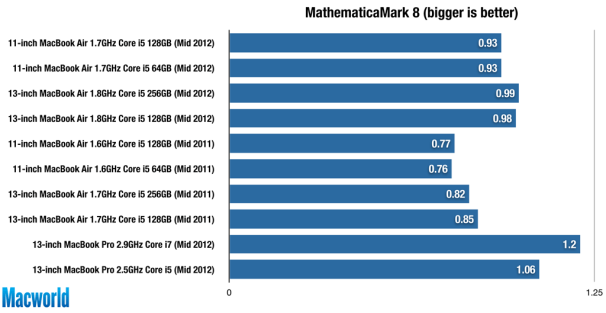 Last year's Airs offered big performance gains over their predecessors thanks to the switch from Core 2 Duo to Core i5 processors. While this year's Airs don't offer as big of a jump, our benchmarks show that the new Airs are roughly 15 to 21 percent faster in processor-intensive tasks (namely, our Cinebench CPU and MathematicaMark8 tests) than their immediate predecessors, and that's the case for both the 13-inch and 11-inch models.
(The $1099 11-inch Air and $1499 13-inch model can be purchased with an upgraded 2.0GHz Intel Core i7 processor with 4MB of level–3 cache. We will be benchmarking some build-to-order Airs and will publish our results when available.) [Update: We've published our benchmarks of the upgraded Air models.]
When it came to graphics performance, the 2011 Air was in some ways a step back compared to the 2010 model. Though both versions used an integrated graphics processor (GPU), the 2010 model's Nvidia GeForce 320M performed significantly better than the 2011 Air's Intel HD Graphics 3000 in our traditional benchmark tests, such as Cinebench's OpenGL test and a Call of Duty demo. However, when we used apps that had been specifically optimized for Intel graphics, such as Valve's Portal 2, the 2011 Air's GPU slightly bested its predecessor's.
For 2012, the Air line has been upgraded to an Intel HD Graphics 4000 GPU. While still an integrated GPU, Apple claims the 4000 is up to 60 percent faster on graphics-intensive tasks than last year's 3000. In our testing the 2012 Airs were indeed around 60 percent faster in our Cinebench OpenGL test, though only 20 to 25 percent faster in our Portal test. So while Apple's claims may not hold up across the board, it's clear that the 2012 Airs gain significant graphics improvements and comfortably best all previous generations in this area.
For real-world testing, I spent some time playing Portal 2 on the new Airs. At the highest supported resolution with the default detail settings for the Air's GPU, the game was quite playable, with only occasional mild stuttering, even when mirroring the Air's display to a 23-inch Cinema Display. It's worth noting, however, that after 10 to 20 minutes of this, the laptop's fans were easily audible, and after 20 to 30 minutes, the 11-inch Air was too hot to use on my lap. (The 13-inch model also got hot, but the temperatures weren't quite as high as those of its smaller sibling.)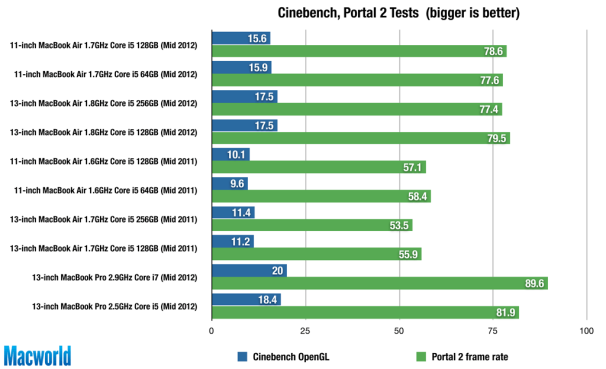 There's one additional graphics-related feature that Apple isn't advertising: Once you update your 2012 MacBook Air with the MacBook Air (Mid 2012) Software Update 1.0, you can connect two external Thunderbolt displays for a total (including the built-in display) of three displays. This is similar to the four-display capability of the Retina MacBook Pro.
When it comes to RAM, all four MacBook Airs, including the $999 entry-level model, now ship with a minimum of 4GB, and you can upgrade any 2012 Air, at the time of purchase, to a whopping-for-an-Air 8GB. These days, 2GB just isn't enough for anything but the most-basic usage, and since you can't upgrade the Air's RAM later, you're stuck with what you initially buy. As someone who's been using a 2010 MacBook Air with 2GB of RAM for a year and a half, I can tell you from personal experience: This is a welcome change. Memory is also a bit faster this year, jumping from 1333MHz to 1600MHz.
Finally, Apple has also upgraded the Air's flash storage with faster versions, claiming that the drives used in the 2012 Air line are twice as fast as the ones used in 2011. Specifically, Apple says the 2012 Air's flash storage devices are capable of transferring data at up to 500 MB per second. (You can also now upgrade the higher-end Airs to 512GB of flash storage.) In our testing, the 128GB-flash storage 11-inch Air was 35 percent faster than its predecessor at file duplication, and the 13-inch Air was 42 percent faster than its 2011 counterpart.
But faster flash storage offers more than just quicker copying of files. Drive operations are one of computing's biggest bottlenecks, because almost everything you do—opening files and applications, saving files, paging memory, and much more—involves reading or writing data. It's why people who've used a solid-state drive (SSD) or flash storage never want to go back to a traditional hard drive, and it's why my 2010 MacBook Air often feels faster than my 2010 iMac, even though the latter is otherwise enormously more powerful. The new Air's faster flash storage means that the computer boots faster, applications launch faster, files open and save faster…everything's just a little bit—though noticeably—faster.
On the other hand, the $999 model still ships with a paltry 64GB of storage. Yes, Apple's vision of computing seems to be that you'll take advantage of "the cloud" to store your media and documents, but until the MacBook Air ships with some flavor of always-on mobile network technology, 64GB is embarrassingly little storage for a $1000 laptop. It seems especially stingy now that the entry-level Air ships with 4GB of RAM.
And a small drive doesn't just limit your storage—it can also affect performance as the drive fills up. As Macworld lab director James Galbraith explained, we couldn't fit all of our standard test files on the 64GB system, and even after removing some of our test files in order to be able to run other tests, the $999 Air was only 7 percent faster than last year's model at file-intensive tasks. If you can afford the upgrade (see below), go with the 128GB of flash storage.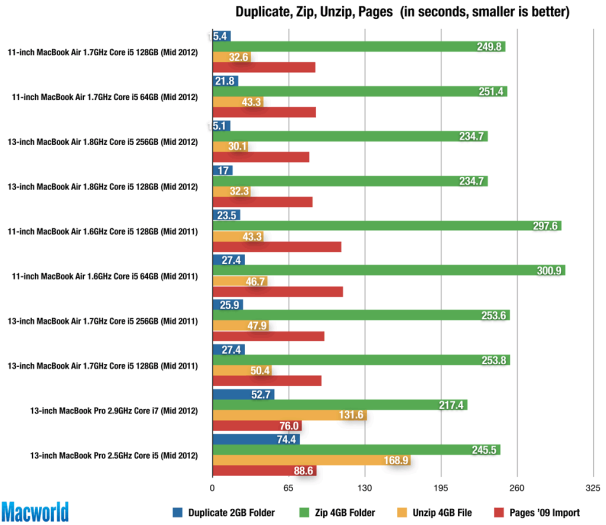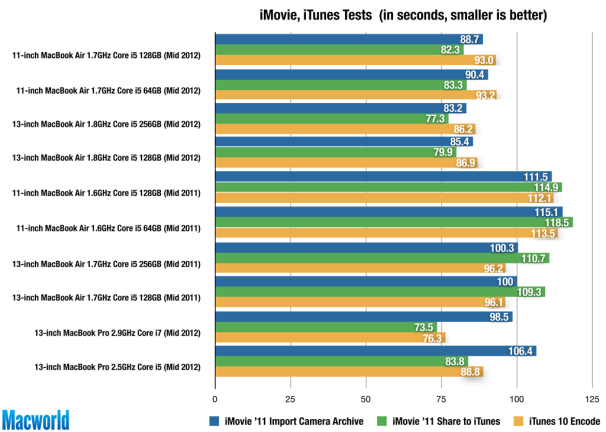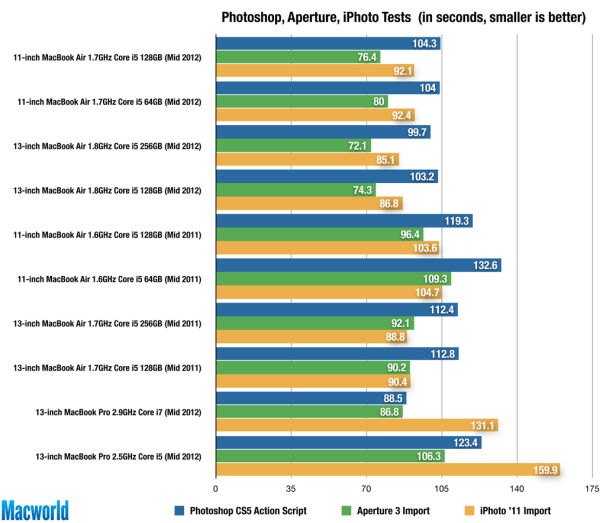 That aside, all these improvements add up to a nice overall speed bump. For example, when we tallied our overall performance benchmark, Speedmark 7, a 128GB 11-inch 2012 Air was 28 percent faster overall than the equivalent model last year, and a 128GB 13-inch 2012 Air was just under 20 percent faster than the equivalent 2011 version.
How do these improvements translate to real-world use? I timed how long it took to perform a number of everyday tasks on the 2012 11-inch MacBook Air (4GB RAM) and a 2010 11-inch Air (2GB RAM), each with 128GB of flash storage. (I performed each task several times and averaged the results.) On the 2010 Air, iMovie loaded to a new project in 5.5 seconds, iPhoto launched into an empty library in 2.8 seconds, and Safari launched and loaded Apple's home page in 2.7 seconds. On the 2012 model, iMovie took just under 3 seconds, iPhoto was ready in 1.2 seconds, and Safari finished launching and loading the Apple home page in 1.8 seconds. The 2012 Air also cold-booted into the Finder, with auto-login enabled, in just over 15 seconds; the 2010 Air took over 30 seconds. And our lab found that the 2012 model was a whopping 67 percent faster than the 2010 model in our HandBrake test, which involves converting a DVD chapter to an MP4 file.
If you're curious, we also compared the new Airs to a 2012 13-inch MacBook Pro with a 2.9Ghz Core i7 processor, 8GB of RAM, and a 5400 rpm hard drive. The MacBook Pro scored roughly 26 percent higher in our Mathematica test, and was roughly 28 percent faster in our Cinebench CPU test. But because it uses the same Intel HD Graphics 4000 GPU as the Air line, the MacBook Pro was only a few percentage points faster than the 2012 13-inch Airs at the Cinebench test and 12 percent faster in our Portal test. But perhaps most suprisingly, thanks to the flash storage, both of the 2012 128GB Airs (11-inch and 13-inch) bested—by 3 and 6 percent, respectively—the i7-equipped MacBook Pro in our overall Speedmark benchmarks.
More meat, less bread
While the 2012 Air's improvements are impressive, perhaps the most-welcome change is that all of these upgrades come—with the exception of the entry-level 11-inch model—at lower prices. That entry-level 11-inch Air sports a 1.7GHz i5 processor with 3MB of shared L3 cache, 4GB of RAM, and 64GB of flash storage for $999. But this year, the next model up is only $1099 and gets you 128GB of storage—well worth the extra $100, in my opinion.
The entry-level 13-inch Air, which features a 1.8GHz i5 processor with 3MB of shared L3 cache, 4GB of RAM, and 128GB of flash storage, has dropped in price to $1199, and the other 13-inch Air, which offers 256GB of flash storage, is $1499, both also $100 drops compared to last year.
All four Air models can be upgraded to 8GB of RAM for an additional $100. That a reasonable price, but it's also an easy recommendation if your computing needs go at all beyond the basics or if you plan to keep your Air for a while—as mentioned above, you can't upgrade later.
The $1099 11-inch and $1499 13-inch models offer a couple other benefits: Only they can be upgraded, for $100 at the time of purchase, to the 2.0GHz Intel Core i7. The $1099 11-inch model can also be upgraded to 256GB (for $300) or 512GB (for $800) of storage, and the $1499 Air can be upgraded to 512GB for $500.
Macworld's buying advice
The MacBook Air line has always been about compromise—as I wrote back in 2008, the Air was initially appealing mainly to people for whom small size and light weight were more important than the features the Air was missing. But two things have happened since then. First, some of those missing features—an optical drive, for example—have become less important. Second, the Air's features and performance have been improved, little by little, to the point that an Air no longer feels like a compromise. As a result, the Air is now Apple's core notebook and, by some accounts, the company's most popular laptop.
The 2012 MacBook Air models should further cement that position, as they're easily the best Airs yet. Thanks to upgraded processors and graphics capabilities, along with both Thunderbolt and USB 3—features still missing from Apple's Mac Pro line—for expansion, it's getting tougher and tougher to say the Air isn't a "full-featured" laptop. And you no longer have to give up a good chunk of performance if you want to go light: Thanks to flash storage, both 2012 Air models are competitive with Apple's current hard-drive equipped 13-inch MacBook Pro models (and the Air has a considerably better display). In fact, if you don't need a 15-inch screen and lots of storage space, it's now tough for many people to justify a MacBook Pro over a lighter and more-portable Air.
As for deciding between the 11-inch and 13-inch Air models, with the exception of the 13-inch Air's SD card reader, your choice mainly comes down to screen size and battery life. Yes, the 13-inch model sports a slightly faster processor, but the actual performance differences are small enough that those who prize portability can go with the 11-inch Air—a frequent traveler's dream machine—without worrying about what they're giving up. (If you do go with the 11-inch Air, I recommend the $1099 model over the $999 Air for the additional storage and the option to upgrade to a 2.0GHz CPU.)
I suspect, however, that many people want a bit more screen real estate (and perhaps better battery life), and it's only $100 to make the jump from the 11-inch 128GB Air to the 13-inch model—an easy decision if you need the space. I recommend the $1499 13-inch Air only for those who need a lot of storage space (256GB, upgradeable to 512GB) and the option for the faster processor.
Finally, some advice for current Air owners wondering if they should upgrade: If you bought a MacBook Air last year, the performance boost from 2011 to 2012 is significant, but it probably isn't worth buying a new machine—after all, if cutting-edge performance was your priority, you wouldn't have gone with the Air. (One exception: If you'd benefit from 8GB of RAM.) But if you've got a 2010 Air, the 2012 models offer major performance improvements, and if you've got a 2009 or older Air, upgrading is a no-brainer.
Updated at 4:15pm to correct the description of the GPU in the 2010 Air models, and at 10:20pm to note battery life and RAM in the buying advice. Updated 6/24/2012, 11:10am, to clarify that real-world tests used Portal 2, not Portal. Updated 6/26/2012, 10:20am, to add link to benchmarks of upgraded MacBook Air models.
[Dan Frakes @danfrakes is a senior editor at Macworld.]