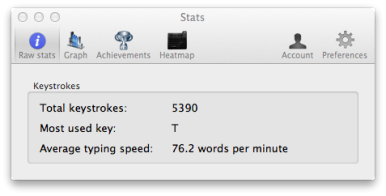 Typingstats ( Mac App Store link) is a utility that tracks your typing habits. It sits in your Mac's menu bar and tracks everything you type whenever the utility is open. The results it generates offer everything from your average words-per-minute, to the key or keys most likely to break due to frequent use. Typingstats is available for $1 on the Mac App Store.
As a typing utility, Typingstats gives users control over what exactly they can track, though words per minute and keystrokes (including invisible characters) are the default settings.
In testing, I learned that I type the letter "T" the most frequently. I disabled tracking of the space bar because it is overwhelmingly my most used key (and likely everyone else's as well).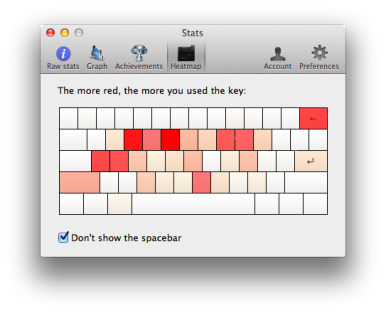 Typingstats tracked my every keystroke as I typed. When I deleted a word or sentence, my average words per minute and total keystrokes were logged and adjusted accordingly. Deleting words actually involves more keystrokes, since you have to go backwards and forwards again. Users can opt to have the Typingstats logo or a live typing stats number displayed in the menu bar; I chose the latter option and checked it often as I typed.
While Typingstats maintains a history of your typing, it does not record your keystrokes. Since analysis is its primary purpose, Typingstats also offers a "social leaderboard" which allows you to compare your typing stats to other users, provided you sign up for a free Typingstats account. Your results are uploaded for comparison if you opt for an account.
Typingstats is a useful utility for anyone that wants to improve his or her typing skills.