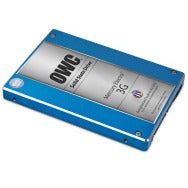 Cloud? What cloud? There's still a market for standalone storage devices—big devices, judging by the newest drive from Other World Computing.
OWC has unveiled its Mercury Electra Max, a 960GB internal 2.5-inch solid-state drive (SSD) compatible with Macs and other PCs; it's the highest-capacity drive ever offered by the company. And that big storage capacity comes with a hefty price tag: $1270.
The SATA drive promises to play well—and speedily—with your Mac, with read speeds of up to 254 MBps and write speeds of 250 MBps.
OWC says that the device is aimed at notebook-style computers; Macworld's Dan Frakes pointed out that entry-level models of the newest-generation MacBook Air offer a "paltry" 64 GB of storage—meaning they could run out of space quickly if they don't rely on the cloud or an external device. And if you still use a Mac with a traditional hard-drive, the SSD's lack of moving parts would likely afford a significant speed bump for your Mac, too.
The Mercury Electra MAX comes with a three-year warranty. It is available at Macsales.com and other retailers.