This week's roundup of iOS accessories features products that help you write, take pictures, do business, listen to music—and stay powered up for all of these activities.
Electric Friends: If you need your iPhone-dock speaker system to be more than just speakers—if you need it to be the most adorable thing in the whole wide world, in fact—the line of $70 Electric Friends docks might be what you're looking for. Shaped like ducks, kitties, puppies, and pandas, you plug your phone into the critter's belly and get music from two embedded 5-watt speakers. It's the first portable docking station we've ever been tempted to tickle under the chin.
Genius: This company has introduced the $70 LuxePad 9100, an ultra-thin, Bluetooth keyboard that you can pair up with your iPad. The device runs on two AAA batteries and comes with a leather case that can be used to tote it around or serve as a kickstand for your tablet. (Assuming your jealousy of that feature of Microsoft's Surface tablet hasn't driven you to rage at Apple's obstinacy.) The keyboard itself is just 1.75mm thick, making it light and easy to carry around when not in use.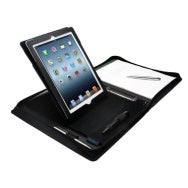 Kensington: When you take your iPad 2 or third-generation iPad on the road for business, it's usually in conjunction with other things you need: pen, paper, and the like. Kensington's new $70 Folio Trio Mobile Workstation lets you pack all that gear into a single slim case, sort of a Trapper Keeper for iPads. Not only can it display your tablet in landscape or portrait orientation, the Folio Trio also features a three-ring binder for keeping paper handouts sorted and organized, as well as loops to store your pen or one of Kensington's new Virtuoso styluses: The $40 ProPointer, which includes a laser pointer; the $30 Pro Pen Stylus & Pen, a self-described combination device; and the $20 Pro Stylus Fine Tip Stylus.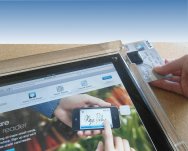 NewMacGadgets: The rise of Square-style credit-card services using the iPad is creating a new market for accessories. NewMacGadget has unveiled its $100 iPad Credit Card Dock, an acrylic base that displays the tablet in landscape orientation and includes a slot with room for the Square plug-in device, letting retailers find a semi-permanent spot for their iPad instead of running the risk of misplacing it in the store (or having someone run out of the store with it).
Padcaster: The latest-generation iPad has a pretty sharp camera—now it's time to put it to use. The $149 Padcaster helps you produce professional-quality video by providing a sturdy DSLR-style frame for your tablet, one that fits easily onto a tripod and is ready to accept attachments such as lenses and microphones to produce the best-possible sights and sounds. The Padcaster is currently available for pre-order; the first shipments will be happen in August.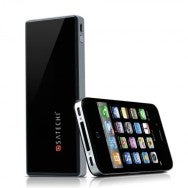 Satechi: Who's got the power? You, probably, if you have Satechi's $50 Portable Energy Station, a lightweight (7.4 ounces) device capable of powering up two iOS devices at the same time. The device can power an iPhone for seven to nine hours at a time, and is small enough to be easily stowed in your carry-on bag during flights. The station automatically turns off once the device it is charging reaches full battery power.
Studio Six Digital: Not every microphone is used for making sweet, sweet music. The $200 iTestMic is meant more for measuring purposes. Just plug it into your iOS device, and it can be used to test the sound qualities of theaters, churches, and any other location that requires good acoustics, with readings calculated to within a tenth of a decibel. The device is currently available for pre-order; it ships in July.
Tiltpod: There's no end to the parade of photo-making accessories for iOS these days, but only rarely do they fit on your keychain. That's the claim to fame of the $15 Tiltpod Mobile, pocket-sized doodad that can serve as a mini-tripod for your iPhone 4 or 4S when you're in picture-taking mode. It comes with a grippy, magnetic base that lets you frame your photos just so; it works with an iPhone in portrait or landscape orientation, and it quickly attaches to and detaches from your phone.
Tivoli: Looking for some newfangled audio accessories with some old-school flair? Tivoli has unveiled several Bluetooth-enabled audio systems to be used in conjunction with the company's free Tivoli Radio iOS app. The $260 Model One BT and the $300 PAL BT Portable Audio Laboratory can both play tunes wirelessly from your iOS device—the former in a beige walnut case that would be appropriate in Don Draper's den. Also available from Tivoli are the $150 BluCon wireless receiver and the $160 Radio Silenz headphones.
Zagg: Ever catch somebody looking over your shoulder while you browse the web on your iPhone? Then Zagg's $25 Privacy Screen Protector for iPhone 4 and 4S will help save your privacy. The screen protector—like those used on laptop screens—makes it appear as though the screen is black when viewed from any angle except head-on, which is presumably where you'll be while using the device.
iPad (third generation) family
Note: When you purchase something after clicking links in our articles, we may earn a small commission. Read our affiliate link policy for more details.