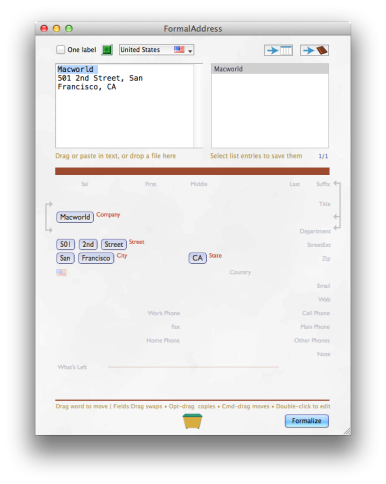 Let's say you find an address online that you know you'll need to access later. You can jot down the address on a piece of paper, manually add it to your Address Book, or email it to yourself for later reference. FormalAddress ( Mac App Store link) adds another option, which saves time and is incredibly convenient: it ports addresses from the web (and other sources) to your Address Book in seconds.
When you come across an address that you want to import to your Address Book, just copy the text to your clipboard, open FormalAddress and paste the address in the blank box on the left. Click the "formalize" button at the center of the screen and FormalAddress arranges the address, as it deems necessary. This process works well, although I did encounter some trouble with the formatting of apartment numbers in testing.
Once FormalAddress has corrected an address, you have the option of editing the address further (where I fixed apartment number placement) before you finalize the address and send it to your Address Book. Of course, you can edit any entry in Address Book itself, too.
In testing, I found that FormalAddress did a good job identifying business addresses and personal addresses when appropriate. FormalAddress automatically filled in the business name and catalogued the entry as a business on its default settings.
FormalAddress is an incredibly useful time saver. While it may not be a utility you seek out, once you discover its usefulness you're likely to return to it again and again.