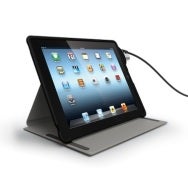 Accessory maker Kensington unveiled a line of security devices this week to help iOS and Mac users keep their products from ending up in the hands of thieves.
On the iOS front, the company introduced the new SecureBack line of security cases for the iPad, led by the $90 SecureBack Protective Folio Case & Lock for iPad. As the name suggests, the device lets you lock your iPad into a slim carrying case, and then tether the case in place if you plan on remaining in one location for an extended period. The case also allows the iPad to be displayed for typing and viewing. Other products in the line include the $50 SecureBack Security Case for New iPad, the $80 SecureBack Security Case & Lock for New iPad, and the $60 SecureBack Protective Folio Case for iPad. (The cases that don't have "& Lock" in their names don't include the actual lock, but do include Kensington's ClickSafe Security Anchor—you buy the lock separately.)
Kensington also introduced new protection for the iPhone 4 and 4S in the form of the $80 PowerGuard, which includes a scratch-proof case and a keychain fob. If the wireless connection between the fob and the free BungeeAir iOS app is broken, the phone's screen will automatically lock, requiring a security code for access. The phone case includes a battery that offers an extra four hours of talk time.
On the Mac side, the company announced a pair of iMac security devices, the $100 SafeStand for 27-inch iMacs, and the $80 SafeDome. Both products lock desktop computers into place, the former by enclosing much of the iMac's stand in a secure, bolted companion stand, the former using the iMac stand's cable-routing hole to attach. And for laptops, Kensington announced a pair of $90 SafeDock docking stations for the MacBook Air line, which lack the traditional Kensington security slot, as well as the $45 ClickSafe laptop keyed lock for the MacBook Pro.
All products are available for immediate purchase and shipping.