Clusters 1.5.6 is a file-compression app unlike any I've seen before. You tell it which folders you'd like it to compress, and it does so silently in the background. When it finishes, you should notice no difference at all—except that your total amount of free disk space is higher. Files automatically decompress as you open them.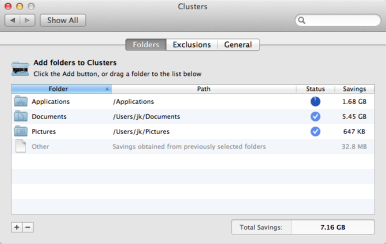 Compressed files look and work exactly like their uncompressed versions, and can even be seen in their original size if viewed in Finder. (The Clusters preference pane shows you how much space you've saved.) Because Clusters relies on a low-level compression capability built into Mac OS X 10.6 Snow Leopard and later, you can even copy your files to computers without Clusters installed, or attach them to email messages, and they'll be decompressed on the fly.
The space savings varies with the types of files you compress. I was able to get slightly less than 7 percent compression on my Applications folder, and a little more than 3 percent on my Documents folder. Those numbers may sound small, but they contributed to an overall savings of nearly 8 GB, which made a big difference on my MacBook Pro's 500 GB drive. Within your selected folders, you can manually exclude particular files, folders, or extensions—Clusters automatically avoids items it deems unlikely to benefit from additional compression.
I found performance to be speedy, even on a relatively slow Mac, but you can pause compression at any time if necessary. Although the developer warned that backup programs might need to recopy items that have been compressed, I didn't notice excessive backup activity with either Time Machine or CrashPlan.
Clusters has a few quirks. Its display of space savings is a cumulative history rather than actual current savings; if you use the app's manual decompression feature, the amount of saved space shown doesn't decrease. Using the uninstall feature also leaves behind numerous support files, and if you reinstall the app later, files may show a lower compression rate. Those issues aside, if you're low on disk space, Clusters may be the most painless way to get some breathing room.