Install MailTags 3 and you'll soon forget it's there. Sure, it adds a superb level of functionality to Apple's native Mail that you won't be able to live without once you've tried it, but it is so fully and beautifully integrated into the Mail app at so many levels that you'll forget where Mail ends and MailTags begins.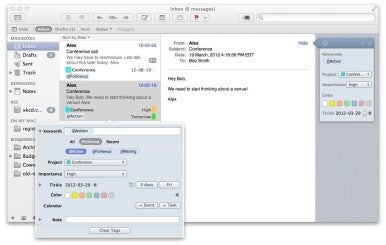 Basic tagging means assigning keywords to items so you can search for them later. MailTags goes far beyond that, letting you create and assign project names, colors, priorities, and even lengthy notes to any piece of Mail. A message can inherit tags from one earlier in its thread, and you can send tags along with messages to colleagues who also use MailTags.
MailTags interacts with Mail's rules, so you can create a rule that, for instance, automatically tags or colorizes any message from your mother (or another contact). It integrates with iCal, so you can create events—including alarms—and tasks for iCal's Reminders list without leaving Mail.
But what MailTags does is almost eclipsed by how it does it: elegantly, and seamlessly. A small tab appears at the corner of an email message; a click opens a thoughtfully designed, fully keyboard-navigable panel that lets you attach information to that message or interact with iCal. But you don't have to open the panel to view the information you've attached to the message, because a synopsis appears in the Mail column that identifies the sender and subject.
The level of integration with Mail is almost spooky. You'll find MailTags-related commands and information in contextual menus, the View menu's Message Attribute submenu, Preferences, and even in the drop-down menu from the search field, which will suggest categories such as keywords and projects when you start typing. In fact, you can even type "tag:" followed by a keyword into the search field.
Which brings me to a curmudgeonly gripe: you have no way of knowing you can search like that with a tag attribute, or what a tickle date does, or how to implement many other basic and advanced features because there's no documentation other than a brief Quick Start Guide. Be prepared to explore, however, since it will be worth it.