I confess: I like to whistle while I work. Well, not so much "whistle" as "listen to music." Usually I turn to my tried-and-true iTunes library, but lately I've been trying out Streambox 4.2 ( Mac App Store link), a full-featured Mac client for the Pandora streaming audio service.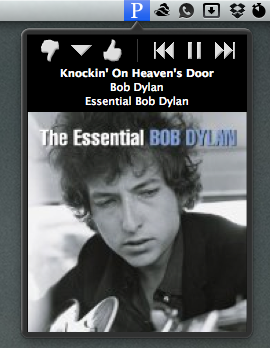 Of course, the app gives you access to several of Pandora's features, such as the ability to give a song a thumbs up or thumbs down, skip forward and backward (up to Pandora's own limits), view a list of song attributes, and create stations based on a song or artist.
There's a lot to like about Streambox (previously known as Pandoras Box). For one thing, it's largely designed to be as unobtrusive as possible. By default, the app resides in your menu bar as a simple "P" icon. It's not until you click on the icon that it yields a window showing the track name, artist, and album; thumbs up and thumbs down buttons; previous track, play/pause, and next track buttons. To access the preferences and more features, just click the downward facing arrow between the thumb icons. Or, tear the window off the menu bar to turn it into a floating window.
You can also configure Streambox to use the media keys (previous track, play/pause, next track) on your keyboard or, if you prefer, assign keyboard shortcuts to those actions and more. And since keyboard commands are sent to the most recently active app, it doesn't interfere with using those keys to control iTunes playback. Streambox can also optionally work with an Apple Remote if you want to use it while you're not sitting at your desk.
Integration with other apps and services is another of Streambox's strengths. You can configure the app to send a Growl notification when you start playing a track; if you use the Last.fm service, Streambox can automatically scrobble songs you play to that service. The app can even look at your iTunes library and try to find a match for the currently playing song (you can manually specify one if it fails to do so), and you can even have it increment the track's play count in iTunes.
For more information, you can click on the artist, track name, or album name to be taken to the respective page on Pandora's website. Should you decide you want to buy the song you're jamming to, Streambox provides integrated links to iTunes, Amazon MP3, and, for the old school, even Amazon's CD section.
Sound quality isn't as good as iTunes, but you can enable high quality MP3 streaming if you have a paid Pandora One account. Not being much of an audiophile, it didn't really bother me, but for those that demand it, it's nice to know it's there.