This week's roundup of iOS accessories features products for drivers, bikers, and recyclers.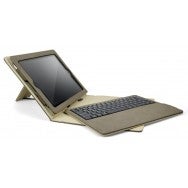 Cygnett: The $150 Lavish Connect is a sleek, folio-style keyboard case for your new iPad. It includes concealed magnets that support the iPad's magnetic sleep/wake feature, and the device also features an 84-key Bluetooth keyboard and an integrated stand to prop your tablet screen into the desired position. It comes in black or sandstone.
Eco-Made: Not every accessory needs to be super-pricey to be effective. Eco-Made's Eco-Amp is just $8—and that money gets you two Eco-Amps in one package. This gadget is made of recycled paper and it designed to unfold, origami-style, to create a horn-style passive amplifier for your iPhone. And it's portable: It can be refolded and put back into its package for transporting to your next location. The Eco-Amp is designed for the iPhone 4 and 4S.
Griffin Technology: The iPad is becoming more popular in retail businesses all the time. That's why Griffin is offering the new Kiosk display device—$199 for the table-mounted version or $299 for the floor stand. The locking, steel armature makes it easy to secure your tablet against intentional or accidental walk-offs; three faceplates are included to give users the option of allowing public access to the iPad's camera and home button.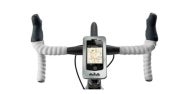 Heart Rate Watch Co.: Hardcore bicyclists are the target audience for the $260 iPhone 4S Ultimate Bike Pack. It's not really an accessory, but rather a set of accessories: an iPhone mount for your bike's handlebars, a chest strap that wirelessly relays heart-rate information to the phone, as well as a Garmin speed and cadence sensor to collect data on how fast you're climbing those hills. The only thing it doesn't do for you is feel the burn.
Hone: We don't usually feature Kickstarter projects in our roundups, because many don't come to fruition. That's not a problem with the Hone, which easily exceeded its $46,000 goal with several weeks to go. The device is a fob that attaches to your keys; if you misplace them, simply activate Hone's iOS app, and as long as you're within 150 feet of your keys, the fob lights up and vibrates. A pledge of $49 will get you one of the devices when it ships.
Ion Audio: If the room is a rockin', please come a'knockin! This company's new Room Rocker docking station is designed to provide party-level audio from your iPhone or iPad, with a full-range, 40-watt stereo with a powerful subwoofer. While the device includes a dock cradle for your iOS device, it can also wirelessly stream music from any Bluetooth-enabled gadget. We don't yet have shipping or pricing information; the company says only that the Room Rocker is "coming soon."
Pioneer: Looking for a better way to listen to your iPhone music in the car? Pioneer has unveiled the $600 AppRadio 2, an iPhone 4- and 4S-compatible touchscreen car stereo that installs right in your car's dash, letting you stream music from the iOS Music app as well as apps such as Pandora. It also includes an AM/FM radio, as well as a GPS antenna to improve your positioning accuracy on the road. The company also announced a Mobile Developer Center to encourage third-party app developers to create programs compatible with the device.
Schneider Optics: Who needs a camera? The growing field of iPhone accessories makes shooting great photos with your iOS device increasingly attractive. Schneider Optics joins the fun with its $105 2X Tele Lens for iPhone 4 and 4S. It offers the equivalent of a 60mm lens on a 35mm SLR camera, providing a 31-degree range of field for taking panoramic shots. The device comes with a handle extension for artfully wielding your camera, as well as a lens cover.
USBFever: We've noticed that in some families with multiple iPhones, charging cords go missing, prompting a death match between husbands and wives, parents and children as they fight to make sure their iOS device is the one that gets powered up overnight. USBFever is bringing peace to such families with its $100 Super Charger Dock, which has the capability to charge up to four phones at a time, along with a single slot for a second- or third-generation iPad. Pre-orders for the device are now available; it ships on July 21.
iPhone 4S family
Price When Reviewed:
$599
iPad (third generation) family