If you want to get a good glimpse of a developer doing some tremendously clever things for iOS devices, look no further than the dozen or so App Store offerings from Toca Boca. Aimed primarily at kids in the preschool and kindergarten set (and, in some instances, the early years of grade school), Toca Boca's apps encourage kids to use their imagination with every flick, tap, and swipe.
I think it's somewhat limiting to describe what Toca Boca makes as games or educational apps. They strike me more as playsets — sort of digitized versions of the Fisher Price toys I had as a kid that provided me with props for games of pretend. Toca Boca's apps offer the same sorts of flights of fancy, only bringing the iPhone, iPod touch, or iPad into the mix.
Toca Boca recently rolled out a new app, Toca Train, which turns your iPhone or iPad into a toy train set geared at small kids. It's a terrific app with touch controls easy enough for young fingers to master—exactly the sort of thing I've come to expect from Toca Boca. And for that reason, I thought I'd use the release of Toca Train to look at some other Toca Boca-built apps to showcase a handful of the developer's other iOS titles as a way of spotlighting why these offerings stand out from the App Store crowd.
It's always a tricky business making generalizations about what a specific app maker does and doesn't do with its products. After all, Toca Boca's apps cover everything from train sets to doctor's offices to hair salons. But in tapping my way through these kid-geared games, I've come across a few common themes. Toca Boca apps aren't terribly complicated to operate, and that's a good thing when your target users are still trying to master the art of tying their own shoelaces. A few very obvious taps and swipes in a typical Toca Boca app, and you've learned all the controls you need. That said, Toca Boca's apps don't really punish you for tapping the wrong thing. Yes, these are games, more or less, and some of the apps—Toca Doctor HD and Toca House, for example—give you a rousing cheer when you complete a task, but if all a kid wants to do is tap objects indiscriminately, then the Toca Boca apps are perfectly willing to accomodate that. The common factor appears to be just launching the app and letting your imagination take you where you want to go.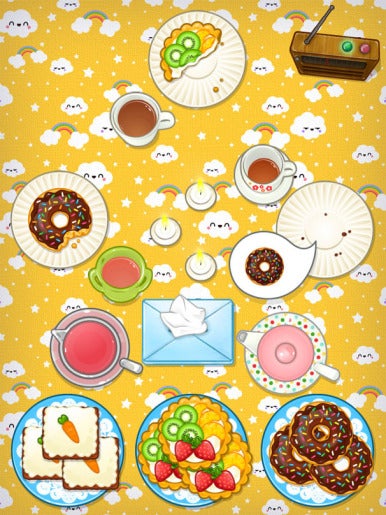 (Another nice thing about the Toca Boca apps: Parents can play with them right alongside their youngsters, just like you would with a set of blocks or toy cars. After testing my share of kids apps, I can assure you that's a rarity to come across one that parents can enjoy alongside their youngsters. I've "accidentally" deleted more than a few kids apps from my iPad before my daughter was any the wiser just because the thought of launching them even one more time set my teeth on edge; that's never been the case with anything that Toca Boca has built.)
I think Toca Tea Party—one of my favorite Toca Boca apps—best illustrates how one's imagination comes into play with these digital playsets. Toca Tea Party turns your iPad into a virtual tea set. You drag the tablecloth, settings, and treats into place, and then tap away to devour the cakes and sip the glasses of tea. What my daughter and I do is set the iPad down on the floor and then arrange her favorite stuffed animals around the virtual place settings. My daughter than babbles away happily while I tap the screen to help her stuffed animals chow down on the treats we've set before them.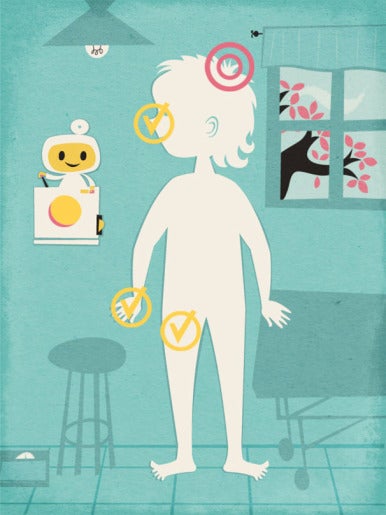 It's amazingly simple to get started with Toca Tea Party. My daughter is on the younger side of the ideal age range for this app, but she's still able to drag the tablecloth, plates, and cups into place. She needs some help dragging the pitchers of tea and punch around the screen for refills or mopping up virtual spills with an on-screen napkin, but that's where Dad comes in. And once all the cakes are devoured, Toca Tea Party makes her place the dirty cups and dishes in a tub of soapy water—a lesson I hope sticks with her throughout her teenage years.
The aforementioned Toca Doctor HD and Toca House are more task-oriented apps featuring a series of mini-games. In the former, a patient comes into your doctor's office, complaining of a series of maladies; the the later, you help five extraordinary roommates tackle their household chores. (Again: Heed these lessons well, my young daughter!) And while it's nice to get the rousing cheer from the apps when you successfully finish a task, the real fun comes from the tasks themselves.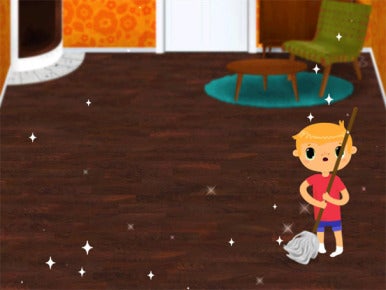 In Toca Doctor HD, you help clean up scrapes by swiping your finger across the screen, and then placing a bandage over the boo-boo. (In a particularly clever touch, the bandages features birds and cats that tweet and meow when they're put in their proper place.) Or you might have to rearrange your patient's internal organs like the pieces of a puzzle. In total, the app offers 21 puzzles and mini-games, and just the tap of a button brings a new series of maladies for you to treat. It may not help your toddlers bone up for their MCATs, but it is a fun little app. (Note that while I'm reviewing the iPad-only Toca Doctor HD, there is an identical version of the app designed for the iPhone and iPod touch.) I found the tasks in Toca House a little more mundane—washing dishes by dragging across a stream of running water or delivering mail to each resident by putting brightly colored envelopes in their corresponding mailbox—but younger users will probably get a kick out of completing these virtual chores.
Toca Hair Salon really lets your kids explore their creative side. They choose from one of six salon patrons—some of whom have quite literally gone to dogs—and give them a badly needed shave and a haircut. Swiping across the bottom of the screen summons up the tools of the barbering trade—scissors, an electric razor, shampoo, and more. Tap the tool, then tap the offending haircut: The app will shave, fluff, tease, or shear the offending follicles.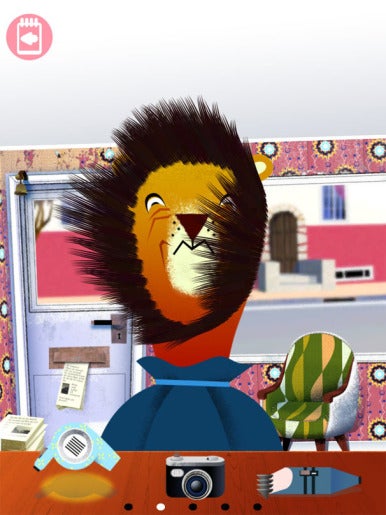 The hair-cutting tools aren't as precise as some users may prefer (though it's a safe bet, the target audience of toddlers won't really care). A more pressing complaint is that Toca Hair Salon really doesn't offer a way for its aspiring hair stylists to signal that they're done. The app lets you snap a photo of your finished work, but if you'd like to bring in another customer, you tap the back button. An "I'm Done" button would be a lot more satisfying, I'd think.
Still, that's a minor complaint stacked up against the fun, little details peppered throughout Toca Hair Salon. The customers react to each snip of their hair, and the looks of trepidation as you keep cutting are priceless. Use the hair dryer, and the customers' faces flap in the industrial-strength breeze. And of course, Toca Hair Salon offers a wide array of hair dyes and other accessories to put your own personal touch on your customer's coiffure. Quibbles about the precision of the controls aside, the app's a great way to let youngsters unleash their creativity without the heartbreak of real scissors. (I only wish Toca Hair Salon existed when I was a kid and my older sister used a pair of scissors to give our cat an unwanted trim before framing me for the crime. "This one's for you, sis!" I may or may not have shouted while testing the app.)
That brings us to Toca Train, the new kid on the Toca Boca block. It's every bit as wonderful as Toca Tea Party in my book because it's a great app that's even more worthwhile when you use some imagination.
In Toca Train, you control a modest, four-car train as it chugs its way along a winding track. A slider on the side of the screen adjusts the train's speed, and you can even pull down to toot your train's whistle. You can toggle between two views—the engineer's eye view from within the train itself and an outside camera that lets you pan around for a panoramic view of the highly detailed landscape. (Pan around enough, in fact, and you can even enjoy an aerial view of your train chugging down the track—great for when you're going over bridges.) Your train can stop along the way to pick up passengers and freight. And there's no start and stop point—the journey continues as long as you want it to.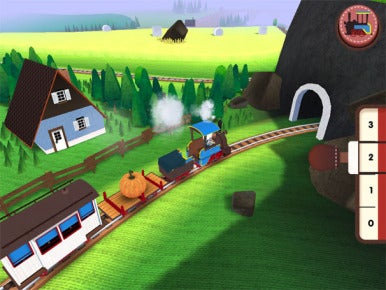 And that's the best thing about Toca Train: It's not a passive experience where you mindlessly tap and the app does all the work for you. Instead, it provides a framework for your kids to play with. When I use the Toca Train app with my daughter, I tell her stories about each of the passengers that gets on the train or about the different cargo that we're loading and unloading. And as my daughter gets a little bit older, I hope she uses the app similarly—or finds a different way to enjoy it, if that's where her imagination takes her.
It also helps that the graphics in Toca Train are pleasing to the eye, and the little details typical of Toca Boca apps are in abundance here. (I like how the wheels of the train throw off sparks when you hit the brakes, for example, and how you can make the sound of the train whistle fluctuate depending on how you pull its virtual handle.) Spend some time with Toca Train—or any of the Toca Boca apps, really—and you'll quickly see why this developer has made a name for itself on the iOS platform.
[Philip Michaels is the editor of Macworld.com.]