Pholium is an iPad app designed to create virtual books of your photos. The app, in turn, is linked to an online service that lets you share your books with friends. Pholium 1.3, the newest version, includes a number of major improvements over previous versions, and a price drop to free.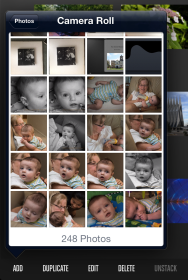 Pholium Gallery
You get started with Pholium by importing some photos into Pholium's Gallery. This is not as easy as it sounds because you have to use the iOS photo picker to select photos, and the thumbnails in the photo picker are tiny.
It's difficult to tell if the photo you're picking is in focus or whether the subject's eyes are fully open, for example. After dealing with this frustration through my first few Pholium books, I finally got smart and organized everything outside Pholium into a single folder. I still had to import the images one at a time, but at least I didn't have to make decisions about what to import.
The Gallery provides some modest photo editing tools that let you adjust brightness, contrast, and exposure, and do a couple other minor tweaks, but Pholium is no Snapseed or iPhoto—Pholium doesn't even have a crop tool—so I recommend doing your editing before you import.
Later in the process, when you place a photo on the page of a book you're creating, you have to use Pholium's photo picker to place photos from the Gallery into the pages you build. The thumbnails are still small, but the Pholium photo picker does display any stacks you created in your Gallery. It certainly would be easier if you only had to pick your photos once—when you're placing them on the page—and if you could at least crop them right on the page.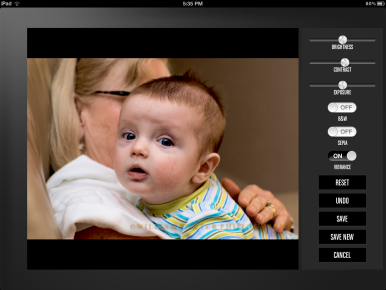 Pholium Studio
Once you've imported all the photos you want into the Gallery, you're ready to make a book. You do this by moving into the Pholium Studio and clicking the New command.
You can create a blank book, in which you place the images anywhere you like, or you can have the program place images on the pages for you. In that case, you'd select from one of the basic page layout options. Letting Pholium make the book for you is certainly easier, because you can select all the images for the book at once, using a large, full-screen selector reminiscent of the thumbnail view in the Photos app.
Whichever method you choose, you'll be asked if you want to use the Classic or Modern style. The Classic style has been available in Pholium since version 1.0; it looks like a real book, with a faux gutter separating the left page from the right, and with soft pages that turn like the pages in iBooks. The Modern style, new in version 1.3, removes the faux gutter, and the pages seem stiff when they turn, like the pages in a Flipboard app.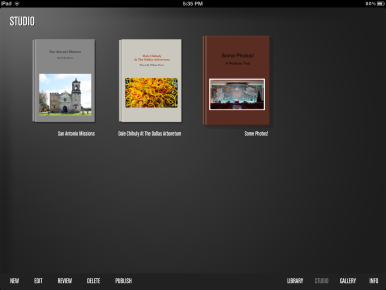 After you make these preliminary choices, you'll be looking at the front cover of a new book. Enter a title and subtitle as instructed, then open the book (swipe left) to get to the inside title page, where you enter the title again and a short preface. You can format the fonts and paragraphs for these text blocks and also adjust their placement.
If you let Pholium create the book for you, the cover and inside pages of your book will be filled with photos. You can open the book and edit the placement of photos if you like. You can also add a picture to the back cover.
If you asked Pholium to create a blank book, you'll have to add each photo yourself. Click the Pages button at the bottom of the screen to add a couple of blank pages, then click the Photos button to select a photo from your Gallery. Each two-page spread can have as many as four photos or as few as none (if you just want to place text). You can resize (but not crop) photos and you can rotate them. One photo can overlap another.
You keep adding pages and photos until you're done. You can create as many pages, and place as many photos as you like in a Pholium book. When you're done, if you want, you can place a photo and/or a caption field on the outside back cover as well. Click Done to close the book editor and click Review to flip through what you might call the page proofs of your book.
Pholium 1.3 also allows you to add text to the inside pages of your book. The tool for this is labeled Caption, but you can use a caption box to enter any text you like, from a simple title for a photo, to a short paragraph or two. As the edges or middles of two objects (photos or caption fields) get nearly aligned, Pholium displays a dynamic guideline based on the previously placed object. But you can't draw any default guidelines for pages to help get all the photos in the book aligned to exactly the same place on the page.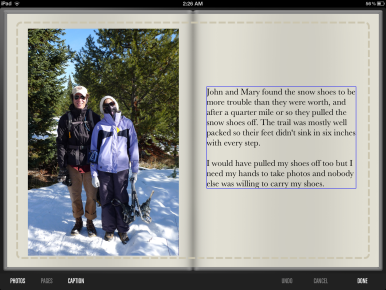 Pholium Publishing
If you like what you see, you can now publish your book to your Pholium Library. Once a book has been published, you cannot edit it further. However, if you want to make a change, you can use the Copy command to make an editable copy of the book.
Once a book has been published, you can send it to somebody. In fact, you can send it to as many somebodies as you like, and for free. To share books, you have to be logged in to your iCloud or Dropbox account. Unfortunately, you can only send a book to 10 people at a time, so sending a book to 100 people is a bit tedious.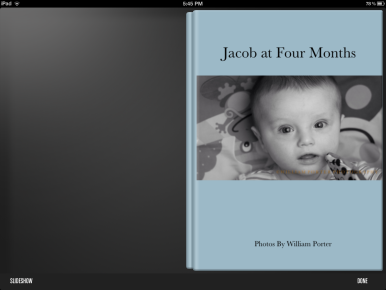 What your recipients get is a link that will let them download your Pholium book to their iPad and open it in their own copy of Pholium. What if they don't have an iPad or simply don't want to download Pholium? They'll get a link to a Web page that displays something that kinda, sorta looks like your book.
Book experience
Even for people who do have an iPad and Pholium, the Pholium book experience doesn't exactly match a real-world book experience. A real dead-trees book can be a book and make your photos look fantastic at the same time. Pholium can do both things, too, but not at the same time.
One problem is that the page display places your photos under a layer that causes them to lose some sharpness or clarity. This is especially apparent on a retina-display iPad. Another problem is that the looks-like-a-book virtual packaging takes up screen space, and that means less area for your photos. This is particularly problematic because a Pholium page (like a normal book page) is taller than it is wide, while most photos are wider than they are tall.
If you have a great landscape photo, you can let it stretch across both pages of a spread, but—if you selected the Classic book style—you'll get an ugly faux gutter in the middle of it.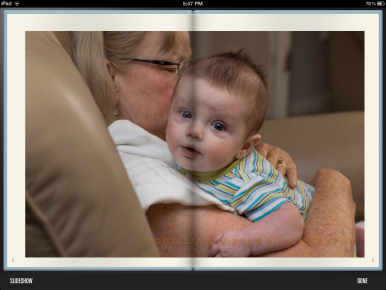 While your photos can indeed look terrific in Pholium, it's best to abandon the book metaphor. When you're looking at a photo on a Pholium page, simply tap on a photo to view it, by itself, in full-screen mode. Or click on the Slideshow button to flip through all the photos in the book in full-screen mode. Either way, the images look really nice on my retina-display iPad.
Do they look any nicer than they do in a Web photo sharing service like Google+ or Facebook or 500px? Not really. But the point of Pholium isn't simply to display your photos beautifully, which you can do without Pholium, it's to provide the book experience.
Worth a look
Pholium presents your photos in a distinctive way, and even if you don't send your photos to anybody, making a book with Pholium is a lot of fun. It's neat to see your photos "published" in a book without having to chop down any trees. Note also that, while Pholium isn't perfect, it is still a very new app and under active development: version 1.3 is the third update in almost as many months.
And, hey, it's totally free, so if you think you might be interested, by all means, give it a try. There are also alternatives to Pholium worth looking at: Blurb Mobile is pretty good and iPhoto Journals, while not exactly book-like, also provide a terrific way to package and share albums.
[William Porter is a portrait and family event photographer in Dallas, Texas.]