Digital asset management can be a real hassle, particularly if you have thousands of image, audio, and video files that you need to find and use as a part of your day-to-day business. Minder Softworks' Stock Keeper ( Mac App Store link) offers a way to easily track and manage your digital assets without spending a fortune.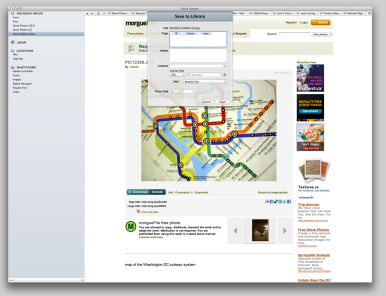 Stock Keeper uses tags, license, payment, date, notes and other information to help you organize your files. Customized Smart Folders that, like their eponym in the Finder, automatically collect images and other media as you add them to your Stock Keeper library based on criteria you define, which make it easy to quickly locate your files.
One of my favorite features is Stock Keepers' Web Search Groups, which uses an integrated Web browser and bookmarks to save websites that you use to download stock images or other media files. When downloading files from within the app, you can add tags and other information about the file you are downloading, which automatically adds them to your Smart Folders and makes it easy for you to retrieve them later.
While I love the way the app works, a few enhancements would go a long way toward making Stock Keeper really great. Double-clicking any file in the application opens that file in the default image editor for that file type. A Finder-like "Open with" option when you control-click an image would make it much easier to open files in the application you want to open it in. Likewise, the option to download an image from a webpage using a control-click would be useful, too. Finally, Stock Keeper's integrated browser was, at times, buggy.
Small details aside, Stock Keeper is a great, inexpensive way to manage and keep track of all your digital media.