At a Glance
Expert's Rating
Pros
Fewer extraneous features
Appealing, well-crafted interface
Support for more modern Web technologies
Cons
May slow down or hang with some HTML5 features
Still some needless design elements
Our Verdict
If Opera 11.5 ( ) was a browser that wanted to be an operating system, Opera 12 happily seems to abandon that dream. Opera's designers are shedding the nifty but pointless bells and whistles that made previous versions so charmingly eccentric and overstuffed. In their place, Opera 12 takes a respectable stab at assembling a finely focused modern browser.
Addition through subtraction
The best new features in Opera 12 are the ones it lost. By default, new users won't see Opera 12's confusing Unite media service or Widget mini-applications as part of the browser. Both features left Opera feeling bloated, and seemed designed more to show off its technology than serve any useful purpose.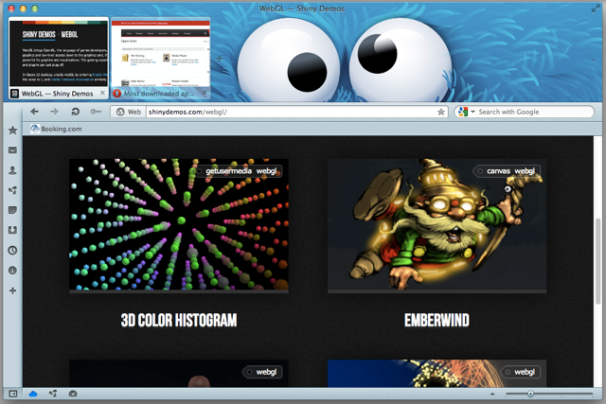 In their place, Opera introduces a few pleasant interface tweaks. It redesigned the security badges that accompany web addresses, making it easier to tell when a site is secure, encrypted, and coming from a trusted source. You can also now add eye-pleasing themes to your browser with a few easy clicks. I liked the one based on a certain blue, furry cookie fiend from children's television, although I couldn't see much more than his googly eyes in the narrow portion of the browser window the theme decorated.
For who browse in languages other than English, Opera now supports right-to-left languages such as Arabic and Hebrew. It also now works with web pages that use your computer's webcam—although the program will always ask your permission before it lets any site take pictures.
Opera also trumpets support for a bevy of cutting-edge new web technologies. HTML5 drag and drop worked perfectly, as did some of the CSS animations I tested. But others wouldn't load, and some fancy HTML5 games I tested, whether made for Opera or other browsers, caused Opera 12 to slow to a crawl and ultimately stop working. Opera 12 doesn't seem to separate each tab as its own process; if one stalls out, so does the program.
I noticed more minor interface polishes in Opera 12's still-impressive integrated mail client, one of its few added features that always made sense. And I was pleased to see one last improvement: Opera 12 finally supports Netflix streaming.
A happy medium in Web performance
In speed and power, Opera 12 improves notably on its predecessor in several categories, but lands squarely in the middle of the overall browser pack. On a aluminum 2GHz MacBook with 2GB of RAM, I pitted Opera 12 against Safari 5.1.7, Firefox 13.0.1, and Chrome 19 in tests of HTML5 rendering speed, JavaScript performance, and compliance with HTML5 and overall Web standards. I tested Opera 12 twice; once with its new, experimental hardware acceleration enable, and again without it. I also tested Opera's last full version, 11.64.
Benchmarks: Opera 12
| Browser | SunSpider JavaScript | Acid3 | HTML5 Vector | HTML5 Bitmap | HTML5 Text | HTML5 Compliance |
| --- | --- | --- | --- | --- | --- | --- |
| Opera 12 | 387.2 | 100 | 24.87 | 12.52 | 22.88 | 385/9 bonus |
| Opera 12 HWA | 393.3 | 100 | 25.22 | 55.98 | 20.17 | 400/9 bonus |
| Opera 11.64 | 445.0 | 100 | 21.45 | 10.15 | 24.34 | 338/9 bonus |
| Chrome 19 | 411.2 | 97 | 15.31 | 55.77 | 16.39 | 402/13 bonus |
| Firefox 13.0.1 | 336.7 | 97 | 2.8 | 13.63 | 19.09 | 345/9 bonus |
| Safari 5.1.7 | 323.8 | 100 | 31.8 | 54.54 | 19.9 | 334/11 bonus |
In HMTL5 vector graphics performance, Opera 12 posted only a few more frames per second than its previous version, with hardware acceleration yielding only a tiny performance gain. Still, it posted the second-best score, at 25.22 fps to Safari's 31.8, beating Chrome and absolutely walloping Firefox.
Hardware acceleration made a much bigger difference in HTML5 bitmap tests. Without it, Opera 12 posted 12.52 frames per second—better than its previous version, and slightly trailing Firefox. But with it, Opera 12's 55.98 fps beat Safari's 54.54, and slipped ahead of Chrome's 55.77, for the top spot.
Without acceleration, Opera 12 soundly beat Chrome, and edged out Safari and Firefox, for top performance in handling HTML5 text. But hardware acceleration actually made its score drop by a few frames per second, from 22.88 to 20.17, and neither showing beat Opera 11.64's 24.34 fps.
Acceleration also slowed down Opera 12's JavaScript score, from 387.2 ms to 393.3. This beat its predecessor's 445 ms, but still left Opera dead last in the pack by margins of 40ms or more.
Opera 12 did much better with standards compliance. Along with Safari, it aced the Acid3 test, and with 409 points out of 500, it fell only 6 points behind Chrome atop the rankings for HTML5 support. Turning off hardware acceleration knocked 15 points off its score, but even that represented a big jump from Opera 11.64's 347 points.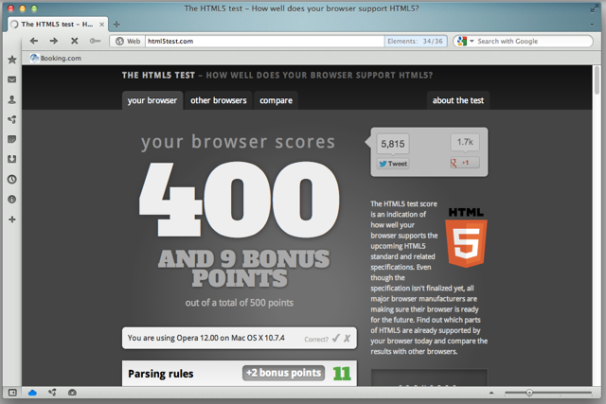 Macworld's buying advice
If you don't need the fastest performance, you enjoy marching to the beat of your own drummer, and you want one program for both web browsing and email, you'll find Opera 12 a harmonious addition to your work and play on the Web.
Editor's note: Updated to correct a reference to Opera as open-source software.
[Nathan Alderman is a writer, editor, and member of Cookieholics Anonymous in Alexandria, Va.]