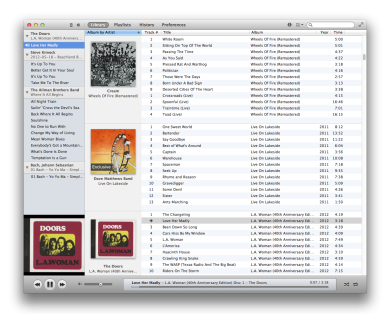 As a huge music fan, it drives me crazy that iTunes doesn't support FLAC, the open-source lossless audio format used for many live music downloads and high-resolution album releases. So I've had to resort to a separate player just for those files. I've been using Cog, a simple app that hasn't been updated in four years (and quite frankly, I'm amazed it works in Lion at all).
But with Enqueue ( Mac App Store link), I've finally found a more-than-worthy replacement for Cog. It can handle all my FLAC files with aplomb, and even lets you designate multiple watch folders (called Monitored folders) on your computer that it scans for content. For example, I keep all the concerts I want to listen to in a folder on my desktop, and point Enqueue to that folder to keep its eye on.
But it's much more than just a FLAC player. Enqueue is a full-fledged music playback application, similar in look and feel to iTunes. In fact, it can read and play the contents of your iTunes library as well—in addition to FLAC, Enqueue can play MP3, AAC, Ogg Vorbis, WAV, AIFF, and Musepack audio files. (Enqueue doesn't actually move any files around, just plays music from its existing locations—similar to how iTunes works when you uncheck the "Copy Files To iTunes Media Folder When Adding To Library" option in iTunes' Advanced preferences.)
It offers an iTunes-style Browser feature for navigating your music, and gives you access to your iTunes playlists as well. You can also create additional playlists within the software. And it provides a play queue, which acts like an on-the-fly playlist for throwing together what you want to listen to, with the added bonus of letting you reorder what you've added to it.
The app offers a 10-band EQ with a few presets plus the ability to save your own; customizable playback shortcuts to control track, volume, and ratings, as well as support for keyboard media keys; Last.fm scrobbling; Growl notifications; full-screen support; and ID3 tag editing.
There are also a few small touches that make Enqueue more enjoyable. Like iTunes, Enqueue offers a Mini Player that you can use you want to minimize the app's hogging of your screen real estate. But Enqueue's Mini Player provides easy access to the software's repeat and shuffle functions, and you can extend the window vertically to see all the tracks in the album or playlist you've queued up. Also, when you pause or being replaying music, the sound fades slightly out or in, respectively.
There are also a few oddities with the software. For example, when in the Mini Player mode, selecting the Preferences options from the menu bar doesn't appear to do anything. Only when you expand back to the main player do you see that the app has indeed switched over to its Preferences tab. It doesn't support SHN, an older lossless format that many of my downloaded concerts are in. You can rate songs in Enqueue, but those ratings appear tied to the app itself, and don't transfer over to iTunes for any of your songs that live in Apple's software. In fact, a few features are a little unclear until you've played around with the software a bit, and there's no built-in help information and a scent two FAQs on the developer's website.
But as a lightweight music player with good FLAC support, global hotkey control, multiple view options, and more, Enqueue is a welcome addition to the desktop of Mac-based music lovers.