With this week's quiet announcement that iGoogle will be retired next year, one thing has become clear: How Google perceives its products and how I use them are sometimes two entirely different things.
For Google, it's clear that iGoogle—a personalized dashboard, and admittedly a remnant of the age of Internet portals—is little more than an app delivery system, one that's been displaced over time by the rise of the Chrome Web Store for desktop computers and the Google Play service for mobile users.
For me, however, iGoogle was something different: My brain, at a glance.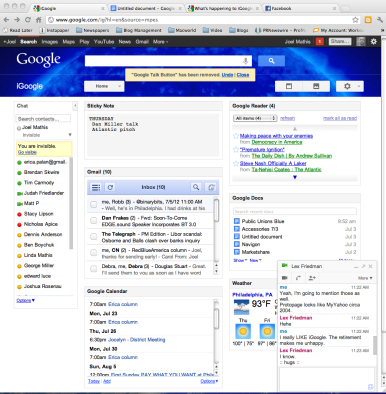 Online default
Over the years, I've let Google become the default provider in just about every area of my online life: I started with Gmail shortly after it launched in 2004, moved on to composing my stories in Google Docs, kept my schedule in Google Calendar, stayed up-to-date with the news in Google Reader's RSS feed, and instant messaged with my Macworld colleagues in Google Chat. I even got my hands on a first-generation beta-testing Chromebook a couple of years back, and yes, I use the Chrome browser when I'm working on the Mac—though not, admittedly, when I'm on iOS: On that platform, it is more limited than the iPhone and iPad's native Safari browser.
In that context, iGoogle was more than an app-delivery system: It was my one-stop shop for doing all those things—and checking the weather, to boot—without having to have a million browser tabs open: Everything at a single glance. That capability made my digital life a bit more efficient, a little less frantic, and solidified my status as a Google loyalist: It was just so easy to use its services when everything integrated into a single location.
And now it's going away. (The desktop version closes in November 2013; the mobile version at the end of this month.) Why?
Google was somewhat cryptic on that front, suggesting mostly that the service's time had passed—possibly due to reduced use—and hinting at its view of iGoogle an an app-delivery service instead of a brain-organizer. "We originally launched iGoogle in 2005 before anyone could fully imagine the ways that today's Web and mobile apps would put personalized, real-time information at your fingertips," the company said in a blog post. "With modern apps that run on platforms like Chrome and Android, the need for iGoogle has eroded over time, so we'll be winding it down."
That iGoogle-as-app-delivery model makes sense: Cruise through the service's Add Gadgets directory, and it's easy to see a precursor to what the Chrome Web Store has become. Widget developers—and widget users—mostly grew up and moved to mobile platforms.
It's also easy to see another way the rise of mobile computing platforms like iOS and Android have had a role in this evolution: They've pushed users back toward being single-taskers. It's easy enough to clutter the desktop of a computer with a browser, an email client, and a dozen other applications running at the same time—but when you're on the iPad, say, and you're looking at the Safari browser, you're only looking at the Safari browser. If you're looking at your mail, you're looking at your mail. iOS has become more nimble over the years, and it remains true that mobile enthusiasts have come to expect their phones and tablets to do nearly everything, but not everything at once.
So what now?
There are, of course, still Web-based, widget-oriented, personal dashboard services out there when iGoogle falls by the wayside.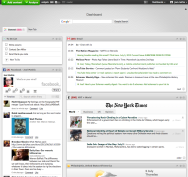 My Yahoo! is still kicking, despite the troubles of its parent company, as is My MSN. And there are other, independent services that that might do in a pinch: Among these, Netvibes is the most promising, being both easy on the eyes and relatively straightforward to customize with the information and services you might desire, while Inbox.com is a close second. Other services, like Protopage and Webwag feel clumsier and harder to customize than their rivals.
But for my purposes, none of those services offers the tight integration with Google that was the foundation of my iGoogle usage. They might offer Gmail access, but widgets for Google Reader, Google Docs, and Google Calendar are largely absent. If I want to rebuild the at-a-glance functionality that iGoogle has given me, I might have to shift away from using Google's many useful services.
Or I might just learn to leave a dozen browser tabs open and skip around them while working during the day. Sure, that's the way a lot of people work, but it's still an unpleasant prospect. Without iGoogle, it seems, my brain might never again be the same.
[Joel Mathis is stay-at-home dad and Macworld contributor. He lives in Philadelphia.]