At a Glance
Expert's Rating
Pros
Fast
Works without a computer
Portable
Cons
No built-in Wi-Fi connectivity
Proper document feeding requires practice
Some software UI quirks
Lack of official iOS client
Our Verdict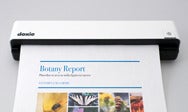 I think it's fair to say that most of us have too much paper in our lives, whether it's business documents, receipts, financial statements, or (my personal weakness) keepsake scraps like menus and ticket stubs. Flatbed scanners are inexpensive, but for large jobs (and, heck, even small ones), the scanning process is tedious.
I'd never considered purchasing a dedicated document scanner, though, until I first heard about the $199 Doxie Go from Apparent. This slick, battery-powered portable document scanner is capable of computer-free scanning, and Apparent's convincing web site filled my head with dreams of reducing paper clutter via a process that would, hopefully, fall somewhere between painless and fun.
Go, Doxie, go
The Doxie Go ("Doxie," incidentally, means "floozy"—I'll let you make your own joke) is rectangular glossy white and matte black plastic box that's about 10 inches long, roughly 2 inches square on the side, and weighs just under a pound. Apparent also includes a calibration card, cleaning tool, mini-USB cable, and drawstring carrying bag; a worldwide power adapter is $10, and a carrying case is $29.
A slot on the long side of the scanner accepts paper ranging in size from business cards to 8.5 by 15 inches. To scan, you simply turn the device on and feed it a piece of paper (one piece at a time). The scanner pulls the paper through the slot in about eight seconds, scanning the up-facing side of the page. The Doxie's built-in battery lasts for about 100 scans—a reasonable estimate, based on my use—and recharges in about an hour via USB cable.
As you scan, Doxie saves the resulting images to its 500MB internal storage, or, optionally, to an SD card or USB drive. The default resolution is 300 dots per inch (dpi); a quick press of the power button switches to 600 dpi, giving more detailed scans, larger files, and a 40 percent reduction in battery life (some desktop scanners have higher resolution, but the Doxie's options should be fine for most uses).
Since scanning with the Doxie Go is simply a matter of running a sheet of paper through the scanner, it was delightfully quick to scan batches of items (receipts, ticket stubs, letter-size documents, and photos in my case) while occupying myself with other activities. Getting paper to feed straight and evenly takes practice, though, and my technique is rarely perfect. As a result, I often make several scans and simply use the best version. Thin paper (like receipts), small items, and creased pages are particularly problematic—an adjustable document guide helps with these, but the scanner has a bad habit of grabbing the item while lining up the document and setting the guide, and there are no markings to indicate settings for common page sizes. Apparent provides a plastic sleeve for small or oddly-textured (e.g. glossy) items, which enables scanning of photos and particularly small scraps, but it smudged easily, and it's difficult to get items aligned straight within the sleeve.
I had a few inconveniences with the device's battery power. The scanner's battery life and charging time limit the length of scanning sessions, so the AC adapter is useful for marathon sessions (most USB AC adapters should also work). In low battery conditions, the Doxie Go also loses power mid-scan, so it's best to stop and charge the scanner, rather than push the battery all the way to empty. The scanner powers itself off after five minutes of inactivity, even if it's connected to a computer, which triggers warnings from OS X that the scanner's internal storage volume and attached media haven't been properly ejected. Like all devices powered by a rechargeable battery, the Doxie discharges slowly even when off, so plan on fully recharging the scanner if you haven't used it in a couple of weeks.
The Doxie software
Once you finish scanning, you can plug the Doxie into your Mac via USB, or connect your USB drive or SD card to the computer. Apparent's Doxie application launches, imports the scans, labels them sequentially, and presents an iPhoto-style grid of thumbnails (the Doxie isn't TWAIN-compliant, so it won't work with most scanning software, but instead presents itself as digital camera and will work with digital camera software such as iPhoto).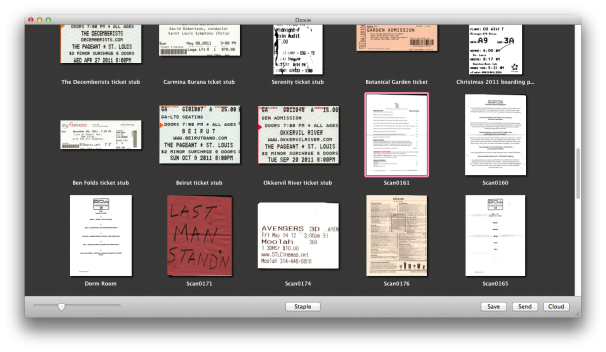 My hopes for perfect scans with no intervention are overly optimistic—the Doxie Go hardware crops images, and the software performs additional cropping and straightening with decent results, but manual tweaking improves the scans. I sometimes had to crop black background regions at the edges of scanned items, which an Apparent representative told me are the result of imperfect paper feeding. The software offers a choice of color, grayscale, and black and white output; an adjustable Contrast Boost (to give documents pure white backgrounds, when desired); and adjustments to contrast, brightness, and saturation. The software controls mostly take the form of sliders, which make fine adjustments difficult, and the software shows only a small preview image to guide adjustments—a larger, zoom-able image would make edits easier.
Since the Doxie stores each scan as an individual file, you can select multiple scans to "staple" for export as a multi-page document. There is no way to specify the intended size of scanned pages, so multi-page documents are a mishmash of similar, but not identical page sizes due to inconsistent cropping—though this problem is not unique to the Doxie Go.
Overall, I found the Doxie application much more efficient than other scanning software I've used, especially since I processed scans in batches, rather than having to scan an item and process it before scanning the next item.
The Doxie Go offers a number of destinations for scans. The scanner saves scans as JPEGs, but you can select JPEG, PNG, or PDF formats for final output. PDF export has optional ABBYY optical character recognition for searchable text; the results were useful but not 100 percent dependable. A Send button sends files to other applications on your computer, while a Cloud button will upload scans to CloudApp; Flickr; Google Docs; Scribd; Doxie's own temporary cloud storage service (with an option to Tweet a link); Basecamp; or HelloFax. Scans can also be sent to Evernote or Dropbox via those services' client applications. You can set output format preferences (including compression levels and OCR) for each app or service, but with the exception of Dropbox, there's no easy way to override these temporarily.
When I mentioned some of my software issues to an Apparent representative, I was told that software fixes for many of them were under consideration: automated cropping of black areas resulting from feeding errors, the ability to set consistent pages sizes, and the ability to temporarily change output formats and settings. The company also recently added integration with new cloud services, and plans even more options for future updates. Apparent is clearly committed to improving the Doxie Go through future software and firmware updates.
Wi-Fi optional
For an additional $30, Doxie offers a bundled Eye-Fi Connect X2 4GB SD/Wi-Fi card. The card fits in the Doxie's SD slot, and you configure Eye-Fi's software to save images to a Mac directory (~/Pictures/Doxie Eye-Fi), which Doxie's software monitors for new scans. Not having to plug in the Doxie or swap media around to transfer photos was wonderfully convenient. You can also purchase a card later through Doxie or at retail.
Battery life is slightly reduced when using Wi-Fi, to about 70 scans. Apparent advertises the ability to automatically send files from a Doxie Go + WiFi to various cloud services, without a computer, but this "cloud scanning" feature relies solely on the Eye-Fi. This means that you forego the options afforded by Doxie's software, including automatic tweaks, stapling, and a choice of output formats.
iOS compatible, more or less
Apparent also promotes the Doxie Go's ability to send images to iOS and Android devices, again without a traditional computer. As with Wi-Fi, this functionality relies on third-party hardware and software: either an Apple iPad Camera Connection Kit ( ; for iPad only), or an EyeFi card (iPad, iPhone, iPod touch, Android). In the former case, you scan to an SD card and import scans to the Camera Roll using Apple's SD adapter—the Doxie Go draws too much power to import scans via Apple's USB adapter.
Scans are then accessible to third-party apps—though I was told a Doxie iOS app is under consideration. You can also use an Eye-Fi card to scan to Eye-Fi's iOS app. With either method, you again forego the option of processing scans with Doxie's software.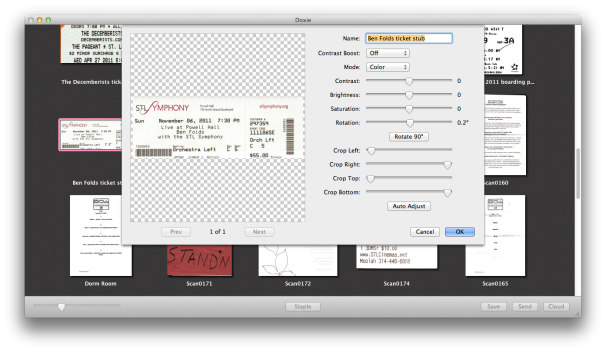 Scan quality
To judge the quality of scanned text, images, and photographs, I used my $300 Hewlett-Packard OfficeJet Pro 8600 Plus multi-function peripheral's built-in scanner. For text-heavy color documents, scans from the HP appeared sharper and cleaner than scans from the Doxie—in particular the Doxie's scans of black and white text had some fringe coloration. The HP also did a better job of suppressing the appearance of creases in the output.
However, the HP did not perform any automatic rotation or cropping adjustments, although this was mitigated by its imposition of scans on a white background. For photographs, the HP's scans were sharper and more detailed than the Doxie, while the Doxie's colors were more vivid and closer to the original print.
Overall, it's clear that the Doxie's hardware makes some sacrifices in image quality to achieve its portability. The Doxie's image quality is sufficient for many purposes, but if quality is paramount, use a traditional scanner.
Macworld's buying advice
The Doxie Go is a great idea, and a very handy tool, although there are still some rough spots in its hardware and software that made scanning more of a chore than I had hoped—in particular, getting straight scans required careful feeding of the original item, and minor tweaks to the resulting scan. I would also love to see Doxie offer better-integrated solutions for "cloud scanning" and iOS use. At $199, the scanner's convenience and portability come at a premium, considering that flatbed models are inexpensive, and multi-function printers with built-in scanners are common (some rival Doxie's convenience with automatic document feeders and Wi-Fi connectivity). Companies such as Visioneer also make similarly-priced portable document sanners worth considering. However, the Doxie Go's portability and ability to scan without a computer made scanning very convenient. Just as the best camera is the one you have with you, the best scanner is the one that you will actually use—and I got more use out of the Doxie Go during my review period than I have from any other scanner I've owned.
[ R. Matthew Ward lives in St. Louis and wants desperately to avoid hoarding. He writes about audio, Apple, and other cool stuff on his personal blog.]