Yes, we know that the Independence Day holiday came and went a few days ago. But it's never easy to get back into the full swing of things, work-wise, is it? So this week's roundup is dedicated to fun.
In this shortened week, we already presented you with roundups of the best extreme sports games and American history apps for iPhone and iPad. And Lex Friedman brought you his review of the new Chrome browser for iOS. The week also saw updates to Analytiks, PCalc, and the MLB At Bat apps.
Here are other new and updated apps that caught our eye this week:
Astronaut Spacewalk: It probably won't surprise you to know that a number of Macworld staffers are big fans of the space program. We probably won't ever slip the surly bonds of Earth, but Jorge Hernandez's $4 Astronaut Spacewalk for iPhone might be a good approximation. ( Check out this gameplay video.) The game puts you on an orbiting space shuttle, with a jet pack that lets you attempt 20 different missions that feature the Hubble space telescope and other satellites—all while making sure you don't run out of oxygen and fuel in the process.
Cthulhu Saves The World: After vigintillions of years great Cthulhu is loose again, and ravening for delight. Granted, we didn't expect to actually find Cthulhu saving the world—H.P. Lovecraft's creation is kind of the personification of evil—but this new $2 8-bit-style game for iPhone and iPad features the Tentacled One's redemption journey, but only kind of: To regain his powers, Cthulhu must become a "true hero." Then, of course, Cthulhu will use those powers to destroy the world. It's meant to parody 1980s role-playing games, but might be fun on its own. It's like we always say: " Ph'nglui mglw'nafh Cthulhu R'lyeh wgah'nagl fhtagn."
Frogger: Hyper Arcade Edition: Even though there's a bit of a craze for retro-style gaming on iOS, we normally wouldn't dream of featuring two 8-bit games in the same roundup. However: Frogger's back! Konami Digital has revived our favorite frog—yes, we're even looking at you, Kermit—in this $1 game for iPhone and iPad. If you're looking for a more modern experience, the game also features new HD graphics, as well as multiple game modes. But the object is pretty much the same as it always was: Cross the road, and the river, safely. Believe us, this is a ribbiting—er, riveting—game.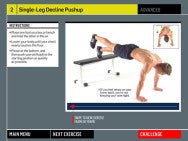 Men's Health Pushup Challenge: If all that sitting around playing retro games on your iPad is making you flabby and pasty, it's time to change habits: Sit around with your iPad and learn 30 different ways to do a pushup. The $3 Men's Health Pushup Challenge app for iPad offers that kind of education—which is a revelation to us, because we didn't even know there were two different ways of doing a pushup. You can view the proper mechanics of each style, follow the app's guidance for training, and adapt that guidance to your own fitness level.
NBC Tour de France Live Mobile: Yes, the most famous bicycle race in the world is already under way—but it doesn't end until July 22, which means there's still plenty of time (and reason) to buy the $15 NBC Tour de France Live Mobile app for iPhone and iPad. The app offers live video coverage of every stage, full stage replays and results, overall standings, rider profiles, and even the official Tour de France Twitter stream. With so many features, this app gets the yellow jersey.
World Series of Poker: If, on the other hand, your idea of fun involves cigars and the potential loss of huge sums of money, then Electronic Arts' new World Series of Poker app for iPhone and iPad should be up your alley. This isn't a game against the computer: You're playing against other people who've downloaded the game—either a random group selected by the app, or a select group of friends. And you really can put up some dough: While the app is free—and so is a seat at the virtual table—the game includes in-app purchases of poker chips ranging from the $2 "starter pack" to the $20 "diamond stack." Be warned you can't play without a Facebook account—and EA says that the game is intended only for users above the age of 21.