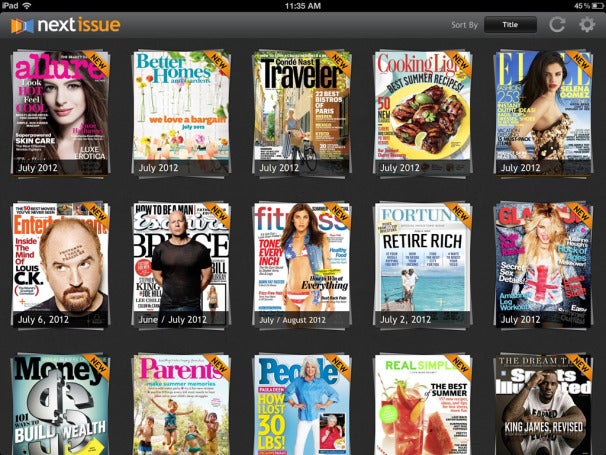 We're all very familiar with the concept of All You Can Eat, from the artery-clogging Vegas buffet to the less-literal digital equivalents such as Netflix for TV shows/movies, the various digital music subscription services, and even Audiobooks.com for audiobooks.
In April, Next Issue Media launched with a similar idea for magazines. Pay a monthly fee and get access to a bunch of digital magazines from Conde Nast, Hearst, Meredith, News Corp., and Time Inc. The problem? It was only available for some Android tablets. As of Tuesday, iPad users get to join in the fun with a catalog of nearly 40 magazines, and the promise of more to come. (See the complete list at the end of this story.)
As an avid reader of magazines on the iPad—I subscribe to several through Apple's Newsstand, with individual apps, and via Zinio—I was excited to get a chance to play with the iPad version of Next Issue prior to its release.
What you get
For $10 a month, you get an Unlimited Basic plan, which currently includes 34 magazines such as Bon Appétit, Car and Driver, Cooking Light, Fortune, GQ, Sunset, and Wired—basically the monthly and bi-weekly magazines on offer. For $5 more ($15 a month) you're signed up for the Unlimited Premium plan, which adds the weekly magazines: right now, Entertainment Weekly, People, Sports Illustrated, The New Yorker, and Time.
You can also purchase single issues for between $2.50 and $6 per issue, or subscribe to individual magazines for between $2 and $10 a month, but the real point of the service is the flat-fee approach.
To get around Apple's App Store pricing restrictions (and commission requirements), all purchases are done via the Next Issue website rather than as in-app purchases.
Next Issue Media is actually a joint venture of the five publishers whose magazines are represented here, so although the company promises to add more titles in the near futures, don't expect to see any from publishers other than these ones right now.
How it works
Once you sign up for one of the unlimited plans, you decide which titles you want in your library (you can add or remove magazines at any time by tapping the Change Selections button), and then choose how they get sorted in the app (by issue date, title, new issues, last opened date, or download status).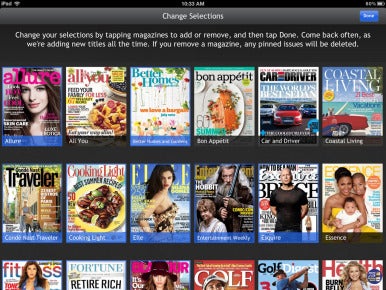 For each magazine, tap on the displayed cover—the apps shows you the latest issue—to go to that magazine. You'll then see the current issue as well as all the back issues available. (The archives only go back to January 2012.) Each unread issue displays an orange New banner in the upper right corner, similar to how Apple handles new issues for Newsstand magazines.
To start reading an issue, tap on its cover and the service begins a progressive download, called a Smart Download, to allow you to start reading after about a minute of prep and downloading of the magazine's index. If you tap on a story to read, that part will download and then it will pick up with the rest of the issue after that. I started downloading the latest issue of The New Yorker and immediately jumped to the the cartoon gallery. After a few seconds, I was able to enjoy some wittiness—the gallery is unique to the digital version of the magazine—and when I moved to read a review of The Amazing Spider-Man elsewhere in the issue, it was a similarly quick experience. (The current Newsstand version of The New Yorker has a similar feature, in which the View button next to an issue becomes active after about one-third of the download is complete. Tapping it opens the cover, and going to a story forces that article to download right away.)
Alternatively, you can tap the subtle push pin icon (perhaps a little too subtle) in the lower right corner of a cover to download and pin it to your device. Pinned issues are downloaded completely in order to be to available offline at all times. They will remain on your iPad until you un-pin them, and they aren't subject to auto-deletion due to storage constraints. (A Usage setting lets you choose how many magazine issues to keep, with different presets for the different capacity iPads, as well as a No Maximum setting for the most avid readers. Older issues get deleted first, and you can always redownload them later.)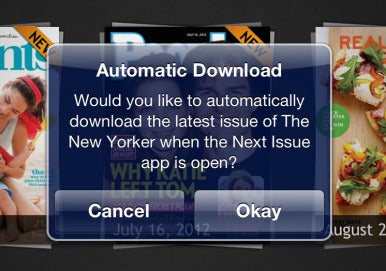 For magazines that you like to read on a regular basis, you can also set up auto-downloading for individual titles. On the main library page, tap the (also subtle) download icon in the lower right corner of a magazine stack to bring up an Automatic Download notification. There, you can confirm to have Next Issue download the latest issue of that magazine as soon as it's available. Note that unlike with Newsstand Magazines, Next Issues' automatic downloads can only occur after you launch the app.
Downloading issues seemed to take much longer in the Next Issue app than with the native magazine apps. To test out my feeling, I downloaded the same issue of The New Yorker both ways. Although there's no way to see the file size of an issue in Next Issue, the company told me that since the files are the same the download size is the same as well. Via the Newsstand app, I could see that this particular issue was 159MB. On a 12Mbps download connection, in Next Issue, it took five minutes and 42 seconds from the time I tapped the pin icon until the issue was ready to read. In the Newsstand app, the analogous process took only two minutes and 33 seconds. In other words, it took more than twice as long to download the exact same issue using the Next Issue app.
The company says my experience could be related to some pre-launch testing Next Issue was doing over the weekend while I was working on my story, and says that internal testing has shown comparable download times. And the company emphasized that with Smart Download, you can begin reading an issue in much less time than it takes to download the whole file anyway. Attempting another complete (pinned) download from work on Monday, I still found it took longer using the Next Issue app, but the gap was much smaller this time around.
The experience
If you've read the digital versions of any of the magazines offered, you'll be familiar with how they look and feel. That's because the files are the same ones you'd download from a magazine's own app. Magazines that are available only in one orientation in the companies' own apps (Cooking Light or Parents, for example) are that way here, as are the ones that offer portrait and landscape options. Some magazines stack articles vertically, so that you scroll left or right to get to an article, and then up or down to navigate to the pages within it. Some are mostly flat, with only horizontal swiping involved. Multimedia elements such as embedded video, podcasts, slideshows, and the like are similarly the same as you'd find in a native app.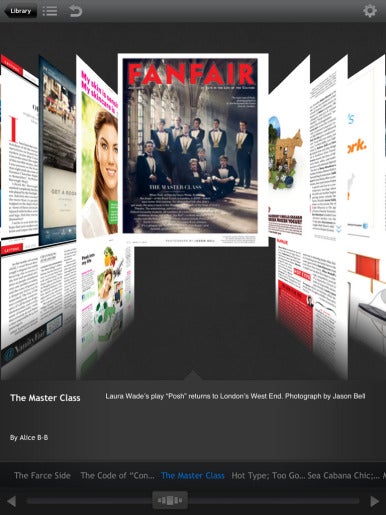 What you'll also be familiar with is the fact that different publishers use different digital publishing systems, navigation, and UI elements. While there's no way around some of the variations, Next Issue has done work to make for a relatively consistent user experience. Within any magazine, tap a page and navigation elements fade in on the top and bottom of the page. At the top, you'll find a Library button to take you back to that magazine's issue; a TOC button that drops down the different sections and articles in an issue, which you can tap to jump to that article; and a back button that returns you to the last page/article you were reading.
At the bottom is what Next Issue calls the Carousel, an interface that lets you scan through the different pages of an issue and select a page/article from there. You can navigate via a slider, by scrolling sideways through a list of articles, or by swiping left or right through thumbnails of the pages. Both the top and bottom navigation elements work whether you're reading a magazine from Hearst or News Corp. It's that uniformity that makes the app work as well as it can. (Why "as well as it can"? Because the layout and features vary so much by publisher and title that it's impossible to have as smooth an experience as, say, listening to albums by different artists or from different labels with the Spotify music subscription service.)
In comparing several magazines in Next Issue and using the native iPad apps, I found the experience fairly similar. Some pages in a Cooking Light issue loaded a little faster on the test third-generation iPad running Next Issue than my (also third-generation) iPad running the Newsstand app. Scrolling down within a page in that issue was smoother in Next Issue as well. At the same time, the company told me that Next Issue content is current not optimized for the Retina display on the latest iPad (the app itself runs on all iPad models). Image-based content and text is rendered at 1024 by 768 resolution, so even magazines that have been updated for Retina display in their own apps can look jagged within Next Issue—a pretty big concern for people with third-generation iPads. The company says to expect Retina support later in 2012 alongside increased magazine title offerings.
Is it worth it?
For those who just like to read a few magazines, you're probably better off subscribing to the digital versions directly (or finding a cheap print subscription for magazines that offer free digital access to print subscribers).
But if you're a dedicated magazine reader, and enjoy several of the titles Next Issue has to offer, than the monthly fee is pretty reasonable. At $120 or $180 a year, you get access to every new issue plus a growing back catalog. And as the company adds more titles (assuming pricing stays the same) you might find even more value. Or, if you're taking a long trip and want to stock up on reading material, you could always subscribe for a month or two and cancel when you get home.
And although there's no 'family plan' per se, Next Issue allows up to five devices to access a single account. So you could sign up and then read what you want on your iPad while your spouse enjoys the same or different magazines on theirs (or, you know, on an Android tablet if iPads are in short supply in your household).
Of course, the current lack of Retina display support might be a deal-killer on its own right now. The good news is, Next Issue offers a 30-day free trial of the Unlimited Premium plan so you can give it a whirl (just remember to cancel before the 30 days are out to avoid being charged for the next month).
Unlimited Basic:
All You
Allure
Better Homes and Gardens
Bon Appétit
Brides
Car and Driver
Coastal Living
Condé Nast Traveler
Cooking Light
Elle
Esquire
Essence
Fitness
Fortune
Glamour
Golf
Golf Digest
GQ
Health
InStyle
Money
Parents
People en Español
People StyleWatch
Popular Mechanics
Real Simple
Self
Southern Living
Sports Illustrated Kids
Sunset
This Old House
Vanity Fair
Vogue
Wired
Unlimited Premium:
Entertainment Weekly
People
Sports Illustrated
The New Yorker
Time
[Jonathan Seff is Macworld's executive editor.]