It wasn't so long ago that Chris Grant would regularly take a whole laboratory's worth of equipment with him into the wilderness. These days, he just takes an iPad.
"We navigate to some fairly remote locations that require hiking in. A two-mile one-way hike is not unheard of," says Grant, a laboratory coordinator for Juniata College in central Pennsylvania. During the summer, he leads teams of students into the state's wilds to catch fish in local creeks and test them for mercury content.
Such hikes used to require a number of different tools: a topography map, a handheld GPS unit, a camera, a rangefinder, even a notebook to write down data. Now? The iPad does all of that for Grant, who utilizes apps like GPS Status, River Reader, and Smart Ruler to find his way around and take measurements in the field.
"It's eliminated at least five different tools," Grant says. "Just getting a camera out to take a picture while you're processing a fish, with one hand on a notebook and the other on a camera—well, it's all right there, in one thing."
Since its introduction just a couple of years ago, the iPad has entered and started to transform many professions, finding a place in classrooms, car dealerships, cockpits, and even construction sites. Now it's starting to transform the work of scientists, as well.
Scientists we spoke to say they've found three main ways to use the iPad in their work.
Following protocols
Contrary to all of those old science-fiction films, laboratory research isn't done by haphazardly mixing chemicals together and seeing what happens. Detailed protocols guide every experiment, protocols that serve as a kind of recipe for researchers. Until recently, that meant that research scientists often found themselves arm-deep in a library of notebooks to guide them.
Andrea Holme, a biologist at the University of Eastern Finland, has dispensed with those notebooks, turning instead to LabGuru. She can enter her protocols at the service's website, then tote her iPad into the lab, open up the LabGuru app, and get to work. The app not only guides her experiments, it lets her record results, and syncs the data back to the web application so she can later analyze information at her computer.
"It's so much more efficient," Holme says. "Everything is there. I'm not always the most organized person, but this makes you organized by default because you're putting everything in its proper place."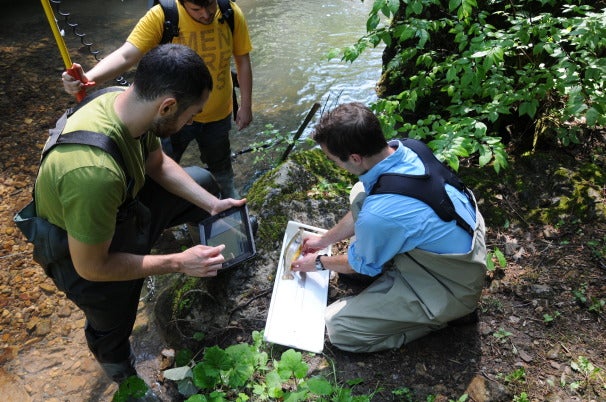 The iPad can also guide scientists to locations where research must be done. Ben Horton, an associate professor in the University of Pennsylvania's Department of Earth and Environmental Science, is researching sea-level changes. He uses the Google Earth app ( ) to find locations that need examination, and to begin to compare changes wrought by climate change in North Carolina's Outer Banks.
"It enables us to see features of the landscape in three dimensions you wouldn't see on a map," Horton says. "It makes things easier. Instead of having a guess of what the environment looked like, we can look at photos from a satellite."
Collecting data
Horton's Penn colleague, biologist Paul Schmidt, has become a big fan of the iPad in a short time. He's a prolific user of the Numbers app ( ) to enter data as he researches evolutionary genetics.
"The biggest thing we do, where this has saved us a lot of time, is that we do all data entry on the iPads," Schmidt says. "I would say 90 percent of routine tasks are done with it. For somebody who spends four hours a day recording data, that probably saves them, easily, at least an hour."
Grant, Holme, and Horton also like to use the iPad's camera to document findings, both in still and video formats. "If I have a gel or an X-ray film, something I can see, I can snap it while I'm looking at it," Holme says. "We wouldn't publish with it—with an X-ray film, we'd still do a proper scan of it. But for simple snapping" the iPad works.
Keeping up on reading
Ronelle Stevens, a doctor of pharmacology at Brigham and Women's Hospital in Boston, is a fan of the Pubget app—it lets her find and download scientific journal articles quickly, instead of waiting two or three days for a research library to locate them.
"I'd rather spend time reading the article than looking for the article," she says, adding, "I don't have to carry stacks and stacks of papers. My shoulders are grateful."
Daniel Zurek, a professor of cellular and molecular biology at Pittsburg State University in southeast Kansas, says that the ability to quickly reference other scientists' research has made him more efficient in the lab.
"It helps me work smarter, and not go down so many dead-ends for things that won't work," says Zurek, who uses the NEB Tools app in the lab. "One thing about biotech is that there's always something new out there, and it's usually created to solve a specific problem. If it's your specific problem, you're in luck."
Still new
Despite the advantages, iPad adoption appears to be going slowly among scientists. Nearly all of the researchers surveyed by Macworld say they came to the tablet in just the last few months, and most say they are pioneers among their colleagues.
"I'm not really seeing iPads issued in my institute," says Matthew Gorr, a graduate research assistant at Ohio State's Nationwide Research Hospital, in a statement echoed by the others. "It's usually somebody's personal iPad."
Holme, however, is already evangelizing the iPad to her colleagues. "If you're at a conference and you're talking to somebody new, you can call up the data (on the iPad) and show it to them," she says. "Scientists who have access to that will be able to be more competitive."
And others say researchers will be forced to increasingly rely on the iPad—if only to make a connection with tech-savvy college students.
"It makes the science more inherently interesting to students if they can connect it back to technology," Grant says. "We're at the learning stage with the iPad, and it's already been very helpful. I hope it will continue to be more helpful with time."
iPad (third generation) family