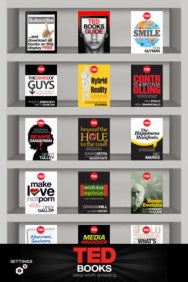 The TED series of brainy, idea-mongering lectures became a phenomenon among the YouTube cognoscenti in recent years, and now the people behind the lecture series have unveiled a new app to keep the conversation going.
TED Books hit the App Store on Monday, and the app promises to unleash a new idea-driven book to users every two weeks. The app itself is free to download, but the books aren't. Users can either pay $15 for a three-month, six-book subscription, or they can instead take the a la carte route and pay $3 per title. Users who subscribe within 90 days of the app's launch can download the entire roster of books at no additional charge.
The books themselves range beyond mere text versions of the famous TED Talks—they include audio, video, and social-networking features. Most TED ebooks contain fewer than 20,000 words, and are designed to be read in one sitting.
TED Books is compatible with all devices running iOS 4.3 or later.
Updated 10:25 a.m. PT to correct the app's release date.