No visit to Kansas City, Mo., is complete without a stop at the Negro Leagues Baseball Museum, a terrific venue in the city's 18th & Vine Historic District. With Major League Baseball's All Star Game taking place in Kansas City this week, the museum is getting some much-deserved attention. And even if you're nowhere near the City of Fountains this week, you can still pop in for a visit with the newly released Negro Leagues Baseball Museum app for the iPad.
It would be going a little overboard to say that this iPad app is the next best thing to visiting the Negro Leagues Baseball Museum in person; the app's content is a little thin and really doesn't exploit the iPad's gift for showcasing multimedia. But the Negro Leagues Baseball Museum app is a solid effort that baseball fans with a love for the history of the game will appreciate.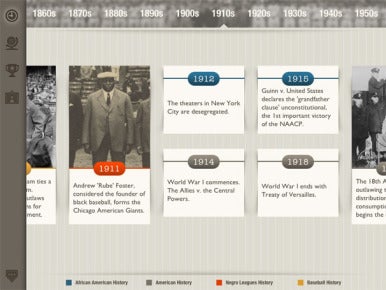 The app offers an overview of the Negro Leagues through several different features. A swipeable timeline spaning from the 1860s to the 1950s showcases the rise and eventual end of the Negro Leagues, with other events from baseball, African-American, and U.S. history added for context. A map with tappable icons shows you where different teams played, along with a short overview of the team's history. (Each entry also lists every player who ever appeared for that team along with a team photo.) One of the showcase features in the actual Negro Leagues Baseball Museum is the Field of Legends area where bronze statues pay tribute to some of the game's greats. That's recreated in its own section of the app with biographical profiles of Buck O'Neil, Oscar Charleston, Cool Papa Bell, Josh Gibson, and eight other notables. The app also offers a photo gallery culled from the museum's archives.
All of this is great—particularly the Field of Legends profiles—but it left me wanting more and lamenting some missed opportunities with the app. The timeline, for example, features the briefest of blurbs and minimal photos; there's one eight-minute YouTube clip of Goose Tatum doing a shadow ball routine, but that's about all the multimedia the app offers. Contrast that with the extensive articles and videos included in an app like Timeline World War 2, and you wonder why Negro Leagues Baseball Museum didn't include more in its timeline. And as much as I enjoyed the Fields of Legends profiles, I would have liked to have seen write-ups of other greats, whether it be Hall of Famers like Smokey Joe Williams and Biz Mackey or lesser-known players.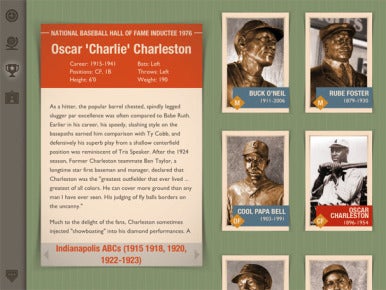 A few design issues also keep this app from being great rather than merely good. In the photo gallery, you need to tap on an image to summon up a caption; I think having a tappable info button is a more intuitive approach. (Also, too many of the photos in the gallery have a "No caption for this image" label, which feels like a waste.) I also ran into a problem with the app crashing immediately after launch, which I resolved by uninstalling and reinstalling Negro Leagues Baseball Museum and then restarting my iPad. Others on the App Store have reported some crash issues, too, so I hope it's something that developer RareWire can resolve with a future update.
Hardcore baseball historians who live and breathe this sort of thing will likely appreciate the effort behind the Negro Leagues Baseball Museum app, even if it covers doubtlessly familiar ground for them. The app is better suited for baseball fans who may not be as well-versed in this chapter of the game's history—particularly younger fans—and would like to learn more about some great ballplayers. And maybe it will even inspire them to seek out other material about the Negro Leagues, whether it's histories such as Only the Ball Was White and Shades of Glory to autobiographies of the likes of Buck O'Neil and Satchel Paige.
And now's the time to download this app, as it's on sale for an introductory price of $2 during All Star week. The app will eventually sell for $4.
[Philip Michaels is the editor of Macworld.com.]