On one hand, Scanner Pro by Readdle, has quite a bit of competition in the App Store. However, this $7 universal scanning app runs equally well on the iPhone and iPad and has some unique features that put it a notch above the rest.
Like the other iOS scanning apps, you can capture an image either by taking a photo or selecting one from your image library or camera roll. Unlike rival apps, though, while in photo mode, Scanner Pro provides a zoom control which, as you might guess, lets you magnify the scan area. The app also gives you a two-second delay between the time you tap the camera button and when the photo is taken. Since pressing the camera button tends to jiggle the camera around a bit, I found that the two-second delay gives me some time to steady my hand so that I can get a clearer shot.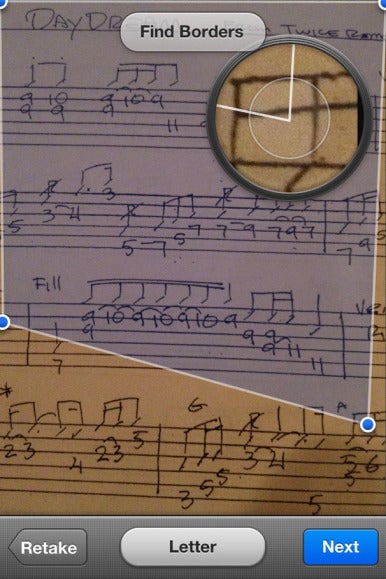 Again, like similar apps, once you've taken your photo or selected an existing image, the app places a four-sided border around the area that it thinks you want to save. In my case, the app rarely guessed correctly; however it's no problem to drag the handles around to add or remove areas from the scan. On the iPhone's smaller screen, Scanner Pro provides a little magnifier that appears as you're dragging the boundaries so that you can see the detail of the area you're defining. One complaint I have is that the on-screen Find Borders button on the iPhone version sometimes overlays the border handles, making it difficult to grab them. But this is easy to work around so it's only a minor issue.
From there you can optimize the image by specifying the type of image you're working with, rotating it, or fine tuning various levels of brightness and contrast by using little sliders. In my case, the app usually produced high quality results without having to fiddle with any of those options. At this point, you can continue scanning if there are more pages to process, then save the document to your device when you're all done. If you've scanned some sensitive information, such as medical or financial data, for example, you can add an optional password to those documents.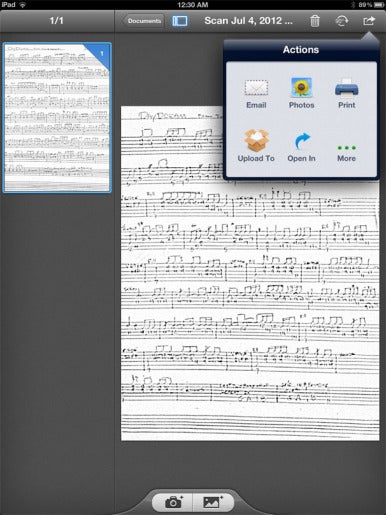 You can easily organize the documents you've saved on your device, but Scanner Pro provides a multitude of ways of getting documents out of your device, too. Of course, you have the old standby methods of email and Wi-Fi sync, plus you can upload directly to cloud services like Evernote, Dropbox, Google, and WebDAV servers. The most recent 4.1 update added iCloud synching, so documents that you scan on your iPhone automatically appear on your iPad, and vice versa.
If that's not enough, Scanner Pro also lets you fax your documents directly from your device. I haven't used this feature simply because I rarely need to fax anything, but it's nice to know the capability is there in case I should ever need it. (Note: Faxing is available at additional cost via in-app purchase, and the cost varies with the fax's destination. The developer says the cost to send a 1-4 page fax in the US is $1 with 5-9 pages costing $2.)
At $7, Scanner Pro is among the most expensive apps in this category. However, as I mentioned earlier, this is a universal app, so users with both an iPhone and an iPad receive both apps for one price.
Overall, Scanner Pro lives up to its name. It produces high quality results with minimum fuss. Some of the extra touches, like the page-guide magnifier and the two-second snap delay are user-friendly features that, as a software designer, I notice and appreciate. Regular folks though, will simply enjoy using the app without thinking about such things.
[Brian Beam is a software designer and partner with web development firm BOLD Internet Solutions, living somewhere near Kansas City.]