When it comes to turning a mountain of paper into a mountain of bits, the $2 Doc Scan Pro by iFunplay is one iOS scanner I've been using with good results.
After either taking a photo or choosing a photo from the photo library on your iPhone or camera-equipped iPod touch, the app places a grid around where it believes the crucial part of your document is. If it doesn't guess correctly, you can adjust the edges of the grid in order to block off the exact portion of the document that you want to save. After that, you can rotate the document if necessary and then choose to convert the image to pure black/white (which works for me most of the time), or you can keep it as-is.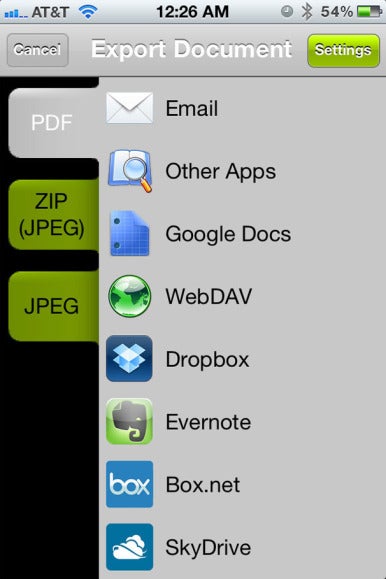 A feature that's unique to Doc Scan Pro is its curled document detector. Here it attempts to locate curled edges on your original document; it then provides extra control points on the grid—useful if you scan books or magazines. Another nice addition is a pen that can be used to make annotations or sign forms.
Once you've finished with your scanning, you can save your document to your device. If you're working with a multiple page document, you can save your current image to an existing document in order to stitch the images together. Then, from this point, you can upload your document directly to various cloud services like Dropbox, Google Docs, Box.net , Skydrive and Evernote. (I'm an Evernote junkie, so that's perfect for me.)
For those of you with iPads, there's also an app for you. At $4, Doc Scan HD Pro sports an interface that's optimized for the iPad's larger screen. (Note: if you have an iPad 2, you might find that its camera isn't quite up to the task. But in this case, you can still work with photos in your library.) I like the extra screen real estate that the HD version offers but, unlike the iPad's built-in camera app where the Snap button is located on the right side of the screen next to your thumb, the HD app's Snap button is on the bottom of the screen (iPhone-style) which, for me anyway, makes it harder to hold the iPad steady while taking photos.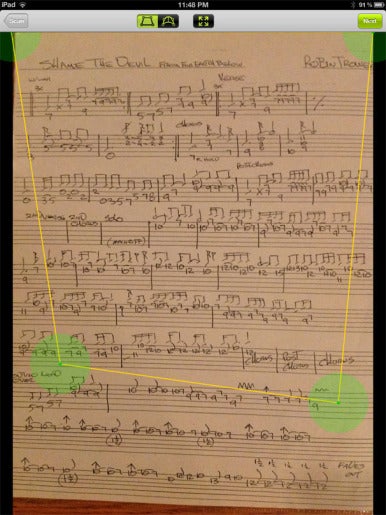 If you'd like to try the app before buying, then you can download the free, non-Pro Doc Scan (iPhone) or Doc Scan HD (iPad). These have the best features of the paid versions except that their output options are limited. However, you can still email your documents and open in them in other apps, which may be just fine for some people.
I found that that image quality among all the Doc Scan apps was very good, with fairly reasonable file sizes—important for saving space on your device and conserving bandwidth when uploading documents, especially if you're doing so via a cellular connection.
Overall, Doc Scan Pro and its various siblings are solid scanner apps that produce quality results and are easy to use. (You can see how the Doc Scan offerings compare to rival products in my round-up of iOS scanning apps.) The curled document detector and built-in pen tool are both nice bonuses not found on similar apps. If you can live with basic output options, then the free versions can't be beat. However, at only $2 and $4 respectively, the full featured Doc Scan Pro and Doc Scan HD Pro are still good buys.
[Brian Beam is a software designer and partner with web development firm BOLD Internet Solutions, living somewhere near Kansas City.]