In my search for tools to use an iPhone as a document scanner, the $3 Genius Scan+ by The Grizzly Labs was one of the first apps to cross my radar. And I generally like what I've seen from this app.
Genius Scan is very simple to use. You simply take a photo, and and the app places an orange grid where it thinks the important bits are. You can then drag the boundaries around to crop off unwanted areas or to include areas where Genius Scan didn't guess right. In my case, the app rarely guessed with 100-percent accuracy; sometimes it was completely off base, but most of the time it was close enough that I only needed to tweak the grid a little bit.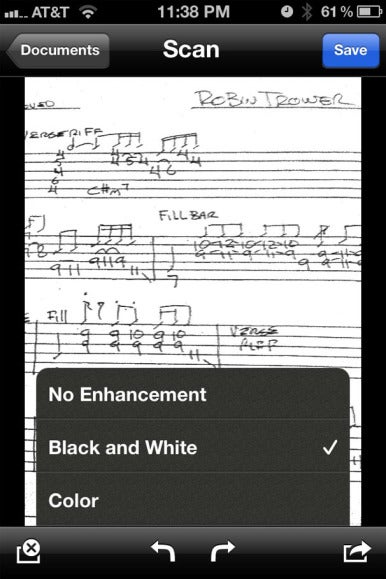 From there you can rotate the image, if necessary, then render the scan as color, greyscale or black-and-white. I find that black-and-white works best for the type of documents I scan. This also sharpens up the text and makes it more legible. Overall, the app's scan quality is very good, but a tradeoff I discovered is that the size of the files it produces are from 50 percent to 100 percent larger than similar scanner apps.
When your adjustments are complete, you can save your document either as a standalone image or—if you're working with a multiple page document—to an existing document in order to stitch the images together.
If you want, you can upload your documents to a variety of cloud services, including Evernote, Google Drive, Box.net and Expensify. Additionally, you can enable Wi-Fi sharing to copy documents directly from your device to a computer or, of course, you can print or email your scanned documents.
If you'd like to try the app before plopping down your $3, then you can download the free, Genius Scan app. Scanning functions are identical to Genius Scan+, but the free version includes ads and limits your output options. For example, instead of uploading to your Evernote account directly, Genius Scan simply opens the scanned document within the Evernote app on your device. Other cloud services work similarly.
Overall, Genius Scan+ and its free counterpart produce quality results (albeit with larger file sizes) with minimum fuss. If your scanning needs are simple, then the free version may be all you need. But if you plan to upload your documents to a cloud provider, then the $3 paid version will make that process easier.
[Brian Beam is a software designer and partner with web development firm BOLD Internet Solutions, living somewhere near Kansas City.]