TurboScan by Pixoft lets you scan documents using your iPhone's camera. It's capable of handling the assignment, but there are better qualified apps for the job.
Like other iOS scanner apps, you can generate a scan either by taking a new photo or choosing an existing photo from your camera roll. For improved scan quality, TurboScan offers an optional feature called SureScan 3x. In this case, instead of snapping a single photo of your document, you take three photos in succession; the app then magically comes up with the best option. This is an interesting concept but I didn't see a huge difference in quality.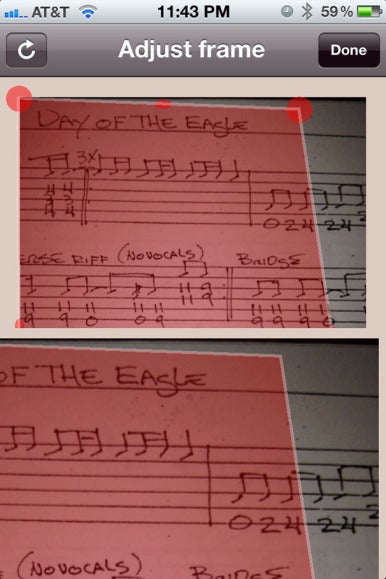 Once your photo is loaded into the app, TurboScan guesses where the boundaries of the document are. The app guessed pretty well in all of my cases, but if it's a little off, then you can then drag the guides around close off exactly the area you want to use.
Once you've selected the scan area, you can start fine tuning the image quality. You can rotate the image if necessary, select the best image type (Color, Photo or Black/White), then choose from five pre-set brightness levels which will adjust image quality and reduce artifacts. Once you've gotten your scan the way you want, you can save it to your device.
From there, you have limited options for using your scan elsewhere: You can email it, open it in a compatible app on your device, or save it to your camera roll. It would great if the app would offer iCloud synching or upload directly to popular cloud services like Evernote, Dropbox, or Google Docs like the other paid apps in this category.
I found TurboScan produced good quality scans with minimum effort. At only $2, the app is certainly affordable, but there are free apps available with similar capabilities. In my opinion, TurboScan's only advantage is its low barrier to entry: Since the 2.5.1 version only requires iOS 3.0, it's perhaps the only choice for people who are using older devices that are unable run more current version of iOS.
[Brian Beam is a software designer and partner with web development firm BOLD Internet Solutions, living somewhere near Kansas City.]