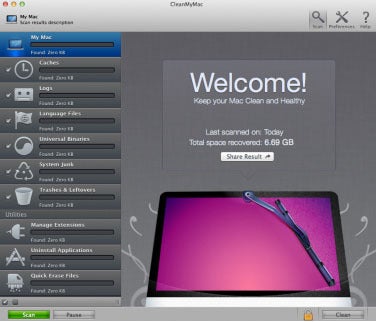 MacPaw's CleanMyMac is an extremely easy to use cleaning tool for your Mac. The default settings tell the app to scan your Caches, Logs, Language Files, Universal Binaries, System Junk, and Trashes & Leftovers. When I tested the app, I left all of those boxes checked, but you do have the option to uncheck anything you don't need to be cleaned up. Click the bright green "Scan" button, and the app gets right to work. Once the scan is completed, you again have the option to uncheck any of the boxes before cleaning. Then, click the bright blue "Clean" button.
A few minutes later, CleanMyMac informed me that the cleaning was completed, and 1.26 GB of space was recovered—not very much. I went into Preferences and check-marked a few more items, performed the Scan and Clean again, and knocked out another 0.06 GB—again, not a big deal. Then, I noticed that a few items were lurking in Trashes & Leftovers that had not yet been cleared. Clicking on it revealed another menu; you must specifically checkmark each of the items for a complete deletion. One more cleanse and the total amount of space recovered was 6.69 GB. Perhaps that's still not a ton of space in the scheme of things—but I tend to keep my Macs pretty clean to begin with. Overall, it was an easy way to get rid of some junk on my computer and clear a little space.
CleanMyMac is a free download from MacPaw, but you pay for a license to use it. For one computer, you'll pay $15 for six months or $30 for a lifetime; For two Macs, a Double Pack Lifetime License will run you $50; And if you have a house full of Macs (like I do), you'll want the Family Pack, which has five CleanMyMac Lifetime Licenses for $75.