At a Glance
Expert's Rating
Our Verdict
Having owned many computer bags over the years, I've become rather particular about the shape of my carrying cases. Backpacks are too all-purpose for me in this day and age of miniature laptops and iOS devices; thus the task of filling my computer-case void falls to satchels and shoulder bags.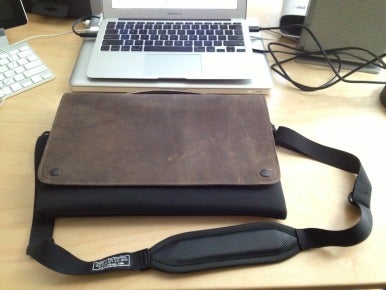 WaterField Designs excels in this category, offering a variety of shoulder bags, sleeves, and totes excellently suited for the purpose of carrying electronics. The company's latest is the CitySlicker MacBook Case, a hybrid of a sleeve and a lightweight shoulder bag. While I'm not crazy about the bag's snap-closure mechanisms, it's otherwise a near-perfect choice for MacBook users who want something slim and professional-looking with just the hint of a rugged side.
The CitySlicker is available in sizes for the 11- and 13-inch MacBook Air ($129 and $139, respectively) and the 15-inch Retina MacBook Pro ($149). From the outside, the CitySlicker looks like a simple neoprene case, kept closed by an elegant, horizontal, leather flap. The leather comes in your choice of black, camel, chocolate, or grizzly—I prefer chocolate and grizzly as they skew closest to natural leather colors, but others may gravitate to alternate offerings.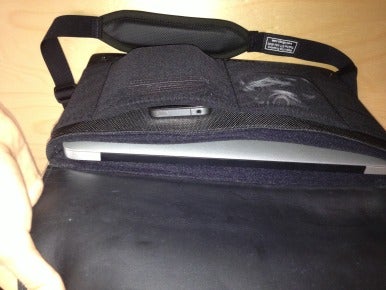 Under the flap, which is kept closed with two metal snaps, you'll find a neoprene-lined sleeve for your computer of choice; on the front of that compartment are four mesh pockets. Though these pockets are advertised to hold cords, pens, your iPhone, and a mouse, I found it hard to add much of anything before the leather flap refused to snap closed. Many other bags—including WaterField's own Muzetto—have more play when closing, understanding that users may want to overstuff a bit. Unfortunately, the CitySlicker's snaps restrict its capacity, and when unsnapped, the bag looks slightly unkempt. After some experimentation, I managed to close the flap on pockets filled with an iPhone, USB-to-dock-connector cable, my headphones, and a few pens—but no more than that.
With no space for a charger under the flap, we turn to the rear of the bag, which just so happens to have a zippered, mesh pocket that's perfect for holding a book, magazine, or wayward charger. As this back pocket is free to bulge outward without affecting the front flap, you can stuff a great deal more into it than with the front pockets—I managed a paperback book, my wallet, and my MacBook Air charger. The mesh material is quite nice at hiding the bulk with comfort.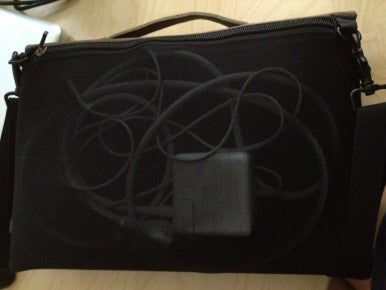 When it comes to carrying this case from place to place, you have a few options. The base CitySlicker isn't a shoulder bag at all—it's just the case, making it a versatile option for toting under your arm or sticking inside a larger bag or suitcase. But add a $10 leather carrying handle and you can treat the CitySlicker like a miniature briefcase. That strap is sewn into the leather flap, and in my testing carrying the CityClicker to the local café and back, it felt very sturdy—though it wasn't my favorite method of hauling the case.
The real winner in toting this case around town comes when you add WaterField's $22 Suspension Strap Mini to the design. This adjustable strap connects with two D-rings on the rear of the bag and conforms comfortably—almost unreasonably so, thanks to its sewn-in padding and suspension—to your frame, worn either across your body or on one shoulder. And if you'd rather use your own strap, there's also an option to get just the D-rings for $5. (WaterField also offers a $12 Simple Strap Mini, which doesn't have built-in suspension.)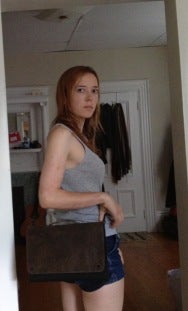 For those who just need to carry their MacBook and a few accessories—either in a larger bag or on your shoulder—you can't go wrong with this case. If you have more extensive accessories, or you'd like to carry around both a laptop and an iPad, you may want to look for something larger.