The references books I used to thumb through on rainy day visits to the library as a kid—your almanacs, your encyclopedias, your reference books—are all going digital. If the results are as good as what Barefoot World Atlas has to offer, that's not a bad trend at all.
Barefoot World Atlas is an iPad version of the Nick Crane-authored and David Dean-illustrated book of the same name. The app arrives courtesy of Touch Press, the same outfit that offers the terrific iPad version of The Elements. The same care and quality that went into that visual display of the Periodic Table of the Elements can be found in this kid-focused atlas app.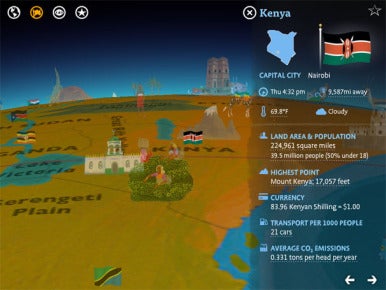 Launch the app, and after a title screen that lingers a little bit too long, you'll be treated to the site of a spinning 3D globe. You can make the globe spin yourself by dragging or swiping; a reverse pinch gesture lets you zoom in for a closer look. All the countries of the world are clearly labeled—their borders less so—and if you zoom in close enough, you'll even see the flags of countries flapping in the breeze. (Yes, flapping—the app features a little bit of animation as well.) More important, the landscape is dotted with landmarks, people and other objects. Tapping any one of those items—Teotihuacan in Mexico, a Scottish boy in the United Kingdom, a Soyuz rocket floating above Kazakhstan—will bring up a short entry on the topic. A narrator will tell you how to pronounce each object (invaluable when you tap on Teotihuacan, by the way), and you have the option of having the entry read to you, if you prefer.
The advantage of a digital atlas over those hilariously outdated globes dotting classrooms around the country should be apparent: An app like Barefoot World Atlas can stay current even as the world around you changes. The year-old nation of South Sudan is represented in Barefoot World Atlas, for example. (Malawi's latest flag, in contrast, is not, as it was adopted after the app's most recent update; that seems like something the developer would be able to fix in a future release, however.) And Barefoot World Atlas takes advantage of the fact that your iPad can connect to the wider world—pull up an entry for a country, and Wolfram|Alpha-supplied data can tell you the current weather, the distance from your current location, and other details. It's not the most vital feature in the world, certainly, but it's a nice addition.
The individual entries in Barefoot World Atlas aren't very deep; then again, given the age of the target audience for the app—elementary school-aged kids, I'd say–it really doesn't need to be. The best kind of reference materials for youngster inspire a greater interest in the world around you, and Barefoot World Atlas certainly does that.
[Philip Michaels is the editor of Macworld.com.]