At first glance, the free Houzz Interior Design Ideas for iPhone and iPad looks like a home design-oriented variation of Pinterest, the hot social networking service that lets you collect, view, and share interesting items. But Houzz (pronounced How-zz) is a richer resource than that visual inspiration site du jour. While you can scroll through its hundreds of thousands of photos and products and add them to your own virtual lookbooks, otherwise known as Ideabooks, you can also peruse informational content, buy products, and find professional home-design services in your local area directly through the app.
The heart of Houzz is its Ideabooks, where you collect and organize images (pinboards, in Pinterest parlance). When you spot something you like—whether photos from an article, an interior design project, or images from the Photos or Products sections—you can place it in your Ideabook, for which you have to be a registered user. The process is simple: Just tap the item, then tap the Add to Ideabook icon. You can also type in your own comments. When you're done, tap Save.
Photos galore
Houzz contains a robust database of home design images, all of which are attributed to specific companies and individuals. The casual browser can scroll through the Photos section, narrowing down results by selecting one of 24 categories—from bedrooms and kitchens to home gyms and wine cellars—further sorted by style and metropolitan area, if desired.
Since all photos link back to a professional profile, you can learn more about the people who created an object or design you like: There is contact information, product reviews, and other projects from the same person. If you see a green tag hanging over any of the objects you're drooling over, click on it for more information, and to go directly to the vendor website. While it might act as a shopaholic enabler, it's a nice tool to have.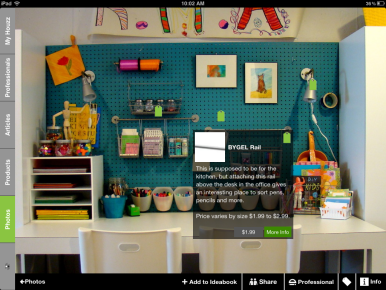 You can also go through the Products and Professionals sections this way. Choose from 17 general product types (fabrics, hardware, outdoor, etc.) and from 32 home design professional types, including landscape contractors, lighting designers, and fireplace suppliers.
Looking for pros
How does this help you? Well, if you're on the hunt for a certain type of professional to assist with a new home design or remodeling project, you don't have to wade through the pretty, but sometimes overwhelming amount of visual inspiration offered in Houzz.
Simply search companies by type and metropolitan area through the Professionals sidebar. (Professionals are vetted by the Houzz community, ranked using an algorithm that incorporates reviews from clients, the quality and quantity of uploaded photos, and their responsiveness to questions asked by the community on Houzz's companion website.) Do the same for products: scroll through home decor, then filter by product type and style as needed. Like something? Contact the designer, buy the product, or add it to your Ideabook.
Ideabooks in action
When looking at your entire Ideabook, each image is cropped into squares that appear in a uniform, iOS-style tiled display. This happens automatically, and there are some annoying crops, but you can always tap an image to see it full-size. Unlike Pinterest, you can rearrange images easily—just tap the Reorder button and move the tiles around.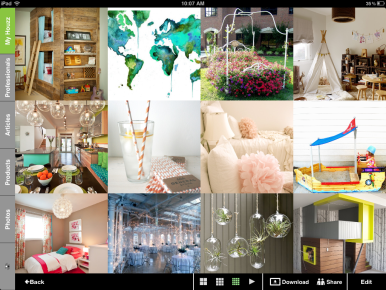 Since Houzz depends on user-submitted content, the number of products identified in each photograph varies, as does the quality of the photographs. You can only upload content to Photos if you have a professional profile, and Houzz reviews all photos before posting them on the app, so blatantly sloppy photographs are practically nonexistent. While the occasional fuzzier image or obtrusive watermark is certainly jarring, if you're used to the photo standards of most content sharing sites, Houzz's overall image quality will likely surpass your expectations. Plus, the app is optimized for Retina display, so you have the opportunity to experience some amazingly crisp images if you own a Retina iPhone or iPad.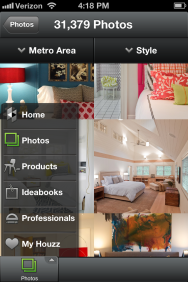 There are notable interface differences between the iPhone and iPad versions of this app, mainly a function of size constraints. On the iPad, section headings are always displayed on the side (versus the iPhone's drop-up icon at the bottom of the screen), and you can choose to filter through images while browsing, easily switching back-and-forth between various types of spaces. You can scroll through images on the iPhone too, but not before you're prompted to narrow down your images by category.
In general, browsing is infinitely more enjoyable on the iPad because of the larger screen. iPhone users, I recommend forgoing the tiled display and swiping through images one-by-one. The photos are larger, so it's easier on your eyes.
Minor issues tripped me up no matter what device I used. I was disappointed that I couldn't add an image to multiple Ideabooks at one time, or rename images without going to Houzz.com. And after unsuccessfully trying to access saved images from my iPad during a recent Wi-Fi-free BART ride home, I quickly learned that frequently downloading your Ideabooks is a good habit to get into.
Bottom line
Houzz is a well-made app—with a crisp design far superior to its full-fledged website. You can't do everything on the app that you can on the website (like pose questions to other users), but nothing major will prevent you from using the Houzz app as a home design resource. Be prepared to scroll through the seemingly endless stream of products and images, getting thoroughly addicted in the process.
[Brie Hiramine is a Macworld intern.]