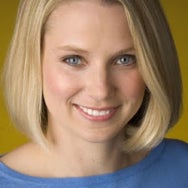 Yahoo has picked Google's Marissa Mayer as its new CEO, replacing Scott Thompson, the former PayPal president who left the Yahoo post less than six months into his tenure following a controversy about his college education.
Mayer was Google's 20th employee and was for many years one of the search giant's most visible and well-known executives. Most recently, Mayer had been in charge of Google's Local, Maps and Location products.
Thompson, who took over as CEO in January, left in May after it surfaced that he didn't have a computer science degree, contradicting his public professional biography. Reports later emerged that his resignation was due instead to a cancer diagnosis. Thompson was picked after Yahoo's board fired Carol Bartz, who became CEO in 2009 after an illustrious career that included many years as CEO of Autodesk. Bartz, according to the board, was unable to deliver the expected financial and technological rebirth of the embattled company.
Mayer, who will also be Yahoo's president and hold a seat on the board, will begin on Tuesday, and she'll have her work cut out for her. Yahoo has been struggling to jump-start its revenue and regain the technology edge that made it one of the Internet market leaders in the late 1990s and the first half of the 2000s.
Its troubles began in the second half of the 2000s, when Google started to dominate Internet search, then the fastest-growing and largest segment of the online advertising market. Afterwards, as it struggled to hold on to key talent and went through several major waves of layoffs, Yahoo was unable to stay on top of hot technology trends, ceding ground to younger, nimbler companies such as Facebook and Twitter. Mayer will be expected to boost product development as a key to increasing usage and revenue, according to Yahoo.
"I look forward to working with [Yahoo's] dedicated employees to bring innovative products, content, and personalized experiences to users and advertisers all around the world," Mayer said in a statement.
Prior to her current role at Google, Mayer led Google's search services and other key products like iGoogle, Google News and Gmail. She started at Google in 1999. Yahoo's CEO role was performed on an interim role by Ross Levinsohn, a Yahoo executive vice president and head of Global Media.