Apimac's Timer for Mac 7.0 is for hardcore timer and alarm clock users. There are far cheaper timer apps available in the Mac App Store (including Apimac's freeware version of the same app), but Timer Pro has some surprising functions that make it a stand-out app.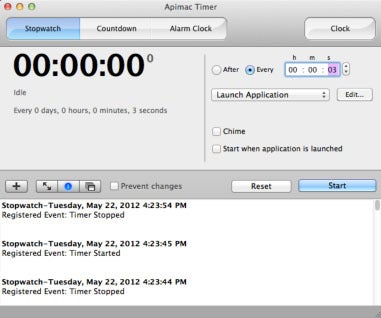 Timer Pro has three modes: Stopwatch, Countdown, and Alarm Clock (and all three modes work pretty much just as you'd expect). Blow the window up full screen, keep it to a medium rectangle, or iconize it. Toggling the info button either hides or shows the events you've performed in the app, which you could export to calendars or other apps if you wanted. Clicking the "+" button adds timers, so you could have several different timers and clocks going at once. You can choose from 14 different alarm tones, choose the amount of rings you want, and have the option to display an alert box.
What makes Timer Pro interesting is that the app offers dozens of functions that you can use instead of (or in addition to) an alarm tone. Some examples: speak a customized message aloud, restart your computer, go to a specific website, launch another application, execute an automator workflow, or start a song in iTunes.
This is what makes Timer Pro noteworthy, and possibly worth the high price tag. The free version of the app is certainly worth a try, but it does not offer these advanced functions.