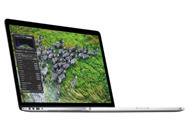 EPEAT has launched a review of ultra-thin and light laptops carrying its environmental ratings after Apple withdrew from and rejoined the organization last week.
Apple didn't explain the reasons behind either decision, but speculation has centered on construction methods used in its new Macbook Pro with retina display. One early model of the laptop was shown to use glue to secure the battery to the case.
"A lot of good questions have been raised," said Sarah O'Brien, director of outreach and communications for EPEAT, of the swell of media coverage of Apple's decisions. "As a result, we've launched surveillance of the whole group of ultra-light laptops."
The surveillance action is intended to check ratings across a broad number of similar products and is not targeted at a specific product or company, she said.
Companies are usually subject to an initial inspection to verify they adhere to EPEAT's criteria, but after that they typically police themselves once they have demonstrated they understand and adhere to the system. In an attempt to keep companies honest, EPEAT will occasionally audit a company's ratings, much like the tax authorities will sometimes audit a taxpayer.
The EPEAT criteria cover a number of areas that might be problematic if components are secured with glue, but they don't specifically ban its use, O'Brien said.
Section 4.3.1.7, for example, says: "All covered products shall not contain molded-in or glued-in metal inserts in plastic enclosures unless they are easy to remove."
"The whole migration to thin form factors is having a huge impact," said Barbara Kyle, national coordinator at the Electronics TakeBack Coalition. The group brings together organizations from across the U.S. that have a hand in the recycling and re-use of electronics products.
On Friday, Kyle wrote a blog post on the organization's website arguing that Apple's new Macbook Pro with retina display computers do not meet the EPEAT requirements.
"A lot of design changes we are seeing are having an impact in the area of product longevity," she said. "Manufacturers need to look at the design changes they need to make while maintaining their commitment to the environment."
While few consumers are thought to have taken apart the new laptop, one place that has is iFixit.com. The company specializes in repair of electronics and its product tear-downs are becoming as much a part of Apple launches as the long lines and hysteria.
"Apple's declaration claims that the Retina MacBook meets section 4.3.1.3 of the EPEAT standard," the company wrote on its blog. "Based on our teardown, we are skeptical."
EPEAT said it expects the results of its surveillance to be ready in three to four weeks.