Apple fans who have had to juggle multiple AT&T data plans for their iPhones and 3G-enabled iPads can now pick one plan to rule them all: The telecommunications company on Wednesday announced the launch of a new "Mobile Share" program that lets a single plan cover up to 10 devices.
Consumers can pick from a range of data plans that start at $85 a month for one smartphone with a 1GB data plan—which includes unlimited talk and text options—up to $230 a month with 20GB of data for that single smartphone. From there, they can add up to 10 devices—$30 a month for every "dumb" cell phone, $20 a month for each laptop or netbook, and $10 a month for a tablet or gaming device. (See the chart below for a breakdown of the fees.) The price-per-gigabyte and the fee-per-smartphone both get cheaper if you buy a larger "bucket" of data.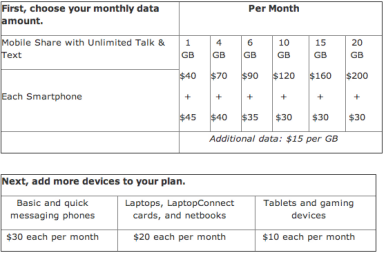 How does that compare with AT&T's existing data plans? It depends on how much data and how many devices you use. Be warned: There's math involved here.
Say you're the owner of a single iPad and a single iPhone—and you're using AT&T's 3GB data plans on each. (This assumes you're using more than the minimum data on both devices, but are still a modest user.) Under the existing data plans, you'd pay $30 a month for your iPad and $90 a month for data, unlimited texting, and 450 minutes of talk time on your iPhone, a total of $120 a month. Under the Mobile Share program, those two devices using 6GB a month of data would cost $135 a month. These figures don't include taxes and fees, which vary from state to state.
That increase is needed, though, only if you're using 3GB a month on both devices. Now that you're able to share the data among both your iPad and iPhone, however, you might decide to go with the more modest 4GB a month plan—in which case you'll pay the same $120 a month that you are now.
The benefits of the new plan kick in as you connect more devices and use more data. Households who—like mine—have a single 3G-enabled iPad and two iPhones sharing a 700-minute family talk plan with unlimited texting are currently paying $190 a month under the previous AT&T plan. (Again, the scenario envisions each device is using the 3GB data plan, totaling 9GBs for the trio.) Under the Mobile Share program, that same fee will buy 10GB of data—and families might save if they decide 6GB will do for the three devices, in which case the price drops to $170 a month.
How do you decide? If you're already a customer of AT&T, the company's website will let you log into your account and see just how much data you're using—making it easier to figure out if the new Mobile Share program is a benefit to your family or business. Existing customers don't have to convert to the program, but if they'd like to they can do so without extending their current AT&T contract.
Wednesday's announcement had long been anticipated. AT&T had said in May it would soon offer shared data plans; Verizon, however, beat the company to the punch by announcing its own "Share Everything" program last month.
iPad (third generation) family