Cinemagram answers the burning question a fair number of folks between the ages of 8 and 28 have these days: How can I create those fancy animated GIFs of cute cat expressions like a professional? The app has quite a bit more charm than making videos of felines, however. It lets you capture a taste of motion across a slice of time. Its key feature? Choosing just the region you want animated, instead of converting the whole video. Cinemagram is also a highly social app, although you can choose just how much you care to share.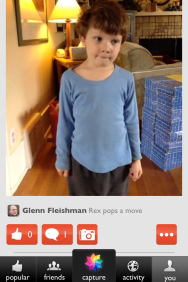 Animated GIFs on the Web date back to its early days, and various desktop image-editing programs have always allowed their creation with varying degrees of difficulty. The format has made a comeback recently as a kind of ironic, low-fidelity, low-bandwidth way to illustrate a point. But animated GIFs can also be used to create an embeddable kind of video snapshot without turning to Flash, HTML5, or other methods. Nearly every kind of device that can display a GIF can show its animated form, including low-end mobile phones and tablets.
Creating a moving GIF in Cinemagram takes four steps after you tap the Capture button. First, shoot fresh video or select a previously stored video on your Camera Roll. Videos must be static shots with moving elements within them to work best. If you're selecting a previously shot video, the app prompts you to ask whether the video was recorded using a tripod, and applies some anti-shake correction if it was not. Only 2 to 3 seconds of video may be chosen, and a selection bar at the top allows scanning through the video and previewing a given section.
Next, you paint out (or mask) the area that you want to show movement. If there are multiple actions happening separately in the video, you can paint selectively. This creates an interesting effect in which the resulting GIF can look like a still photo with a magically moving portion à la pictures in the Harry Potter universe.
This stage has what at first appears to be a bug: masking is always in portrait orientation even when the video was shot in landscape. The app's developers clearly want to give you more area to edit without pinching and zooming on the video. But it's not explained via graphical cues or text that the final video will have the correct orientation.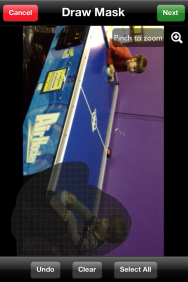 After masking, the app processes the video, and then offers colorization effects, à la Instagram and Hipstamatic for still photos. Tap Next again, and the Preview shows the final image. It's not entirely obvious that you can step backwards by tapping through the steps at the upper left. The right tap convention is there (showing a left-pointing button), but it's a little subtle. One final option before tapping Done lets you pick whether to run the animation forwards or in reverse.
It seems like Cinemagram wants the kind of viral mojo that drove Instagram to massive use (and into the arms of Facebook), because tapping Done doesn't finish the process. Instead, a Share screen appears, which has its own Done button. Cinemagram allows linking to Facebook, Twitter, and Tumblr accounts for easy posting. The app defaults to having its own sharing switch set to On, which puts an image in its public pool. Flip that to Off if you want images to remain private. You can name and label an animation with tags before posting. The software automatically adds a rough geotag (the city's name), which you can tap to remove.
What's not immediately clear is that after you share a creation on the Share screen, it's possible to do so later through the You view. In that view, the "…" button brings up a list of options, including the three social networks, but also email, SMS, and iMessage, as well as copying a link to the item if it was sent to Cinemagram.
With buttons devoted to Popular and Friends in the main display, it feels as if Factyle, the makers of the app, are itching to generate viral juice. You can select friends from those also registered with the same social networks, whom you can follow, along with random users, to view their animations. The app allows voting (thumbs up only) on images from friends or the general public, as well as leaving comments, or tapping to provide a "reply" via another animation.
The "…" button allows forwarding and posting of those micro-movies, too, as well as an the all-important option to Flag for Review. Image owners can delete comments by swiping, although that message appears only the first time one views comments on images you create. A flag option would be useful for comments on other photos, as a perusal found inappropriate comments on innocuous photos. (The app is rated 12+ because images aren't prescreened.)
Creating the animations is much more fun than viewing those created by random others, because as with much of this sort of image manipulation, one can either create something clever and gimmicky but impersonal, or reveal to one's friends a bit of one's own life enhanced by an effect. Cinemagram may be trying too hard to be social and viral, when its basic utility is charming enough on its own.
[Glenn Fleishman, a senior contributor to Macworld, has taken pictures digitally over 20 years, but he still misses analog film just a wee bit.]