Among computer users, there are two types of people: mousers and keyboarders. I'm the latter. I like to use keyboard shortcuts as often as possible to save time and to keep my hands on my keyboard. Here are ten of my favorite keyboard shortcuts for the applications I use most.
1. Select Safari's address field
Sometimes I copy a URL and want to paste it into Safari's address field. Instead of using the tab key, or a mouse or trackpad, to select the field, I prefer using the Command-L keyboard shortcut. This highlights the text in the field, and I can then paste my URL and press Return to go to a webpage.
In Mountain Lion, you can also press Command-Option-F to go to that field, since it also serves as a search field.
2. Jump to what's currently playing in iTunes
I often have iTunes running while I work, and I often browse my library, or the iTunes Store while I'm listening to music. But sometimes I want to come back to the music I'm playing: either in a playlist or in my Music library. A little-known keyboard shortcut, Command-L, does just this. It highlights the current track, and changes the view so you can see exactly where it is.
3. Paste and match style in Pages
I work with Apple's Pages from time to time, and I sometimes need to paste text that I've copied from another file, or from a webpage. Since I use styles in Pages, if I paste text, it will show up with its original font and style, not in the style of the text at the cursor. Command-Option-Shift-V is the Paste And Match Style command, so the pasted text inherits the style where you've placed your cursor. This shortcut also works in Numbers and Keynote.
4. Mark messages as read or unread in Mail
When I use Apple's Mail, I like to keep messages that need action in my inbox marked as unread. This way their subjects appear in bold text. I even have a special smart mailbox that groups all these unread emails. Sometimes I read an email but want to keep it in that smart mailbox. Selecting a message and pressing Command-Shift-U toggles its read status. If it's unread, it marks it read; if it's read, it sets its status back to unread.
5. Quickly see information for multiple files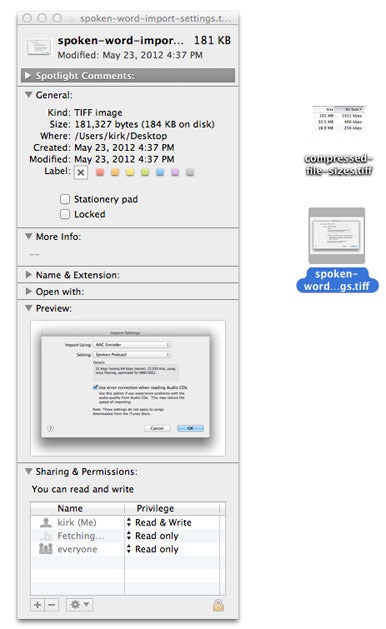 I often need to check info for multiple files in the Finder. You probably know that if you select an item and press Command-I, you get an Info window for that item. This window shows everything from file size to what application will open the file.
If you press Command-Option-I, you see that item's Info Window, but if you click on another item, the Info window will change to show the new item's information. You can also navigate in a folder using arrow keys when this window is visible to see info for all the items in a folder. This is a great way to view information for a lot of files, such as a folder of photos.
6. Open files without clicking
Double-clicking is so 20th century. While I sometimes double-click a file to open it, I often use a nifty keyboard shortcut to do the same thing. Select a file and press Command-down-arrow and the file will open with its default application. This is most practical when you're navigating in a folder using the arrow keys to move around. (You can also press Command-O to do the same thing.)
7. Tab in either direction through the Application Switcher
Most people know the Command-Tab shortcut. This displays OS X's Application Switcher above all your windows. Here you'll see the icons of all currently open programs. When you keep holding down the Command key, each time you press Tab, the selection moves to the right—let go of the keys to jump that program.
Sometimes, though, I accidentally miss the program I want, and need to come back. Instead of pressing Tab to go all the way around, I press the Shift key, then press Tab to cycle through the list in the opposite direction. (So you press Command-Tab, keep Command held down, then add Shift, which results in your pressing Command-Shift-Tab.)
8. Select whole words more quickly
When I revise texts that I've written, I often select text, copy it, and paste it in a different location. There's a nifty shortcut that makes this easier when you want to select complete words. Place your cursor at the end of a word, then press the Shift and Option keys. Press the left arrow key to select to the end of the word to the left, or the right arrow key to select to the end of the word to the right. This shortcut also treats punctuation as words, so a press of an arrow key, say, at the end of a sentence will select the final period.
9. Hop through Safari's tabs
When I use Safari, I use multiple tabs, rather than windows. Sometimes I have a dozen tabs open at once, and I need to switch from one to another. What's the best way? Using the keyboard, of course. Just press Command-Shift-right arrow to move one tab to the right, and Command-Shift-left arrow to move to the left.
10. Put your Mac to sleep
Finally, the shortcut I use at the end of most days is the one that puts my Mac to sleep. Press Command-Option-Eject to do this. If your keyboard doesn't have an Eject button—such as on a laptop without an optical drive—it's Command-Option-power button. And so to bed.
Senior contributor Kirk McElhearn writes about about Macs, music and more on his blog Kirkville. Twitter: @mcelhearn