Editor's note: The following review is part of Macworld's GemFest 2012 series. Every weekday from mid June through mid August, the Macworld staff will use the Mac Gems blog to briefly cover a favorite free or low-cost program.
Code529's SideFolders 1.6.0 ( Mac App Store link) is an app for maximizing folder organization on your desktop. The app provides a slide-out panel that combines a Finder window's sidebar with the Apple menu's Recent Items list. Plus, it lets you create your own lists so you can have any folder/document hierarchy you want in the panel without changing the locations of the actual folders and documents. A double-click on an item opens it without requiring a trip to the Finder and drilling down through subfolders; even better, you can drag a file from the resizable panel directly into a document you're working on if the app supports that file type. This latest version supports QuickLook, so you'll be able to check the document before you drag it anywhere.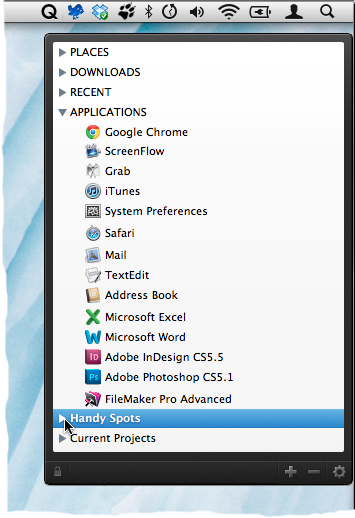 Unfortunately, SideFolders's glitches nearly outweigh its handy benefits. It doesn't play well with Mission Control's multiple Desktops, since dragging something to the edge of the screen moves you to another Desktop instead of triggering the SideFolders panel (unless you're very, very careful where you stop). Its Applications and Recent (for documents) lists are in no discernable order—not alphabetical, most recently used, or frequency of use. It uses a Places category (passé since Lion roared in) that more or less matches items in the Finder's sidebar, but not in the same order.
One very annoying bug—or very poor design decision—has to do with dragging things from one folder to another when you're working in the SideFolders panel, which you can lock in the open position for convenience. The item doesn't move, but is copied to the new location. Sure, you get the "copy" cursor you see in the Finder (a big green circle with a plus sign in it) but SideFolders should follow the OS X interface and copy the item only if you Option-drag it. You'll wind up with multiple copies of a file and perhaps not even realize it.
However, having files at hand for opening and for drag-and-drop operations without leaving your application, with the bonus feature of dragging a folder from the panel into an Open or Save dialog box to jump to it, is almost worth the price of admission.