Sleepwalking MacBooks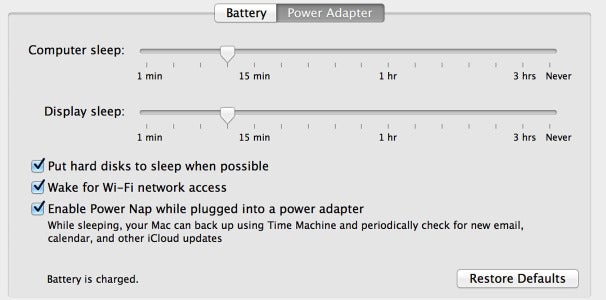 When a Mac is asleep, it's basically dead to the world. When an iOS device is asleep, it's still doing stuff—checking your mail, making alert sounds, and even backing up. It means you can flip open an iPad and your Inbox is already current, for example.
With Mountain Lion, Apple is introducing a version of this iOS feature to the Mac. It's called Power Nap, and it's a somnambulant state that's neither asleep nor awake as we currently understand them.
First, the restrictions: While I'd wager that most future Macs will support Power Nap, right now it's only supported by a handful of systems. On day one of Mountain Lion, you'll only be able to take advantage of Power Nap if you've got a Mid-2011 or 2012 vintage MacBook Air or the new MacBook Pro with Retina Display.
To turn Power Nap on and off, you use the new Enable Power Nap setting in the Energy Saver control panel. By default, Power Nap is turned on when your laptop is connected to a power adapter and turned off when on battery, but you can choose to turn it off completely or turn it on for both.
Power Nap works by periodically waking up a MacBook even when it's closed, but it's not the usual wake-up. Fans don't spin and the screen doesn't come on. And since Power Nap only works on systems that use flash storage instead of spinning hard drives, disk access is silent too. From the outside, you'd never know that it was awake.
When in this dark-wake state, your MacBook will (once an hour, if you're connected to a power adapter or have more than 30 percent of battery remaining) check your mail, sync your contacts, update your calendars, sync reminders and notes, make sure Documents in the Cloud are synced, and update Photo Stream. If you've got the Find My Mac feature turned on, it'll also phone home with its current location just like an iOS device would.
A few Power Nap features are a bit more intense, and will only work if the MacBook is plugged in to a power adapter. If you've ever groused about leaving your laptop open in order for Time Machine to run, Power Nap will let you finally just close it and forget it. Now those Time Machine backups will keep on running when the computer is "asleep." If you've set your laptop to automatically download software updates in the background, those downloads will also happen during sleep, so they're ready to be applied when you wake it back up.
I have to admit, it never really occurred to me that my Mac could be doing a lot more when it's sleeping. But I certainly don't expect my iPhone or iPad to be dead to the world when they're asleep, so why not ask my Mac to keep on working too? I'm especially excited about my MacBook Air finally being backed up regularly, since it's rarely awake long enough when I'm at home to do a full Time Machine backup over my network.
The next step here, of course, would be for Apple to allow certain third-party apps to have access to Power Nap. Users of online backup services, for example, would love it if their MacBooks would do all of that work in the dead of night. But Apple likely will be judicious in this area—nobody wants to wake up in the morning and discover that their laptop's hot and its battery hasn't recharged.
Goes in here, comes out there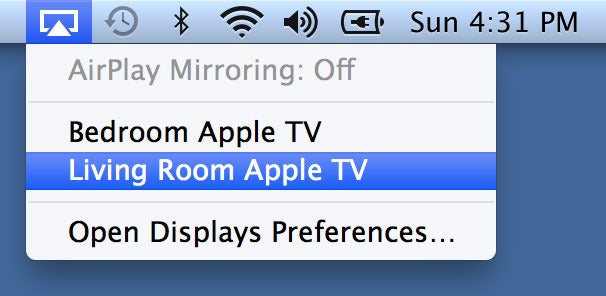 There aren't that many different ways to say, "Here's a feature that you've seen on iOS that's also now on the Mac." But here we are again: AirPlay mirroring, a feature introduced in iOS 5, has arrived on the Mac.
For a while now, Macs have been able to play back iTunes audio and video to Apple TVs (and audio to AirPort Expresses), but in Mountain Lion, you can mirror the contents of your Mac's display on any video device connected to an Apple TV (so long as it's the small black version).
When a 2011-vintage or later Mac running Mountain Lion senses the presence of an Apple TV on the local network, an AirPlay icon appears in the menu bar. Click and select an Apple TV, and your desktop will be duplicated on the TV it's connected to. By default, the contents of your screen are scaled down to fit on the TV, but you can adjust the Displays preference pane so that the video on your Mac screen is scaled to match the shape of the HDTV. (Basically, you're choosing which display you want to be the clearest—your Mac's, or the TV's.)
If you're in a Mac-centric office, equipping every conference room with an Apple TV seems like a no-brainer. And I found myself using this feature all the time at home. The other day I found a funny Internet video show that I wanted to watch with my wife while we ate lunch. It was on a Flash-only website, so there was no way for me to play it on my Apple TV or on an iPad, but it played just fine on my Mac. So I turned on AirPlay Mirroring, pressed play, put the video into full-screen mode, and we sat back and watched as the video (and its accompanying audio, of course) streamed without a hitch.
There's one other nice AirPlay addition in Mountain Lion: Now all of the AirPlay devices your Mac can see appear as options in the Output tab of the Sound preference pane. If you want to channel all your system audio through an Apple TV or AirPort Express nearby, all you have to do is switch to that device in the Output tab. It's simple and works exactly as you'd expect.
Safari makes strides
When Apple first announced Mountain Lion in February, it didn't make a big deal about changes to its Safari Web browser. But now Safari makes Apple's list of the major changes in Mountain Lion. And quite right, too—there are numerous nice additions in Safari that make it a much better browser.
The biggest addition to Safari has been done by subtraction: The search box next to the address bar has vanished. Instead, as in the style of Google's Chrome browser, the address bar is also your search field. If you know an address, you can type it there, but if you don't, you can just enter in search terms and Safari will perform a search using your preferred search engine.
Now if you type "eleventh doctor" into that box, you'll get a bunch of links about Matt Smith instead of an error message telling you that Safari can't find the website "http://eleventh%20doctor/." Much more useful, right? As you type, Safari will also make suggestions, including search terms and pages from bookmarks and other pages you've visited, including a Top Hit area with the most likely pages you're looking for based on your previous browser history.
Another new Safari feature that I like a lot is iCloud Tabs, an icon on the Safari toolbar that displays a list of all the webpages you've got loaded across all your devices. This feature is mildly useful today for people with multiple Macs, but it will become much more useful with the release of iOS 6 this fall. At that point, you'll be able to start reading on your Mac and then pick up right where you left off on your iPad.
The new Tab View feature certainly looks good: If you've got more than one tab open in Safari, and pinch on your trackpad, Safari zooms out until you see the current page on a gray background. Now you can swipe left or right and view the contents of all the other tabs. It's a pretty, visual way to see all your currently open tabs, and it makes a great demo. That said, I don't see how I'd ever use it. Clicking on tabs works great. If I want to see a page in Safari, I click on the tab. Pinching, then swiping, then clicking? It doesn't seem efficient, but I admit that sometimes efficiency is boring.
There are several more additions to Safari, too—it's a solid upgrade. As I mentioned earlier, the new Share menu appears in the Safari toolbar. The Safari Reader button has gotten large and now sits just to the right of the address bar, turning blue when a page is eligible for Reader. The Reading List feature now offers an offline mode, so you can save articles to read later even if you're not connected to the Internet later.
Apple claims that JavaScript performance is improved in Safari, and that it's got the fastest performance of any major browser when measured using the SunSpider benchmark. I ran SunSpider on my 11-inch MacBook Air and found almost no difference between Safari, Chrome, and Firefox—Firefox was actually slightly faster than Safari, with Chrome just as slightly slower than Safari.
I spend an insane amount of time in Safari, and in general this update is a good one. However, Apple has changed the Safari interface so that it feels like pages load more slowly than they used to. I don't think they actually load slower, but the blue progress bar creeps across the URL window more slowly, and the status bar at the bottom of the screen no longer points out that it's looking up domains and loading various web-page elements. Most of the time, it's not a big deal. But when I'm faced with a slow-loading webpage, it's a little frustrating—there's no indication about what's happening, so I just have to wait and hope that Safari loads the page eventually. Maybe most Safari users won't care, but I found it disconcerting.
Mail gets its priorities straight
I've got a love-hate relationship with OS X's Mail app. Well, that's not entirely accurate. It's more of a tolerate-hate relationship. During the Snow Leopard era, I got so fed up with it that I switched to Gmail, but the improvements to Mail in Lion lured me back. Mail hasn't received a major upgrade in Mountain Lion, but its support for Notification Center has led to the addition of one big feature: VIPs.
It's logical that you'd want Mail to notify you when you get new mail. But for anyone who gets a large volume of mail, that's just too many notifications. So you can choose, from Mail's Preferences window, just how you want Mail to use Notification Center: Every time a message comes in, just when a message comes to your Inbox, when you get a message from someone in your Contacts list, or when you get message from a VIP. (You can also trigger a notification via a Rule.)
To mark someone as a VIP, just open a message they've sent you and move the cursor over their name. Just to the left, you'll see the faint outline of a star. Click it and it will darken slightly. That's it. That Person is now Very Important. Little stars show up next to their messages in your mailbox. That's how important they are.
Simply limiting notifications to people in your Contacts list would have been a pretty good feature, but this is better. It's an easy way to mark your most important people and make sure you know when they email you. I set Mail to notify me only when I get VIP messages, and after a few days of granting little gray stars to people, the system really started to work well.
There's even a VIPs filter in the toolbar, so I can quickly see just mail from all my VIPs or even one particular person. This fall, with the release of iOS 6, this feature will also appear on iPhones and iPads—and presumably your VIPs will sync across your devices, which will be even more useful.
Now even when I've got Mail in the background, I get a subtle reminder that someone important has sent me a message. Given the volume of mail I get in a day, and my tendency to forget to check it, that's invaluable.
This is not to say that I don't still have issues with Mail. I find its search functionality occasionally brilliant and occasionally useless, and I can't figure out why. It sometimes takes forever to check for new mail, especially over slow connections. But though it undoubtedly marks me as an old-school email user, I still prefer using an app to reading my mail in a web browser. Mail suffices, and with Mountain Lion, it just got a bit better.
Big in China
Apple's had huge success in China lately, most particularly with the iPhone. With Mountain Lion, the company is trying to improve support for those who write in Chinese as well as recognizing that most of the popular sites that Apple integrates with OS X aren't actually available within China.
On the text-input side, Mountain Lion offers better suggestions and corrections via a dynamically updated dictionary. Apparently English words are often inserted in Chinese text, so Mountain Lion allows the mixing of Pinyin and English without switching between keyboard layouts. Apple says Mountain Lion also doubles the number of characters recognized by trackpad-based handwriting recognition.
On the Internet services side, Mountain Lion offers support for Chinese alternatives to several worldwide services. Search-engine Baidu is now an option in Safari. Chinese microblogging service Sina weibo is supported in Share Sheets, just as Twitter is. In addition to Vimeo and Flickr, Mountain Lion will support sharing to Chinese video-sharing sites Youku and Tudou. And Mail, Contacts, and Calendar syncing will be supported to Chinese service providers QQ, 126, and 163.
According to Apple, most Mac users won't see these features. Mountain Lion will determine—based on your location and language settings, whether you've "expressed an interest" in Chinese features. For example, if you activate a Chinese keyboard layout. Once you've shown an interest in China, the support for the Chinese service providers surfaces. (As someone who has never been to China and doesn't speak Chinese, I couldn't test any of these features.)
New features, across all devices
The biggest story in the release of Mountain Lion isn't a particular feature. It's Apple's new dedication to a yearly release cycle for OS X, and more important, to a cycle that's synchronized with the release of iOS.
Last year's OS X Lion—and Mountain Lion to a somewhat lesser extent—offer numerous feature additions that were brought back to the Mac from iOS. But Mountain Lion also offers some features that will be coming to iOS 6 this fall. Apple's new operating-system strategy is not to copy iOS to the Mac, as some cynics might have said at the time Lion was announced. Rather, Apple's strategy is to roll features out across all its devices, on both operating system platforms, simultaneously—or at least as close to simultaneity as possible for a company that has two separate operating systems to update every year.
It seems to me that, in large part, Apple is no longer as focused on Mac features or iPhone features or iPad features as it is on features, manifested in appropriate ways across all of its different products. There will always be features that are tuned for the very different interactions that users have with their iPhones than with their MacBooks, but most of the basic ideas will span devices and operating systems, and most of them will sync together using iCloud.
To those who would argue that these features water down the Mac, making it a simpler device more akin to an iPad with a keyboard rather than the heavy-duty device it's often used as, I'd point to a feature like Power Nap. Allowing your MacBook Air to back up wirelessly while it's closed and leaning against your nightstand doesn't seem like a regression; that seems like a manifestation of the always-on iOS philosophy, but translated into a quintessentially Mac-focused feature.
Yes, some of the features Apple has introduced in Lion and Mountain Lion are specifically designed for new and novice users, and that's appropriate given how many of those users there are. But features like Launchpad and Gatekeeper and Documents in the Cloud are easily ignored or overridden by expert users; on the Mac, Apple seems to have chosen a path that makes the out-of-the-box Mac experience better for new users without wrecking things for the experts.
Macworld's buying advice
All told, I found Mountain Lion to be a stable, solid release. Even prerelease builds were far more stable than I've come to expect from OS X betas, leading me to wonder if Apple's new annual schedule is leading to more careful incremental updates (with fewer bugs) rather than great leaps (with more, nastier bugs).
Traditionally at the end of an operating-system review, you'd expect a discussion of whether the upgrade is really worth the money. But at $20 (and that's a one-time purchase that can be used on every Mac you own), the money isn't the issue. Do you have an iPhone or iPad that you're going to be upgrading to iOS 6 this fall? Or are you going to buy Apple's next iPhone when it comes out? Do you want to have access to the latest features Apple is rolling out across its entire product line? If so, your answer is a definitive yes.
Mountain Lion is the next step after Lion. It's Apple's current state of the art. If you're running Lion (or even if you're a holdout running Snow Leopard), I recommend hopping on board.
[Jason Snell is the editorial director for IDG Consumer & SMB, and is in charge of the editorial operations of Macworld, PCWorld, and TechHive. He's written about every major OS X version since version 10.0.]
Note: When you purchase something after clicking links in our articles, we may earn a small commission. Read our affiliate link policy for more details.