Messages is not just a reskinning of iChat. Sure, the interface looks different. But in addition to its updated interface, Messages introduces a big change to the way instant messaging works on the Mac.
That's because, unlike iChat, it works with the iMessage platform that Apple introduced last year with iOS 5. It still works with standard IM networks such as AIM and Jabber, and it can still send SMS texts to non-iOS phones.
But iMessage isn't just another messaging platform like those others. Rather, it ties your Mac and iOS devices into a single unified ecosystem. You can—in theory—begin a conversation on your Mac and then pick it up later on your phone. You can—again, in theory—see your entire chat history with a contact, regardless of the devices you used for those chats. And—for better or worse—when someone chats with you via iMessage, you'll be alerted on your Mac as well as on your phone and tablet.
New look and feel
Messages feels different from the moment you open it. Instead of iChat's single column buddy list and separate windows for chats, Messages's default interface has a two-column interface, with contacts on the left and a chatting pane on the right.
Instead of a long list of buddies, that left pane shows you a list of the people you've "conversed" with most recently—name plus the time or date and the last few lines of your previous exchange. You can sort that list chronologically or manually, dragging and dropping people into whatever order you want.
To initiate a conversation, you can either select someone from that recents list or—if the person you want to chat with isn't there—type the person's name or phone number in the To: field at the top of the right-hand pane. You can remove someone from the conversation list by hovering your mouse cursor over his or her entry, then clicking on the little X that then appears.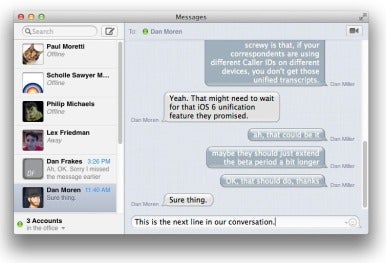 The right-hand chat area isn't dramatically different from one of iChat's conversation windows: There's a text-entry box at the bottom where you type what you want to say; until you begin typing, it displays the name of the service you're using for a particular chat. At the top, there's a camera button that gives you quick access to video chat—more on that in an bit. And in the main window is a transcript of your previous conversations.
If you really miss the old iChat interface, don't worry: You can hit Command-1 (or select Window -> Buddies) and you'll see a buddy list like iChat's. From there, if you double-click on a contact, you'll be taken back to that right-hand conversation pane, ready to chat with that person.
As in iChat, you can do group chats in Messages, but the process is slightly different: In iChat, you could select multiple people in your contacts list for a chat. You can do it that way in Messages, too, using that Buddies list. Or you can do it in the primary chat window, by entering multiple names, numbers, and email addresses in the To field. When one person replies, everyone else sees that response.
If, on the other hand, you're having multiple one-one-one conversations at the same time, you can open individual windows for each one by double-clicking on each contact in the left-hand contacts list. That may be easier to manage than juggling a bunch of conversations in a single pane.
If you click on the little triangle next to a contact's name in that To field, you get a list of all the ways you can reach him or her—all the email addresses and phone numbers he or she has registered with iMessage as well as AIM and other conduits.
Apple has cleaned up some of the menus in Messages. So, for example, instead of New Chat and New SMS in iChat's File menu, you have just New Message—blurring the lines between the different messaging platforms the app supports. You might notice the same thing on the Buddies menu: There's just Start New Chat instead of Invite to Chat, Send Instant Message, and Send SMS.
One other interface difference worth noting: If you go into the Accounts preferences pane, you'll see your various accounts. Most of those account options are the same as before—except for your iMessage account (assuming you've set one up). Standard AIM accounts have a Privacy tab, where you can specify who can or can't see that you're online and send you messages. (The options include Anyone, Anyone in My Buddy list, or specific people in your Contacts database.) As a result, when you're using iMessage, you're perpetually available to anyone unless you specifically block or ignore him or her.
Choose your service
Perpetual availability isn't the only change iMessage brings to the Mac. As in the iOS app, you can opt to send people you're chatting with read receipts. (That does make it a bit harder to duck out on an awkward chat.) It also means that you can see when the other party is composing a reply (and they can see the same for you). All of those iMessage conversations are encrypted from end-to-end. You can, of course, use the iMessage system to send photos, videos, and other multimedia file types; it allows attachments of up to 100MB.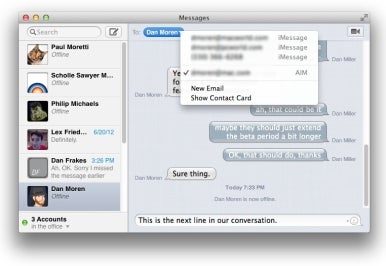 Messages works just fine as a client for the standard IM networks, too—AIM, Yahoo, and Jabber (and, by extension, Google Talk). As noted, it also supports SMS messaging; you just type the phone number in that To field. (You must have an AIM account enabled to do so.) In fact, one of the nice things is being able to mix-and-match chats with people on all those different systems at once. It still supports audio and video chats and screen-sharing on those other services.
There is, however, an odd split in the way Messages manages video chats. If you want to vid-chat with someone, you click on the camera icon in the upper right. That produces a drop-down showing that person's various addresses. Those associated with iMessage come first. If you select one of those, Messages will switch you over to the FaceTime app. If you select an address on AIM or another standard IM network, you'll stay in Messages app for that session. You can switch from a text chat to a video conversation in midstream, just by clicking that camera icon.
Messages obviously makes Apple's own iMessage system the first among equals: Messages can use AIM and those other services if you insist. But everywhere you turn, iMessage is the favored choice. In theory, that may not be such a bad thing: When the iMessage system works, you can do more with it than you can with those other services. But that's only the theory.
In practice—during the beta-testing phase and in our brief time with the shipping code—Messages has been hit-or-miss at best. Sometimes chats appear on one of your devices but not another. Transcripts that are supposed to follow you from device to device don't always do so. As we do more testing, we'll let you know how to troubleshoot these and other problems that may crop up.