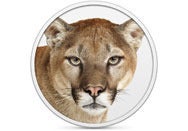 Apple on Wednesday released Mountain Lion, the operating system otherwise known as OS X 10.8. Mountain Lion adds several iOS-inspired apps and features, wholly embraces iCloud, and, of course, drops support for some older Macs.
Read Jason Snell's full review of Mountain Lion.
Like Mac OS X Lion, Mountain Lion is available exclusively through the Mac App Store as a 4.34GB download. But it comes at a discount from its predecessor: Mountain Lion costs $20, while Lion cost $30 when it arrived a little more than a year ago. (If you purchased a new Mac on or after June 11, 2012, you can upgrade for free through Apple's Up-to-Date program.) Your Mac will need to be running Snow Leopard or later to launch the Mountain Lion installer.
Some Macs that could run Lion can't run Mountain Lion. You'll need an iMac (Mid 2007 or newer), MacBook (Late 2008 Aluminum, or Early 2009 or newer), MacBook Pro (Mid/Late 2007 or newer), Xserve (Early 2009), MacBook Air (Late 2008 or newer), Mac mini (Early 2009 or newer), or Mac Pro (Early 2008 or newer) to install the new operating system.
Many of the features introduced in the new OS X update will be familiar to anyone with an iOS device.
New apps in Mountain Lion include Reminders, Notes, and Game Center, each of which looks like—and syncs seamlessly via iCloud with—its iOS counterpart. Mountain Lion also includes Messages, née iChat, which now offers support for sending iMessages to other Mac and iOS device users.
Also making the leap from iOS to the Mac with Mountain Lion is Notification Center, a single spot that assembles alerts from Apple's apps, along with third-party apps and websites that integrate with the technology. Mountain Lion delivers support for AirPlay mirroring to the Mac, letting Mac users send their display to an Apple TV.
The iOS-to-Mac approach in Mountain Lion mirrors the one that Lion took last year. But Ross Rubin, a principal analyst with Reticle Research, expects the transition to be a lot less jarring for users. "[Apple] has focused more on apps and information that consumers will want across platforms such as notes, reminders, messages and notifications as opposed to Lion introductions of full-screen apps and Launchpad," Rubin told Macworld. "Whereas Launchpad may have seemed foreign to the Mac, Notifications feel as comfortable if not more comfortable on OS X than on iOS."
Mountain Lion also introduces a number of new technologies to OS X including Gatekeeper, a security feature that gives users control over which apps can launch on their Macs; significant Mail and Safari upgrades; system-wide sharing features; and built-in dictation among other capabilities.
Mountain Lion's arrival comes at the same time Microsoft is prepping an OS update of its own: Windows 8 is slated to be in consumers' hands by October. "In contrast to Microsoft, which is creating an operating system with a split personality in Windows 8, Apple is keeping all Mac apps optimized for a user interface driven by a pointing device," Rubin said. "Mountain Lion also takes further steps to tie the Mac in more closely with the cloud, a strategy that is also important to Microsoft as they pursue Google's home field ecosystem advantage."
Real mountain lions are ambush predators: They sneak up on their prey unannounced for surprise attacks. Perhaps Apple took inspiration from the new OS's namesake when the company first unveiled Mountain Lion last February, announcing the upgrade through selected press outlets but without the fanfare of a press event. Wednesday's official release of the new operating system was less surprising; the company promised a July release during June's Worldwide Developers Conference, and Apple executives gave the world a one day heads-up Tuesday about Mountain Lion's release date when announcing its quarterly earnings.