Sales of the new iPad helped Apple's bottom line during its fiscal third quarter, as the company tallied record revenue for its June quarter.
Apple's sales hit $35 billion for the third quarter of 2012, up 22 percent from $28.6 billion last year while profits rose 20.5 to $8.8 billion from $7.3 billion. Earnings for the quarter were $9.32 a share, up 20 percent from last year. Reported earnings topped Apple's forecast, but fell short of Wall Street expectations of $10.35 per share on projected revenue of $37 billion.
Apple sold 17 million iPads during the quarter, the most the company has ever sold during a quarter. The company tallied June quarter records for both Mac and iPhone sales—the latter figure coming even as customers have held off on purchasing a new iPhone in anticipation of a new model coming out later this year.
Despite the sales records, the third quarter saw the slowest growth rate for profit since 2009. Still, Apple finds itself better positioned than most tech companies. Sales of Macs, for example, rose during the quarter while the rest of the PC market saw a 1 percent decline, according to figures from market-research firm IDC.
Peter Oppenheimer, Apple's chief financial officer, told analysts during a conference call that the company was "pleased" with its quarterly results.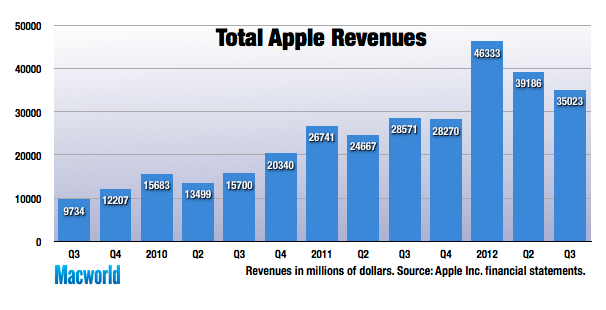 Record iPad figures
The number that probably pleased Apple the most came from its surging iPad business, where Apple saw sales of its tablet grow 84 percent from the year-ago quarter. This was the first full quarter of sales for Apple's third-generation iPad, which debuted on March 16. Apple is currently selling iPads in 97 countries.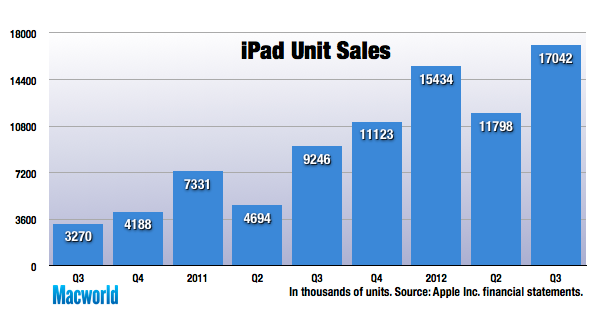 Recognized revenue from the iPad lineup hit $9.2 billion for the quarter, up 53 percent from the $6 billion in revenue Apple recorded last year. Apple says it sold twice as many iPad as Macs to its education customers—and Apple just happened to set a record for Mac sales to U.S. educational institutions for the quarter.
Apple's iPad growth came amid stepped up competition from other tablet makers, particularly those using the Android operating system. "We have seen many different tablets, hundreds in the last year," Apple CEO Tim Cook told analysts. "And I have yet to see any of them gain any traction at all."
Cook credited the size of Apple's App Store, which now has more than 650,000 apps. Of that figure, 225,000 have been optimized for the iPad. "Most customers feel that they're not really looking for a tablet, they're looking for an iPad," Cook said.
Mac numbers
As for its Mac business, Apple sold 4 million computers, up slightly from the 3.9 million Macs it sold in the year-ago quarter. Even with slight 2 percent gain, Apple still sold more Macs in this three-month period than in any June quarter before.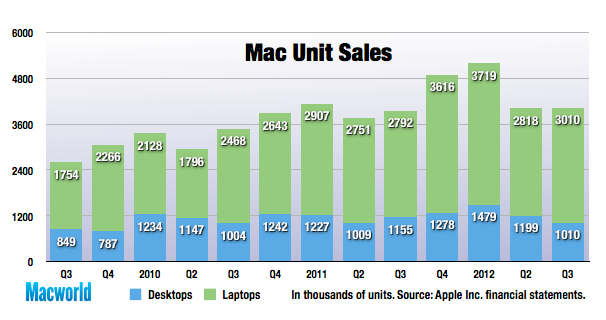 Those sales were largely driven by the revamped MacBook Air and MacBook Pro models Apple released, even though those notebooks came out less than three weeks before the end of the June quarter. According to Cook, prior to the release of those models at June's Worldwide Developer Conference, Apple's Mac sales were off last year's pace. Once the updated MacBooks hit the market, though, Apple's weekly sell-through increased, allowing it to beat last year's figure and outpace PC industry growth for a 25th straight quarter.
In particular, Cook noted that the MacBook Pro with Retina Display has been "incredibly well-received. We still have not caught up with demand, but we anticipate doing so next month."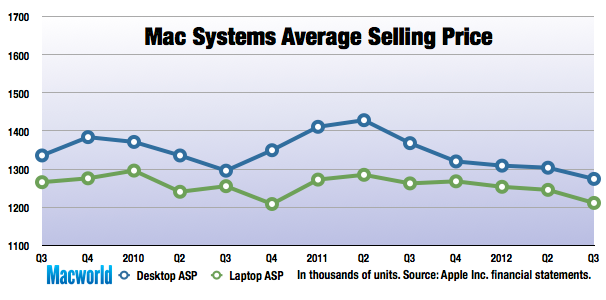 Mac sales are usually dominated by portables, and this quarter was no exception. Notebooks accounted for three-fourths of the Macs Apple sold.
In addition to the June record for overall Mac sales, Apple executives noted that the quarter was the best ever for Mac sales to U.S. education institutions.
Apple also set the stage for ongoing Mac growth in the current quarter on Tuesday, as it announced that Mountain Lion, the next major update to OS X, will ship on Wednesday.
iPhone and iPod sales
Apple sold 26 million iPhones during the quarter, compared to 20.3 million last year—another June quarter record for the company. The 28 percent growth in iPhone sales was also ahead of the amount Apple factored into its quarter guidance, Oppenheimer noted.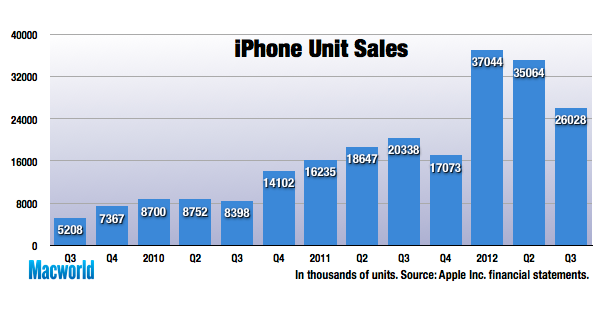 While Apple hasn't made any iPhone hardware changes since it rolled out the iPhone 4S last year, it has been expanding the reach of its smartphone. During the June quarter, for example, the company added a number of regional carriers in the U.S. More than 250 carriers now provide service for the iPhone in 100 countries.
Recognized revenue from the iPhone rose 23 percent from last year to $16.2 billion.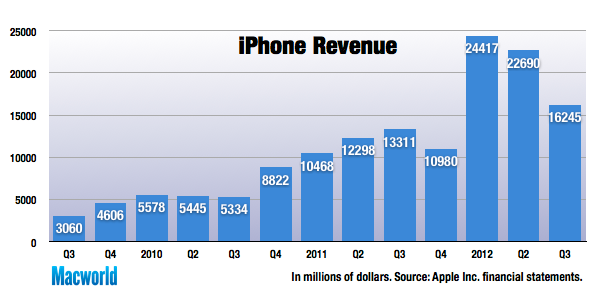 Despite the record sales, this quarter's iPhone figures represent something of a blip for Apple. Both unit sales and iPhone revenue were down sequential in the third quarter; in 2011, unit sales and revenue rose from the second quarter to the third quarter. That's largely a sign that customers may be holding off on iPhone purchases in anticipation of a new smartphone from Apple.
Pressed by analysts about the impact iPhone rumors might have on Apple's bottom line, Cook said that while the company goes to great lengths to keep its product road map under wraps, he doesn't put any value in clamping down on speculation about product releases.
"That's just the environment we're in," Cook said. "I'm glad that people want the next thing. I'm super happy about it."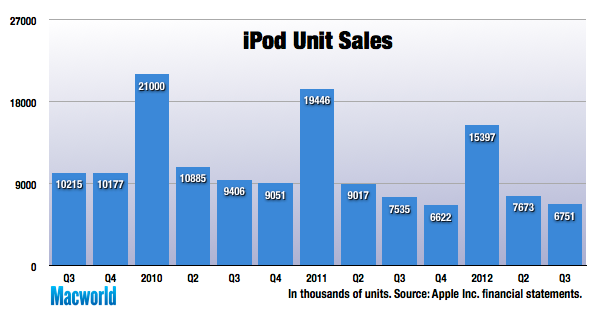 Apple may have less reason to happy with its iPod sales, which saw another dip. The company sold 6.8 million music players, down from 7.5 million iPods in the year-ago quarter. Average selling price for iPods was also down for the quarter. Still, Apple notes that the iPod continues to hold a 70 percent share of the music-player market.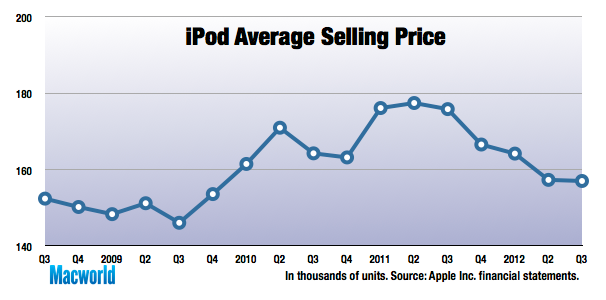 Combining iPod touch numbers with iPhone and iPad figures, Apple says that cumulative iOS device sales have reached 410 million units.
Revenue from the iTunes Store topped $1.8 billion for the quarter; Apple brought its online music, movie, TV, and app store to 12 more countries.
Other details
Apple opened nine new retail stores during the quarter, ending June with 373 Apple Stores; 123 of those were outside the U.S. The retail stores brought in $4.1 billion in revenue, up 17 percent on the strength of record iPad sales. The stores sold 791,000 new Macs, with almost half going to customers new to the platform.
Store visitors increased by 17 percent from last year, with 83 million people walking into one of Apple's retail outlets. Apple tallied an average revenue per store of $11.1 million.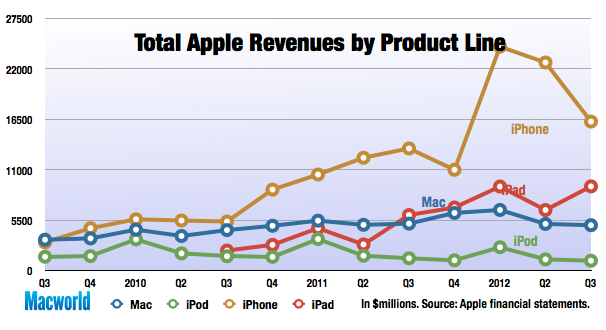 Cook said that Apple sold 1.3 million Apple TVs during the quarter, bringing total sales for the fiscal year to 4 million units. The set-top box is "still at a level that we would call it a hobby, but we'll continue to pull the string to see where it takes us," Cook added.
During Tuesday's briefing, Apple also unveiled the details of the stock dividend plan it first announced in March. The company will pay out $2.65 per share on August 16, 2012 to shareholders of record as of the close of business on August 13. Subsequent dividends will be announced at the same time as the company's results, with future payouts subject to declaration by the board of directors. Apple will begin buying back stock starting in its 2013 fiscal year, which starts September 30, 2012.
Both the dividend and the stock buyback program are part of Apple's efforts to dispense with the massive amounts of cash the company has on hand. Apple ended the June quarter with $117.2 billion in cash and short- and long-term securities, up from $110 billion the previous quarter.
In terms of future performance, Oppenheimer told analysts to expect revenue of $34 billion during the company's fiscal fourth quarter and earnings of $7.65 a share. That compares to 2011 fourth-quarter revenues of $28.27 billion and earnings per share of $7.02.
Updated at 2:18 p.m. PT with more information on Apple's earnings. Updated at 2:43 p.m. PT with information on Apple's iPad sales. Updated at 3:10 p.m. PT with Mac figures. Updated at 3:37 p.m. PT with iPhone and iPod figures. Updated at 3:55 p.m. PT with other figures from Tuesday's conference call.