Safari has been around forever, and you might not think there was much that Apple could do to improve it in Mountain Lion. But in fact the company has found some clever—and welcome—ways to update the app many of use more than any other.
One way Apple's done that is by taking some inspiration from other browsers. The obvious one is the new unified address and search bar. Like Google Chrome, Safari 6.0 has just one text box up top, instead of one box for Web addresses and another for searching. Type a URL in Safari's new universal address box, and the browser will go to that site. Type in something else, and Safari will perform a search for it.
More specifically, as you type, it'll show you a drop-down list of possible hits. First there's a section it calls Top Hits—the things it guesses you're looking for, based on your previous browsing patterns. After that are some possible search terms you might want to use on Google, the default search engine. (You can, of course, change that default in the app's preferences.) And below that are matching hits in your browsing history and bookmarks.
The other way Apple has updated Safari on the Mac is something it's done throughout Mountain Lion: tying the desktop OS and its apps more tightly than ever to iOS and iCloud.
So the new Safari has something called iCloud Tabs. Clicking the new iCloud Tabs button (the one with the cloud on it up in the toolbar) produces a live list of the browser tabs you have open on all of your other OS X and iOS machines linked to your Apple ID and iCloud account. What that potentially means is that you can start reading something on your iPhone, then switch to your Mac later and pick up where you left off. I say "potentially," because this feature won't really become fully functional until the release of iOS 6 this fall. For now, it works well syncing Safari tabs between Macs.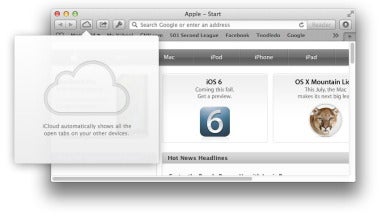 There's also a touch-friendly new tool called Tab View. If you have a touchpad, you can use Multi-Touch gestures to navigate between open tabs: You pinch in to reveal all of the tabs you have open, then you switch between them using two-finger swipe left or right. These new gestures feel familiar, because they mimic similar gestures in iOS. Visually, tabs mimic those in iOS: They stretch and shrink as necessary to fill the span of your browser window.
Passwords and privacy
The new Safari also has some new security tools. Most notable is its new system for tracking passwords. Safari 6.0 records passwords you've entered, so you don't have to enter them again. You can opt not to have Safari remember passwords for specific sites. It's easy to add or remove passwords from your chain; if you forgot a saved password, you can click the Show Password box to reveal it. When you do you'll be prompted for your system password—a nice secure touch that neither Firefox nor Chrome applies. It's not as secure a system as 1Password or some other password utilities, but it's better than what Safari 5.0 had.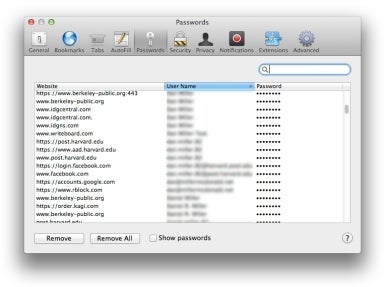 Also notable is Safari's improved support for the emerging Do Not Track security protocol. In theory, if you switch that option on (in the Privacy pane of Safari's preferences), websites participating in the DNT program will refrain from putting any monitoring cookies or other tracking devices on your system. There are a couple of big "ifs" in that scenario, but it's nice that Apple is supporting Do Not Track. It did support DNT in previous versions, but you had to delve into the Develop menu to turn it on. Now it's much easier to find and implement.
Private Browsing is still available as well, so you can tell Safari to temporarily stop keeping your browsing history, your search history, or any AutoFill information. A Private tag appears in that unified address-search field, and it applies to all open tabs in your open Safari session.
Reading list
There are plenty of other nice little tweaks in this new Safari.
The offline reading list feature is particularly welcome, especially when paired with Safari on your mobile devices. To save a page to your reading list, go to Bookmarks -> Add to Reading List, or press Command-Shift-D. Safari then saves the page in your Reading List so you can catch up on your reading even when you don't have an Internet connection. If an article in your Reading List contains multiple pages, Safari fetches the pages and stores them, so you can read the entire article offline.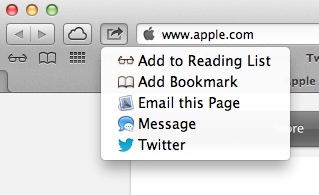 Thanks to hardware acceleration, webpages scroll smoothly in the browser window even when your Mac is loading new webpage content. You can see the status of the loading page by checking out your search bar—the bar will display a blue status bar that starts on the left and loads right. Thanks to smooth scrolling, you can start reading or viewing a page while it loads. Just start scrolling down. The new version also speeds up JavaScript performance; the difference is noticeable.
And, like so many other Mountain Lion apps, Safari now has a Share button. It makes it easy to send the URL for the website you're viewing to someone else via Mail, Messages, or Twitter; it's also how you save pages to your Reading List or bookmarks. And Safari also works with Mountain Lion's Notification Center: websites can ask for permission to show you alerts. You don't have to say yes.