While Mountain Lion may be getting all the attention, users of OS X Lion have a couple of software updates to grab as well on Wednesday. Among the most significant is Safari 6 for Lion, which brings many of the same features included in the Mountain Lion version of Apple's Web browser—though not all of them.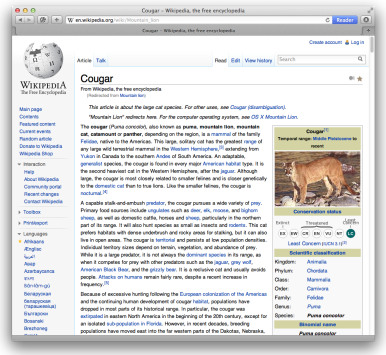 Like its Mountain Lion counterpart, Safari for Lion's most obvious difference is the new Unified Smart Search Field, which combines the location bar and search bar into a single field. You can type in either a URL or a search term, in which case Safari will suggest answers based on your bookmarks and history, as well as pulling up common search queries from your search engine of choice.
Lion users also get the ability to read pages in their Reading List while offline, the ability to select the Chinese-language Baidu as their default search engine, and a Do Not Track option in the browser's Privacy preferences. (The last is also automatically enabled when you use Private Browsing mode.) There's also a new password pane for managing your saved website logins.
Apple's also squashed a few bugs in the update, so the swipe-to-navigate gesture now works with PDFs, your Reading List read state is restored when you launch Safari, the user's previous cookies are restored when Private Browsing mode is disabled without the need to relaunch the app, and full-screen video in certain webpages should now play correctly. There are also the usual assortment of security patches.
Safari users will also benefit from performance enhancements to the browser's Nitro JavaScript engine, which increases the speed of webpage loading, along with improvements to CSS rendering and hardware acceleration to make graphics and text draw quicker and pages scroll smoother. Under the hood, Safari 6 supports the latest version of the JavaScript standard, a Web Audio API, and HTML5 media synchronization.
As for features not available to Lion users, there are a few—mostly dependent on systemwide improvements in Mountain Lion. For example, Lion users won't get access to notifications from websites, the ability to use built-in sharing features, or iCloud Tabs. Nor will they get access to the new Tab View mode.
However, Lion users should perhaps count their blessings that they received an update at all. Apple did not provide a version of Safari 6 for Windows; instead, PC users get only a Safari 5.1.7 update that fixes a couple of bugs. It's unclear whether or not the company will release a new version of Safari for Windows; we've reached out to Apple for comment and will update this story if we receive further information.
Safari 6 requires Mac OS X Lion and is available via Software Update.