As of Safari 6, the version of Apple's web browser shipping with Mountain Lion, Apple has dropped support for reading RSS feeds within the browser. Instead, Apple asks that you use a dedicated RSS reader when you want to peruse the latest links. But what if you don't want to use such a reader? You can still see RSS articles in Safari with a little help from Apple's automation utility, Automator. It works this way.
Create your workflow
Launch Automator (in the /Applications folder) and in the template chooser that appears, select Service and click Choose. Configure the top of the workflow to read Service Receives No Input in Any Application. In the Actions library select Internet and drag the following actions into the workflow area: Get Specified URLs, Get Link URLs from Articles, and Display Webpages.
In the Get Specified URLs area, click Add and add the address of the RSS feed you wish to view in Safari—feed://rss.macworld.com/macworld/weblogs/mac911 for example. In the Get Link URLs from Articles action, be sure that the Only Return URLs In The Same Domain As The Original Webpage option is enabled. This ensures that you don't wind up with articles pulled from other websites. Save your workflow.
Now, if you click Run in the top-right corner of the workflow, Safari will launch and open multiple tabs, each displaying an article from the feed. In the future, when you want to run the workflow, simply select Services from any application's application menu and choose your workflow from the submenu.
Add a temporary feed
This is fine if you always want to view feeds from the same websites. But there may be times when you wish to view another site's feed just once. Return to your workflow and in the Get Specified URLs action click on Options. In the area that appears, enable the Show This Action When the Workflow Runs option and save the workflow.
When you next invoke the workflow a Get Specified URLs window will appear. Within it, click on the Add button and enter the feed address for the site you wish to pull articles from and then click Continue.
Filter the feeds
Using this workflow you may encounter sites that have dozens of articles in their feed, offering more tabs that you may wish to click through. You can modify the workflow to filter articles so that you see just the ones you're likely to be interested in. In this case, create a workflow with actions in this order: Get Specified URLs, Filter Articles, Get Link URLs from Articles, and Display Webpages. The Filter Articles action is new and it works like this.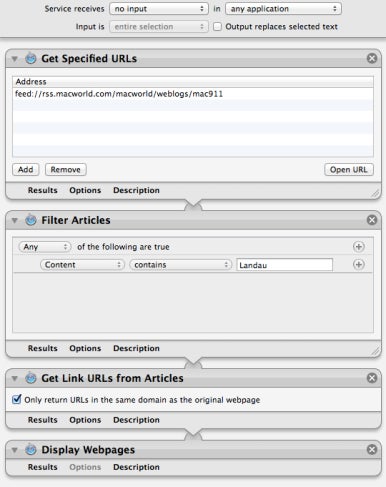 Suppose you use Macworld's Mac 911 feed that I provided as an example earlier. You don't want to read all the articles, just Ted Landau's Bugs & Fixes pieces. To see just those articles you'd configure the Filter Articles action to read: Content Contains Landau. Save and then run the workflow. When Safari opens, only those Mac 911 articles penned by Mr. Landau will open in tabs.
If you want to change your filtering options each time you invoke the workflow, you already have a clue how to go about it. Return to the workflow and in the Filter Articles action, click on Options, enable Show This Action When the Workflow Runs, and save the workflow. When you next run it you'll be able to configure the action and enter new filtering options—Content Contains Breen, for instance.
Note: When you purchase something after clicking links in our articles, we may earn a small commission. Read our affiliate link policy for more details.